Gina Milano from Bellevue, Washington, submitted a couple of great ideas for our Show & Tell page. (Thanks, Gina!) Gina enjoys the embroidery capability of her machine, but wanted to do more.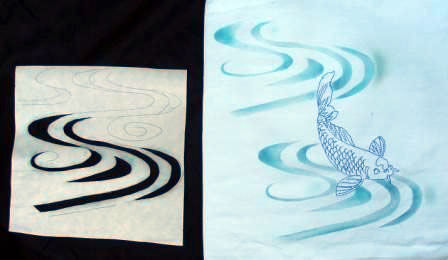 Gina said, "Think outside the box; combine techniques! I like to do some machine embroidery. I stitched out a koi fish, and then used the Shiva Paintstiks to create the illusion of water. I cut out a stencil using freezer paper (see picture)! I am a 'new' user of Paintstiks, and this was an experiment… and I plan to turn this into a finished project."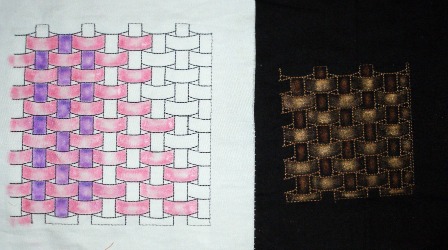 Another experiment Gina did combining machine embroidery with Paintstiks. She said, "This time I colored in the embroidery design with the Paintstiks; one on a white background, and one on a black background. Interesting how the 'highlights' are reversed depending on the background!"
As for paintstiks, Gina likes the fact that they are easy to use – and the painted fabric is washable.