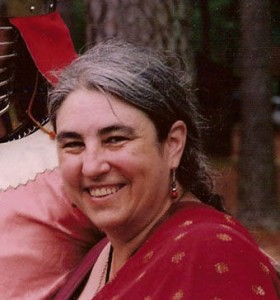 Last week, I announced that Show & Tell is now open for Cedar Canyon Community Members. And I was thrilled to see messages in my e-mail on Monday morning telling me that some of you did, indeed, click over to the Show & Tell page to share your artwork. Woohoo! I haven't seen any videos yet, but I'm really excited to see photos of you and your projects.
Dinah Tackett wins the "early bird" honors, so I'm going to feature her lovely project today. Here's what Dinah shared with us: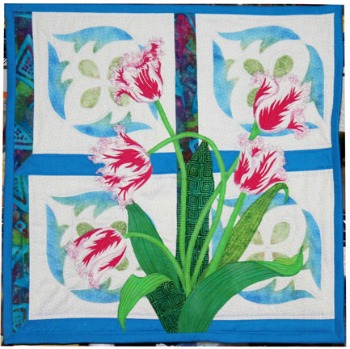 This art quilt began with a class in my local quilting guild (Pecos Valley Quilters)on stenciling with paint sticks. We used a Freezer Paper stencil and the teacher supplied her stock of Paintstiks. It was my first experience with them. I then use the stenciled fabric for the background for my appliques.
I'm really excited about my results because this piece won my first quilting ribbon (honorable mention)at a local show. I had been art quilting about a year at the time.
The teacher supplied the paintstiks for my class, but I have bought my own since then. The Shiva Paintstiks from Cedar Canyon are much better than any others I have triedd, much smoother and great colors too.
Thanks for sharing, Dinah — and well done! It's great that you got your first ribbon on this lovely quilt.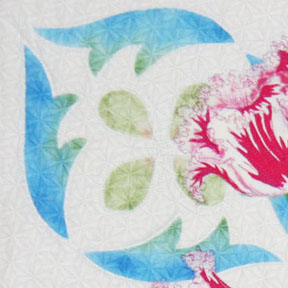 One more comment about Dinah's quilt. Can you see that she used a white-on-white fabric as a background? Notice how the design on that fabric shows through the stenciled image. It's a little added bonus that comes with tone-on-tone fabrics.
Do you have a project to share?
The Show & Tell page is open for business 24 hours a day. You can share in the morning, the afternoon, or the middle of the night. It's up to you! Yes, you can even film a show & tell video in your jammies, as long as they are "decent" and you don't mind showing them off to all your friends in the Cedar Canyon Community.
If you used paintstiks or one of the Cedar Canyon tools (stencils or rubbing plates) to create a project or work of art, click over to our Show & Tell page today! We'd love to see what your're up to!