Remember the Gratitude Folder I challenged you to make a few months ago? They are going to be famous! A couple of weeks ago, I found a very cool message in my e-mail inbox from Vivika DeNegre, the new editor at Quilting Arts Magizine. Vivika was writing to tell me they wanted to include my fabric folders in the Quilt Scene magazine this fall. Woo Hoo!
For the project article, she requested samples in "fresh, modern" fabric, so I cruised down to Dawn's, my local quilt shop, popped the door open, and said, "HELP!" I need cool fabric NOW – and they have to be prints that will look fantastic in photographs!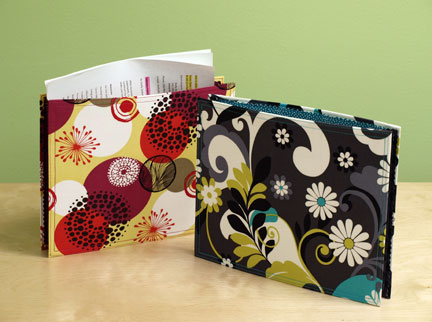 I spent quite a few hours in the new studio over the weekend making two samples and taking process photos as I worked. (The pictures take much longer than the sewing…) I think they are delightful and look forward to seeing them in print. I'll let you know when the magazine comes rolling off the press.
Such a Fuss About Shelves…
Wow! I never expected so many questions about my work table. I love these shelving units because they are super strong, hold up to moving, adjustable and beautiful to boot. Best of all, they are made from birch plywood and solid oak – not one speck of particleboard. Definitely built to last a lifetime. Here's a pic if you missed it last week.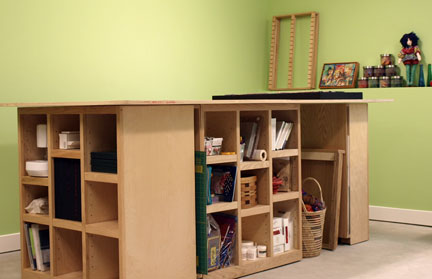 Who makes these wonderful shelves? My paint company, of course! Jack Richeson and Company is a full service art supply company. They make an amazing range of products for the art supply world, including some pretty amazing studio furniture. They manufacture the BEST line of easels and taborets at the factory in Wisconsin. Yes, made in the USA.
I'll be the first to admit that I'm terribly spoiled. I buy tons of paint from this company (literally) and they allow me to order from their entire product line. Their furniture is not inexpensive, but it's very impressive in fit, function, utility, and durability. Did I mention good looking?
The company doesn't sell directly to retail customers, and the shelving in my work table is something of an orphan product. It's just not widely available. To get around this dilemma, I'm working out an arrangement that would allow you to place orders for the studio shelving through the Cedar Canyon Online Store. I'll twist a few arms to get the best price I possibly can for you. (This is the fun part of my job – I can use my leverage to help you get a better deal on a great product!)
It's going to take us a few weeks to get the details together, but it will be worth the wait. In the mean time, if you really want the details immediately, just pick up the phone and give me a call or send me a quick message.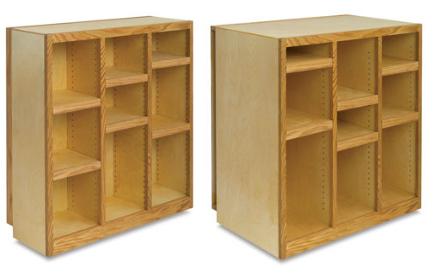 A few important details:
The shelves are 37″ high x 34″ wide.With a table top, the work table is about 38″ high.
The small shelf is 11″ deep (9″ deep shelves + paper slot on the back.)
The large shelf is 21″ deep (18″ deep shelves + paper slot on the back.)
You can purchase a top to go with the shelves, or make your own. The table top in my studio is made from a 4′ x 8′ piece of furniture grade plywood that we sanded and finished with polyurethane. Simple, but practical (not to mention less expensive).
COMPANY NEWS
We're Moving to Wisconsin!
No, I'm not moving to yet another home… I'm not totally crazy! But we are making some big changes here at Cedar Canyon Textiles. The corporate offices of Cedar Canyon Textiles are staying in Alexandria, MN, but our warehouse is moving to Wisconsin. Woohoo! I'm excited! Why the change? Simple, it's time for a change.
Since 2005, with the publication of Paintstiks on Fabric, I have been eating, breathing, and sleeping with books, paintstiks, rubbing plates and stencils. (At least it feels that way!) I've learned a lot about running a business, I created a very successful operation, and I'm incredibly glad that I said YES to this adventure.
I also learned that the operational side of a business has the ability to completely drag you away from the reasons you started a business in the first place. The day-to-day reality of inventory management, people management, purchasing, shipping and receiving, building maintenance (I'll stop here…) eat into the time that should really be spent designing new products, writing and teaching – all the good stuff.
After a year of planning and negotiations, we're just about ready to rock and roll with our new operational structure. I'm excited because I get to concentrate my efforts on the activities that truly add value to the business (new products and community building) – and let someone else handle the rest.
At the beginning of August, the entire contents of the Cedar Canyon warehouse will be packed up on pallets, loaded into a truck, and be delivered to its new home in Wisconsin. I will be spending some time with our partner company in early August, and we hope to make the transition without too many hiccups. With some good luck, you won't notice a thing!
I'll have lots of information for you in the coming weeks. (I can't spill the beans on all our exciting new offerings at once!) But I want to make sure that you, as an extra-special member of our Community, are the first to know about the upcoming changes. And I want to assure you that no matter where our warehouse is located, Cedar Canyon is, and will continue to be, a fabulous place to Explore the Magic of Fabric Art.
Stay tuned for more details next week!