Tone It Down With Dusty Colors
Over the past few weeks, we've followed the yellow brick road through the Matte Paintstik Color line. Oz is a wonderful place, Dorothy! We've checked out the lands of Neutral colors, Lights, Brights, and Darks. No scarecrows, lions or witches found, but loads of glorious color.
We've one last batch of colors to explore today, the Dusty Colors. These are colors that are technically called Tones. When I set out to mix colors like these, I add a complementary color or a near complement. Or, if I have one handy, I simply grab the paintstik that is closest to the color I want and then play around to get the result I want. Not terribly scientific, but it works for me.
Dusty Colors
This is part 5 of our Matte Color Series. You can read the earlier articles of the series on my blog.
1 – Naturally Neutral
2 – Luscious Lights
3 – Bold & Bright
4 – Deep Darks
There are 11 Dusty colors in the Matte Paintstik line. I use the Dusty colors when I want to tone an image or a background down. These colors are great when you DON"T want clean, clear colors.
Dusty colors, like the Dark colors we explored last week, give your eye a place to rest. They are a provide an excellent counterpoint for bright colors, or simply give a restful look. Where the Dark colors were dark versions of clean colors, the Dusty colors are much more muted.


Dusty Rose is a soft, dusty pink. Very gray compared to Medium Pink.
Mauve is a darker rosy pink.
Celadon Green is a soft dusty green.
Meadow Green is a nice middle of the road green, with yellow undertones. This color was a toss-up when it came to assigning a category. It's not as muted as some of the other dusty tones, but it looks great with the colors below.

Yellow Ochre is often called "old gold" or "antique gold."
Barn Red is is a dark reddish brown. Not quite as brown as Burnt Sienna.
Olive Green is a dark, drab green.
Raw Umber is a greenish brown.

Wedgewood Blue is named a light dusty blue with a green undertone. It looks fairly bright next to the dusty colors, but looks very muted next to the Light colors.
Slate Blue is a darker dusty gray-blue. Place it next to Pewter Gray and the blue stands out.
Navy Blue is a deep, dark, muted blue. It's hard to show this color as it paints out almost black. The blue shows better when it is stenciled on paper or fabric. Use Navy if you want a "black" with a blue undertone.
Terri D From Whimsicals Quilts Loves Dusty Colors
The Dusty Colors are not my favorites, but that's simply a result of my personal taste in color. But talk to someone like Terri Degankolb at Whimsicals Quilts, and she'll take the dusty colors in a heartbeat! The muted colors are simply perfect for Terri's style of quilting and for her work as a fabric designer. Here are a few pieces where Terri has used the Dusty Colors.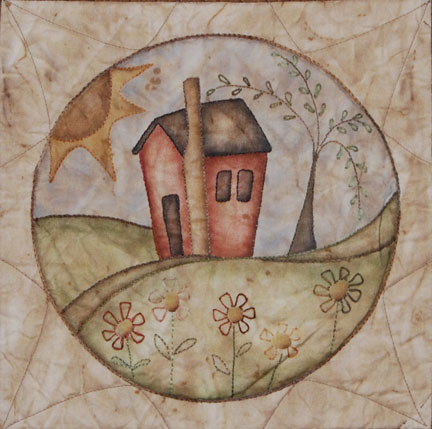 This is the center of a small quilt called House on the Hill. Terri made a freezer paper stencil, pressed all the pieces onto the fabric, and then lifted off various pieces to paint each area. (After you paint an area, you just press the corresponding piece of freezer paper back down over the painted area and then move onto the next section.)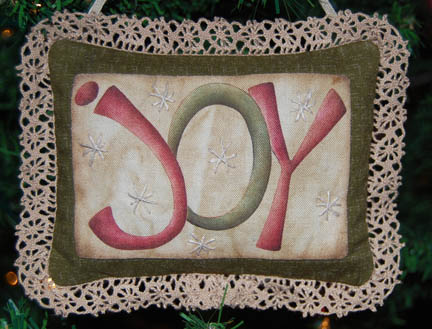 Terri loves using Paintstik Colors and freezer paper stencils to add words to fabric. This little gem is a Christmas ornament. This project is included in her new book called Make It Merry, which just came back from the printer a few weeks ago.
Make It Merry Paintstik Set
At the request of Checker Distributors, we are putting a special set of Mini Paintstiks together to go with the Make It Merry book. The set will contain 4 matte mini paintstiks in Alazarin Crimson, Meadow Green, Burnt Umber and Black.

The Make It Merry set is set to be delivered to Checker in mid- to late-May. Because this is a special order, it will be a Checker exclusive. Your favorite quilt shop can order the set from Checker.
(Yes, we can do custom sets, but only in large quantities. The factory minimums are pretty high for special orders.)