Drama Queens Always Need A Supporting Cast
Last week, I took you on a tour of the Bold, Bright paintstik colors. The Brights are the Drama Queens of the matte color line. They're vibrant, in-your-face colors. Today, I want to introduce you to the Dark colors.
Along with the Dusty colors (coming next week), the Darks are the supporting cast for the Brights. In the same way that we use Light, Medium and Dark fabrics to make a quilt, we need Dark colors (along with lights, neutrals and dusty colors) for paintstik projects. The supporting colors are great for shading as well as providing visual relief — a place for your eyes to rest.
Deep Darks
This is part 4 of our Matte Color Series. You can read the earlier articles of the series here on the blog.
1 – Naturally Neutral
2 – Luscious Lights
3 – Bold & Bright
There are 13 Dark colors in the Matte Paintstik line. I use the darks for shading images when I'm stenciling or for a number of different techniques when I'm working on light to medium value fabrics. Dark matte colors are not very useful on dark fabric. They don't have the "shiny stuff" found in the iridescent colors, so there is no value contrast between the dark colors and dark fabric and the colors get lost. Stick to lighter fabrics and you'll love them!
Here are the 13 dark colors:

Alazarin Crimson is a deep ruby red that leans a bit toward purple. This is the darkest red in the Matte Color line.
Grape is a red-violet. It is more on the transparent side of the spectrum.
Dioxazine Purple is a beautiful deep purple.It's quite dark, but very rich.
Phthalo Blue is a deep blue with a slight purple undertone.

Prussian Blue is a deep blue with a slight green undertone.
Teal Blue is best described as a deep turquoise. Definitely blue, but has a lot of green in it.
Phthalo Green is a dark green with a definite blue undertone.

Old Sap Green is a great deep middle-of-the-road green. It leans just a bit more to the blue side than Sap Green.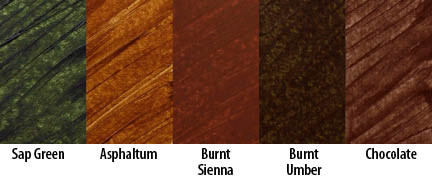 Sap Green is a middle-of-the-road green. Some teachers like this green because they can mix with yellow or with blue to get the shade of green they want. It has just a touch more yellow than Old Sap Green.
Asphaltum is a fabulous golden caramel color. It's quite transparent, but much more interesting than the name implies.
Burnt Sienna is a reddish brown and very opaque.
Burnt Umber has a definite green undertone. It semi-opaque.
Chocolate is a transparent, middle of the road brown. Think Hershey bars.
Iridescent Colors + Dark Colors = Fabulous Results
I admit it. I have a strong preference for the Iridescent Paintstik Colors. I'm more than a bit of a magpie and I love shiny stuff! Even so, I discovered a simple rule early on: THERE ARE NO DARK IRIDESCENT COLORS! Some are darker than others, but the shiny stuff in those gorgeous iridescent colors makes it impossible for them to be truly DARK.
When you want to shade an object, whether it's a leaf, a flower, or a geometric shape, you need dark colors to get the desired effect. Here is a sample I put together for the Paintstiks on Fabric book.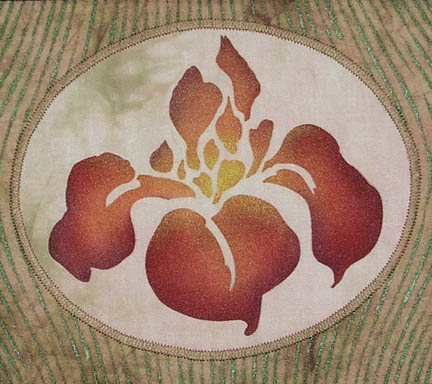 To make this image, I used Iridescent Light Gold an Iridescent Orange in the middle of the flower. Then I blended to Azo Orange, Alizarin Crimson, and Purple Sage along the edges. Using all iridescent colors simply did not work for this piece.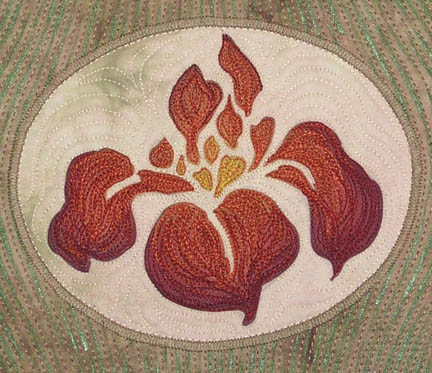 After the paint was dry, I added some free-motion embroidery and quilting to the piece. It's a very small little portrait, but a good example of what you can do with Paintstik Colors.
I hope you enjoy working with Matte Colors as much as I do. It took me a while to get past my preference for iridescent colors (and all things shiny), but I've learned to love these colors and I can't imagine trying to work without them.
p.s. Thanks to my friend Laura Murray for sharing the comparison of Bright Colors and Drama Queens and the need for a supporting cast. It's a great analogy. If you are looking for more stencils, texture mats, and great ideas for using Paintstik Colors, click over to Laura Murray Designs. The Iris image above is from one of Laura's stencils. She may have retired this design, but she has a lovely collection of stencils on her site.
If you are heading to Paducah for the big AQS Quilt Show, be sure to stop by Laura's booth for a great dose of inspiration and an amazing collections of tempting toys!