This is part three of my Matte Color Series. You can read the earlier articles by clicking on these links:
1 – Naturally Neutral
2 – Luscious Lights
There are 17 Bright colors in the Matte Paintstik line. I'm going to divide these into 2 sections for a very important reason — some of these colors are made with pigments that contain heavy metals, and those colors deserve special consideration for safety purposes.
Bold & Bright – AP Label
The first 12 colors are from the line make a great color wheel. Each of these colors carries the Approved Product (AP) label from the ACMI testing organization.
Like all of the iridescent colors and all matte colors (except for the 5 colors in the section below), these colors have been thoroughly tested and approved as non-toxic and safe for use. If you like to paint with your kids or grandkids, you can use these colors without any worries.
As you can see, these colors are anything but boring. They are vibrant, saturated, in-your-face colors. As much as I love the Iridescent colors, they simply are not as intense as these matte colors, and some of them (like the bright reds) simply don't exist in the iridescent line.

Tompte Red is a strong red that leans a bit toward purple. I think of this color as "lipstick" red. It is a little darker in value than Napthol red, but not nearly as dark as Alizarin Crimson.
Napthol Red is a lively warm red. It definitely leans toward orange. Think Fire Engine red!
Azo Orange is a good, basic orange with a red undertone.
Azo Yellow is a bright clear yellow.
Yellow Citron is yellow with just a hint of green. It's hard to describe. Not quite chartreuse, but moving in that direction.
Marsh Green is an excellent substitution for "Mr. Yuck" green. It's a bright, not muddy olive-like green.
Chrome Oxide Green is a nice, middle-of-the-road leafy green.
Veridian Green is a beautiful blue-green. This color is very transparent compared to most of the other matte colors.
Turquoise is an opaque greenish blue.
Ultramarine Blue is a clear blue with a purple undertone. This color is also transparent.
Purple Sage is a medium-value purple, slightly dusty in nature.
Fuchsia is simply fuchsia. It's a bold, beautiful, vibrant pink.
Now, let's take a look at the remaining 5 Bright colors.
Bold & Bright – CL Label
The final 5 colors in the Bold and Bright group are made with Cadmium- or Cobalt-based pigments. These are traditional pigments that have been used for centuries in paints due to their durability and light-fast qualities. Cadmium and Cobalt are heavy metals and these colors bear the Cautionary (CL) Label from the ACMI testing organization.
Any art supplies made with heavy metal pigments should be used cautiously. I often use my fingers to shade and mix my colors, but it's probably not the best idea to finger paint with these particular colors. If you share your paintstiks with children, it's best not to use these colors just to be safe.
If you take a close look, you'll see that these colors are very similar to some of the brights described above. I'll point out the similar colors below.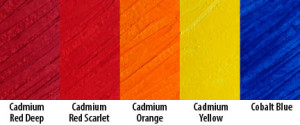 Cadmium Red Deep is a deep strong red. It is similar to, but not quite as "blue" as Tompte Red.
Cadmium Red Scarlet is a lively warm red. Very similar to Napthol Red.
Cadmium Orange is a clear yellow-orange. To duplicate this color in a non-cadmium color, mix Azo Yellow and Azo Orange.
Cadmium Yellow is similar to Azo Yellow, with perhaps a touch of orange added. The two colors are very, very close.
Cobalt Blue is nearly identical to Ultramarine Blue with one important difference. Cobalt Blue is opaque, while Ultramarine Blue is transparent.
If you have any concerns about using heavy metal based colors, you can certainly get by without them. Cadmium Orange can't be replaced without mixing, but the others can quite easily.
As I've said in the past, I'm addicted to color. I have been since I picked up a fabric dying kit many, many years ago. I have no formal education in color theory (or any other art topic), but I've learned a lot through trial and error. Lots of errors — or should I say "learning experiences."
Using Matte Paintstiks to Learn About Color
I ran across a fascinating book years ago called Blue and Yellow Don't Make Green. It's very technical, but I latched onto the basic premise of the book and have never looked back. To simplify, author Michael Wilcox states that there are no "perfect" primary colors. Therefore, we may as well take advantage of the situation and learn to mix the variations of colors we want.
I'm not going to even attempt to explain further in this blog article, but I have a few pictures that illustrate the concept. In each example, I've blended Azo Yellow with 3 different blues. As you can see, the results vary widely from blue to blue. (We'll talk about Prussian Blue next week with the Dark colors.)
Azo Yellow Mixed with Turquoise
Azo Yellow mixed with Prussian Blue
Azo Yellow Mixed with Ultramarine Blue
I hope you enjoy working with Matte Colors as much as I do. It took me a while to get past my preference for iridescent colors (and all things shiny), but I've learned to love these colors and I can't imagine trying to work without them.