This is part two of our Matte Color Series. You can read the first part of the series in an earlier post. (Click on the title to go to that post.)
There are six colors in the Matte paintstik line that I think of as LIGHT. These are clean colors that have been mixed with a substantial amount of Titanium White. They are very opaque and show up well on dark paper or fabric.
(Actually, there are several more paintstiks that are light in value, but I'm going to include them with the "dusty" colors in another article. I have to break up the colors in some way. I really don't think you want a novel in your Email box.)
Light Matte Colors
I mentioned Titanium White and Antique White in the first article on Neutrals, but when I sat down to put the colors into groups, it was clear that they belong here with the Lights. Here are the six light colors: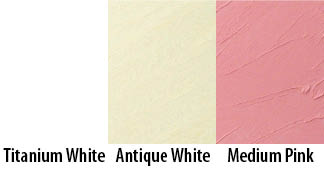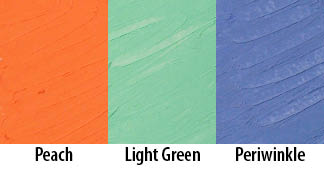 Titanium White is a pure, bright white. It is very strong and densely opaque. Titanium White is one of my secret weapons when I'm stenciling on dark fabric or paper. A base layer of white acts like a primer on walls. It blocks out the darkness of the fabric and allows me to get the color I want without adding so many layers of paint.
Antique White is a lovely, creamy, not-quite-white. I have often heard this color referred to as Candlelight White.
Medium Pink is a nice clean pink, a perfect "baby girl pink."
Peach is an orange blended with Titanium White. It's still got a lot of color, but it's softer than orange. Think "tangerine."
Light Green is a wonderful minty bluish-green. A perfect accent for the froth on ocean waves.
Periwinkle is that fascinating color somewhere between blue and purple. If you mix Iridescent Sapphire and Titanium White, you'll be very close to Periwinkle.
The most important thing to note about the light colors is that they are very opaque. They are great for adding light accents and shading, and work well as a base color when you need to block out the "darkness" of black or other dark colors.
If you have a print (or a decorative paper) that is too strong for your project, try brushing over it with a light color to dull it down. Use a large, soft stencil brush and make sure you don't have too much paint on the brush. It's a great way to have a piece of fabric/paper that is "there" but not overpowering.
Have you used "light" paintstiks to put accents on your projects? Leave a comment and let me know how you are using them. Got a picture? Post it on our Facebook page.
Up Next: Bold & Bright Colors
At this point, we've talked about Neutral Colors and Light Colors. If you find yourself wanting to shout SHOW ME SOME REAL COLOR, just hold your horses! Next week we'll explore the Bold Bright Colors.