by Susan Stein
Here's a wonderful way to create textured snowflakes on fabric using paint, glitter, and the new set of Snowflakes stencils from Cedar Canyon Textiles.
Supplies: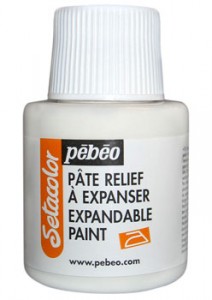 ~ Snowflake stencils [Cedar Canyon Textiles] ~ Black fabric
~ Sponge brush
~ Expandable paint [Setacolor™ by Pebeo] ~ Fine glitter, silver [Art Glitter] ~ Piece of copy paper
~ Heat gun (from the craft store, used for embossing) or powerful hair dryer
~ Heat resistant surface
~ Spray adhesive [404™ Spray and Fix]
Note: assemble all supplies and have them ready, as this technique requires working quickly.
Step 1 – Prepare the stencil
Spray the back of the stencil with adhesive and let dry so the glue does not transfer to the fabric.  Stick the stencil onto the fabric.
Step 2 – Apply paint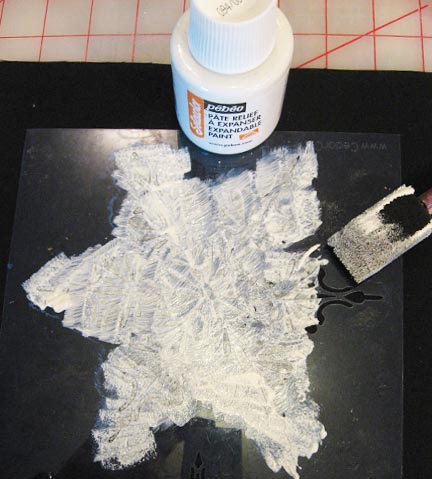 With the sponge brush, fill in the stencil openings with expandable paint.
Step 3 – Remove stencil, apply glitter
Immediately remove the stencil and sprinkle glitter over the wet paint.  Don't be afraid to sprinkle extra glitter on the fabric because you can reclaim it later.
Step 4 – Clean stencil and brush
Quickly wash the stencil and brush as the paint dries fast and cannot be removed when dry.
Step 5 – Reclaim excess glitter
Fold a piece of copy paper in half and shake the excess glitter off the fabric into the fold.  Pour the glitter from the paper back into the container.
Step 6 – Expand the paint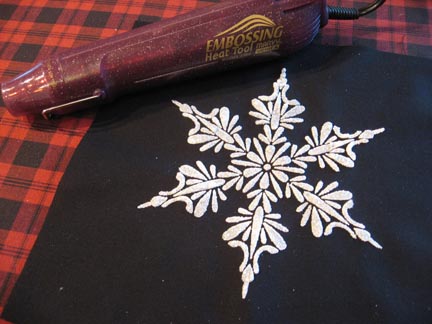 Place the fabric on a heat resistant surface.  With the heat gun or hair dryer held about 3" above the fabric, heat the paint until it puffs up. The paint dries very quickly once you begin the heating process, so there is no need to wait for it to dry before you expand the paint.
More about expandable paint
The Setacolor Expandable Paint is referred to as a medium on some art supply sites. It can be mixed with (or used underneath) other paints to make them expandable. Mixing the expandable paint with another textile paint will produce a pastel version of the color and it may be quite dull. Applying the expandable paint, and then another color over the top will keep the colors bright.
If you are using the expandable paint with glitter, there is no need to mix it with another color. The paint is simply acting as an adhesive for the giltter.
Resources
Learn more about stencils from Cedar Canyon Textiles here.
Art Glitter can be found at ArtGlitter.com.
Setacolor Expandable Paint can be found at FiberOnAWhim.com, joggles.com, or DharmaTrading.com.