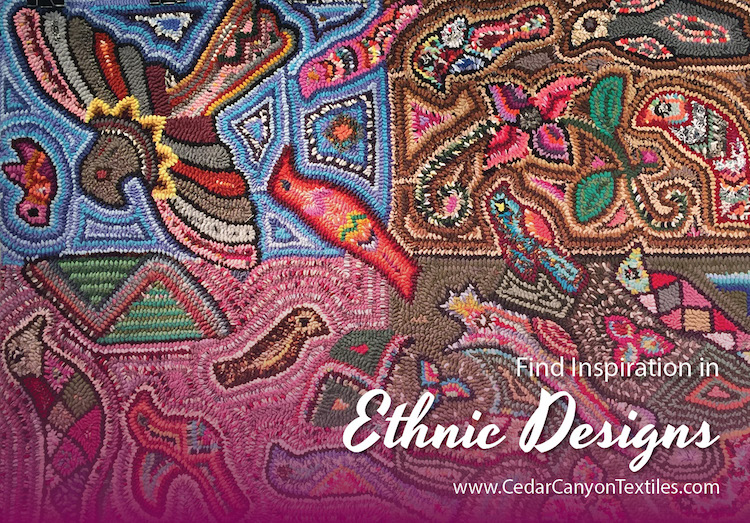 Do you collect particular crafts or textiles "in your travels?" Do these treasures influence the designs that appear in your work? As I was looking through photos a few days ago, I realized that my collection of textiles with ethnic designs may be a bigger influence on my art than thought.
Here are a few photos from a recent visit to the Twin Cities and some of the textiles I have collected over the years. The first 4 photos are from an exhibit at the Minnesota History Center in St. Paul.
This is a beaded yoke from the Mille Lacs area in Minnesota. It dates from the late 1800s, and the beads are still brilliant. The simple, graphic interpretation of flowers and leaves is beautiful.
This panel is from the front of a Bandolier Bag. It is also an Ojibwe artifact, and dates to the late 1800s.
This is a recent piece by Douglas K Limón in 2008. It decorates the top of a cradleboard. If you look closely, you'll see white turtle feet, heads and tails in each of the circles. The design elements are also repeated in the outer green band. You really have to look at these designs for a while to see everything!
A leather vest decorated with porcupine quills also caught my eye. This is from a Dakota maker from around 1900. It amazes me that these pieces, over 100 years old all retain intense color. I may have to learn more about what kind of dyes they used on those quills some day.
This amazing piece is a hooked rug in an exhibit at the Textile Center in Minneapolis. The exhibit is called The Power of Maya Women's Artistry. This piece, by Ramona Cristina Tumax Tzunun is based on traditional Maya costumes from three different areas.
Here is detail shot from this rug. I am fascinated by the design elements in each section of the rug, and the way the maker uses bands of color to mimic the embroidery stitches in the original costumes.
This exhibit will be at the Textile Center through August 27th, 2016. You really must see these rugs to get the full effect!
When I travel to Mexico, I make it a point to purchase several pieces from local artisans. This is a section of a table runner I purchased several years ago. The colorful geometric shapes are added after the weaving is complete.
There are so many different embroidery styles in Mexico! I'm going to make it a point to learn more when I visit again this fall. This is a small section of a beautiful embroidery I purchased at the Feria del Maestros in Chapala last November.
What I love most about the textiles I purchase are the stories behind them. I met Ina le Roux from South Africa at the Houston Quilt Festival several years ago. Ina started a project with women from the Venda tribe to preserve the stories and traditions of the Venda people while allowing the women to earn money to support their families.
Each of the embroideries has a story, and each is signed by the woman who stitched it. Textiles as a means of empowerment. It doesn't get any better than that.
In the past, I have purchased textiles as a remembrance, as a way to support the makers, and simply because I like the pieces. This year, I'm going to make it a point to learn more. There is much to be learned by studying ethnic textiles from different areas – and certainly no shortage of design ideas to inspire our current work.
Your Turn
Do you collect textiles in your travels? Do you make something with them – or simply keep them on hand for your enjoyment?