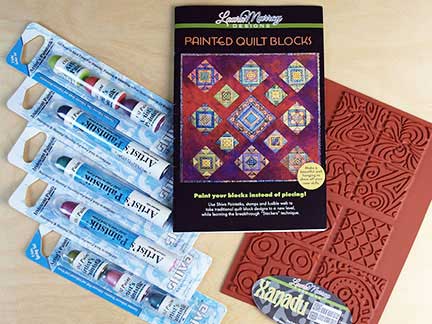 Start your year off with a bang when you enter our Paint Your Blocks Giveaway! I know that you love the chance to win a really cool prize; I've teamed up with my good friend Laura Murray to create a super-duper prize that could be yours!
Laura has generously provided one of her fabulous new Xanadu stamps and a copy of her Painted Quilt Blocks pattern. I tell you, the photos in this little book are absolutely gorgeous! And really, a picture is worth 10,000 words. I'll bet you could skip all the words in this pattern and simply follow the pictures – and be making gorgeous blocks in no time flat. It's really that easy!
To go with Laura's instructions and stamp, I'm adding 2 sets of Iridescent Paintstik Minis and 3 full size Iridescent Paintstiks. If you are our lucky winner, you'll find our Mini Spring and Mini Sorbet colors in your goodie box along with Iridescent Jade, Magenta and Sapphire.
I just added it up, and the total retail value of this prize package is a whopping $100.70! Now wouldn't that get your year off to a fantastic start? I thought so!
How to Enter
You can't win if you don't enter, and this will only take 30 seconds. Okay, maybe a minute if your internet connection is REALLY SLOW. To enter our totally free giveaway, click on the link below, fill in your name and e-mail address, wave your magic wand over your screen for good luck, and click on the button that says "Pick Me!" – here's the link:
Click here to enter the Paint Your Blocks Instead of Piecing Giveaway!
Don't even think twice. Just click over there right now. You and I both know that you would just love to win this gorgeous prize. It's worth over $100 – and you don't find those every day. Once again, here's the link to the Paint Your Blocks Giveaway.
The Fine Print
Yes, we have a couple of rules. Our form will only let you enter once. The deadline for entries is 11:59 p.m. on Friday, January 11, 2013 (that's Central Time here in the US). After the deadline, we'll use a random number generator to choose the winner. If you choose to join the Cedar Canyon Community or Laura's newsletter list (and we hope you will), you will be added to the respective mailing lists if you are not already on them. There is absolutely no charge for either membership – just tons of great ideas and information!