by Shelly Stokes, Founder and Creative Mentor

Readers Beth Shilling, Gina Milano and Marilyn Turner have used stenciled images to spice up their projects. Marilyn's quilt actually uses both stencils and rubbings, so we get a "2-fer" with her project. Let's get right to these beautiful projects that make beautiful use of our favorite Shiva Artist's Paintstiks.
Gina Milano's Design Magic Leaf Projects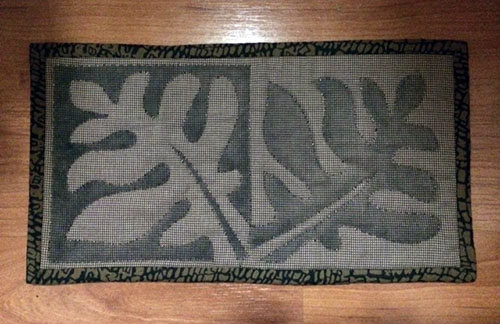 Gina was one of the participants in the recent 30 Days of Design Magic course. One of her many designs was an elegant leaf, which makes a beautiful design when set into a repeating pattern.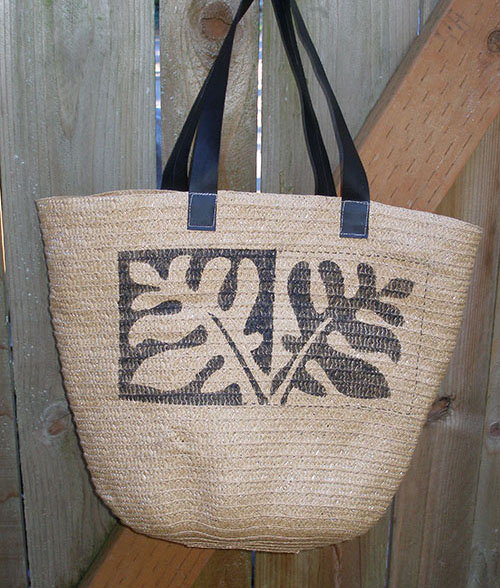 Gina loves to make mug mats that are about 5" x 10" in size (see photo above). She also used her DesignMagic stencils to add the leaf image to a tote bag. With some simple outline stitching, she has a personalized tote that is absolutely beautiful!
Beth Shilling Publishes Article in Machine Quilting Unlimited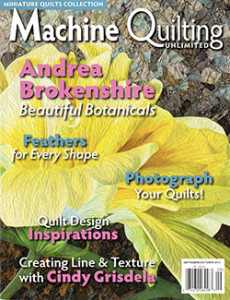 Community Member Beth Shilling is not only using our Artist's Paintstiks in her projects, she is getting published as well!
Beth wrote an article titled "Redwork, Blackwork, Bluework, FUNWORK!" in the September 2014 issue of Machine Quilting Unlimited. In the article, Beth explains how to do redwork by machine rather than using hand embroidery.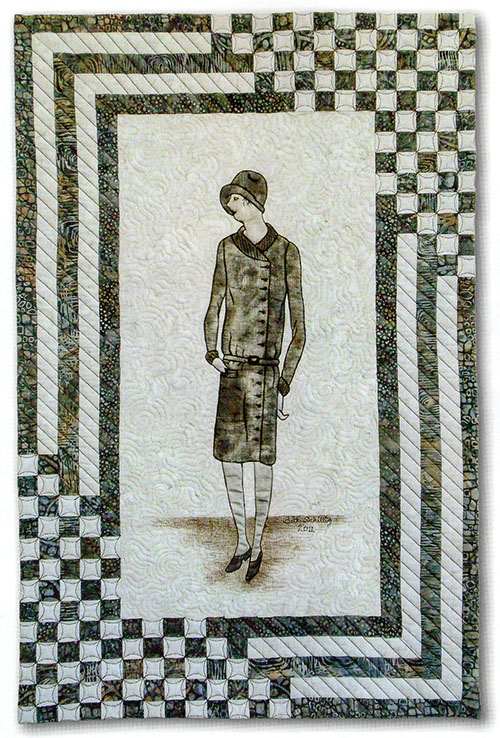 Beth also relates the story of her Gatsby Girl quilt, which starts out with a little bit of stenciling with Shiva Paintstiks.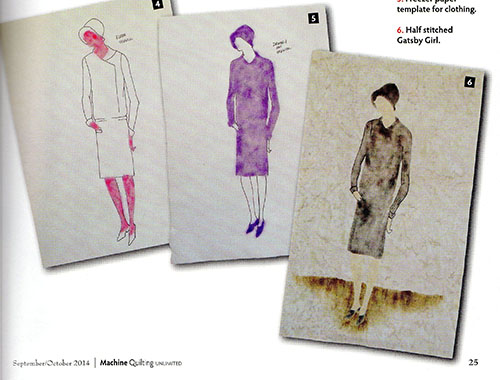 Beth used two stencils to create her Gatsby Girl. One for the dress, hat and shoes and a second for the face, hands and legs. After the girl was stenciled, Beth used her machine technique to draw the outlines of her girl's figure.
You can get the details on Beth's technique when you pick up the Sept/Oct 2014 Machine Quilting Unlimited Magazine at your local newsstand or sewing store.
Marilyn Turner's Autumn Leaves Quilt
Marilyn Turner sent a note with the photos of her quilt, so I will let her do the honors here.
"These pictures are of a hanging I made for  a Guild Challenge a few years ago.  All the quilts were auctioned to support our Childrens' Hospital.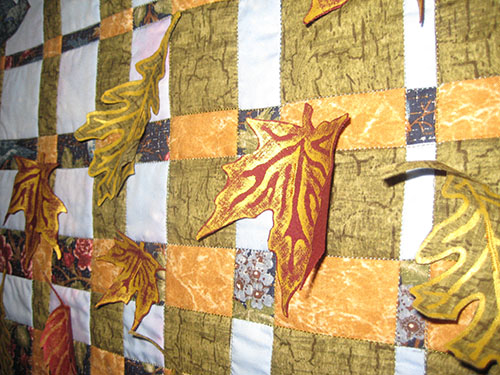 "I used your leaf rubbing plates and iridescent gold paint stick for the 3 D leaves, and my own stencil and matte paint sticks for the leaves in the border.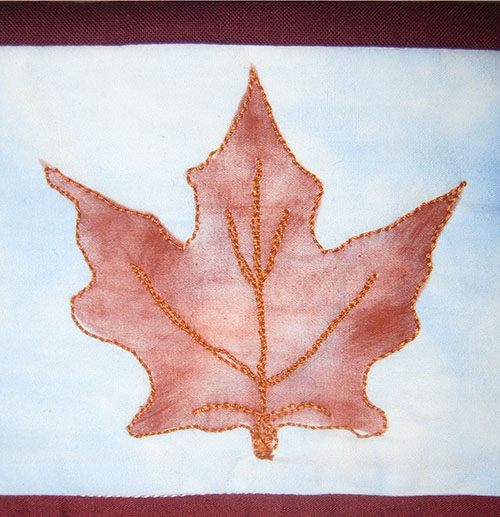 "I stitched the veins in the leaves of the border with heavy thread.  The 3 D leaves were made by laminating two layers of fabric together with craft weight bonding and then shaping the curl while hot from the iron.  I sewed them on with gold satin stitch embroidery along the central veins.
"The Ricky Tims Convergence background is made up of my own hand-dyed blue fabric, plus the challenge fabrics."
My special thanks to Gina, Beth and Marilyn for sharing their projects. It is always inspiring to see what our Community Members are doing with Paintstiks.
If you have a Paintstik-related project you are willing to share in Fabric Art Magic, send high-quality images and an explanation of your project to support@cedarcanyontextiles.com. Please include "Share My Project" in the Subject line of your email.
I will share more reader projects next month when my travel schedule resumes during my trip to Houston and Atlanta.