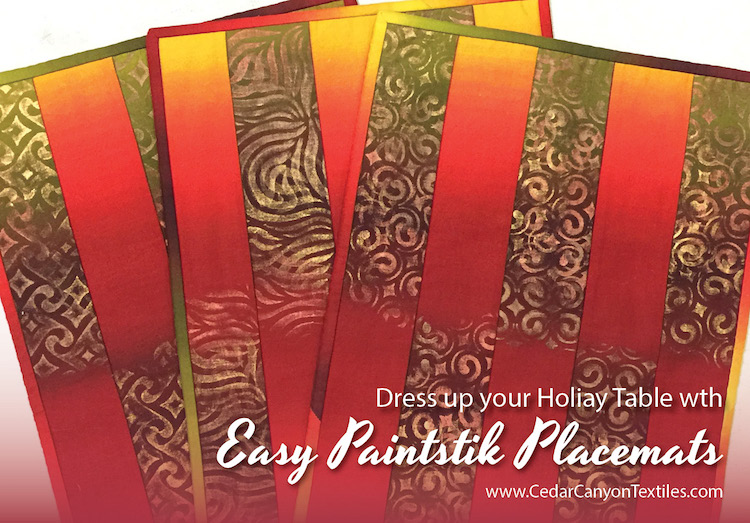 With Thanksgiving around the corner, I want to give you a quick and easy recipe for dressing up your table. Let's dig in and make some Easy Paintstik Placemats!
There are just a few ingredients in this recipe.
Some relatively plain fabric. If you've got some nifty graduated-color fabrics, all the better!

A rubbing plate or textured surface suitable for Paintstik rubbings

One or two Paintstik colors that coordinate with your fabric.
The complete project "recipe" for this project is waiting for you in the Community Center, so I'm going to skip over the details here. There is a link for you at the bottom of the post.
Start with fabric that is just a bit bigger than your finished placemats. Add Paintstik rubbings to one side of the fabric.
For my best tips on making rubbings, click over to Clean Paintstik Rubbings.
Once the paint is dry, cut the fabric into strips.
Next, pick up every other strip and reverse the direction. See how easy it is to turn a piece of painted fabric into a very cool pattern?
As promised, these Easy Paintstik Placemats are quick to make. Layer batting on top of backing, and then do the assembly using a sew-and-flip method. Once you get to the edges, the quilting is done.
Add binding to finish them off.
Ta Da! Your beautiful new placemats are ready for your holiday table – and you can savor the sweet satisfaction that comes with making them yourself.
Resources
The instructions for making Easy Paintstik Placemats are located on the Projects page in the Community Center. All of the projects in the Community Center are free when you join the Cedar Canyon Community
Community Members: Click here to go directly to the Community Center.
If you're not a member, you can get instant access to the Community Center and all the free projects when you join us today.
Your Turn
What's your special holiday? Do you deck out your table (or the whole house?) Leave a comment and let me know!