by Shelly Stokes, Founder and Creative Mentor

I was shooting a series of how-to video clips for the Totally Textured course over the weekend. Everything was going just fine until I went back to do a second take on one segment. Suddenly, I had a really obnoxious hum in the audio. And not just background noise — this hum was louder than my voice on the video. Argh!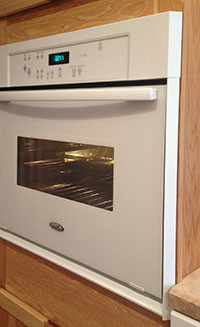 My hubby was busy upstairs, so I went off to investigate. Ah, he had put clothes in the dryer. No problem there. I stopped the dryer and went back down to the studio. I filmed the segment with my trusty iPhone, and thought I was done. But no — that awful hum was still there!
Now this didn't make sense. I had been shooting video for a couple of hours. The washer didn't cause a problem. The dryer was not the problem. What the heck???
After several trips up and down the stairs, I found the culprit. Jack decided to bake a cake. If we had a standard kitchen range, it would not have been an issue. But our wall-mounted oven has a fan that runs constantly while the oven is hot. And it turns out that the oven fan and my iPhone mix about as well as oil and water.
Most of the time, I can simply head upstairs and say "please don't do that" when I'm filming. But, as you know, it's not a good idea to step between a guy and the thing that's going to satisfy his sweet tooth. And it's not like you can turn off the oven and finish up later! There was nothing to do but take a break, wait for the cake, and finish up in the studio.
Now you may be thinking that I got to enjoy some of that cake. Unfortunately, you would be wrong. When my sweetie bakes for himself, he avoids the gluten-free ingredients in my side of the pantry. So I settled for a gluten-free muffin and a cup of my favorite tea.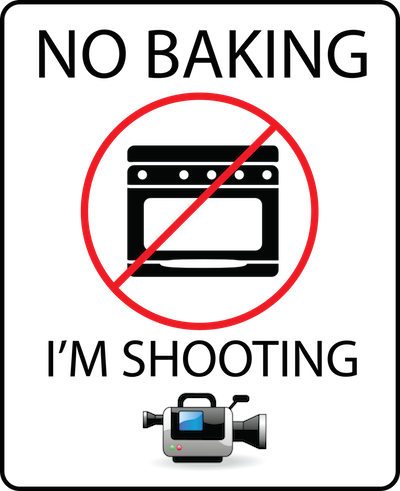 After I finished my videos, I made up a sign for my kitchen. You can be sure it will be hanging on the oven door the next time I start shooting. Do you think it will work?
How about you, when you need your quiet time, how do you communicate that to those in or around your space? Tell me below or visit our Facebook page.