by Shelly Stokes, Founder and Creative Mentor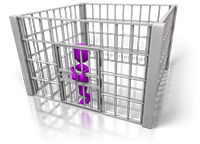 Do you ever feel "boxed in" after making a decision? Or that it Is wishy-washy to change your mind once it is made up? Yes? Oh good – then it is not just me!
Let's face it. We live in a world where decisiveness is highly regarded and rewarded. Make a decision and get it done. And those people who change their mind? Well, off with their heads, right? Just a bunch of flip-floppers – and who needs that!
But what if all this "decisiveness" is killing off our creativity? What if it is cutting off our ability to take in new information and change our point of view? There must be a better way.
Decide or Choose?
Let's look at decide and choose, two words that appear to mean the same thing. If you dig into the dictionary, you will discover that they are really quite different.
To DECIDE means "to cut off" or "to kill off." That seems pretty drastic, but it makes sense when you consider similar words like homicide (to kill a person), herbicide (to kill a plant) and insecticide (to kill a bug). Follow this link for more on "decide."
To CHOOSE means "to select from a number of possibilities" or "to select freely after consideration." When we choose to do something, we set the other options aside as we pursue the option we selected.
Does it really matter if we "decide" or "choose?" In terms of living and working creatively, I believe the answer is yes. By framing our thinking in terms of choosing rather than deciding, we leave the remaining options on the table. If more information comes our way, we can go back, reconsider, and choose again.
Now don't get me wrong. I am NOT saying that we should not choose and stay flexible to the point of not getting out of bed in the morning. We do have to choose what to wear, what to have for breakfast, and which route to drive to the office. If we didn't, we would never get anything done.
But I find it useful to think in terms of choosing when it comes to my art and to the big, important things in life. In choosing, I know that there are options I chose not to pursue. I have not killed them off by deciding. Let's look at two examples.
Add Texture Now or Later?
I am working on a new project that begins with adding shapes to my fabric with stencils and Paintstik colors. As I was getting ready to paint, I realized I could add texture to those shapes by making rubbings inside the openings of the stencils. My brain was shouting, "Cool! I can do two things in one easy step!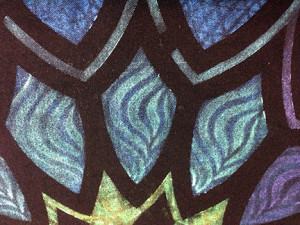 Since I am working on a much larger scale than I have in the past, I'm working with a test panel to see how my ideas work. I charged off and painted a bunch of shapes, adding both color and texture.
But, when I stepped back and looked from a distance, I had the feeling that I had added too much texture. I stopped for the day and went back the next day with fresh eyes.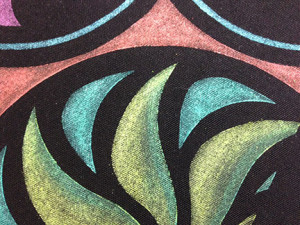 When I looked again, I realized that adding the texture to the shapes at the beginning would not be reversible. I would not be able to choose again. If I "decided" that I did not like the effect, I would have to start over.
Thankfully, I recognized that I can paint the shapes without texture, then go back and add it later. I can simply lay another stencil over the painted shapes and add another layer of paint. (With paint, it is a lot easier to add than to subtract.) By choosing to start with less, I still have the option to add more.
Artist AND Entrepreneur?
Choosing is not just for our creative activities. It is especially helpful as we consider the things that really matter.
Years ago, I decided that I had to set my personal art aside to pursue an opportunity that became the Cedar Canyon Textiles that you see today. At the time, I had never run a serious business and I simply did not have the energy to do both.
In more recent years, I found myself feeling really out of sorts and creatively "blah." ("Blah" is one of those technical business terms.) Due to the decision I made many years ago, I felt like I would have to sell or shut down my business in order to reclaim my art. In deciding, I had killed off the option of doing both.
Thankfully, I have a very wise mentor who has helped me understand that I chose one path – and that I am free to choose again. After all, I am not the same person I was then. I have years of experience running my business. I can delegate more of the day-to-day activities AND make time for my art. I can choose to do both!
What's Your Choice?
Do you decide or do you choose? Does one feel better than the other? Please share your story here in the comments or click over to our Facebook page. I'd love to hear your thoughts.