by Shelly Stokes, Founder and Creative Mentor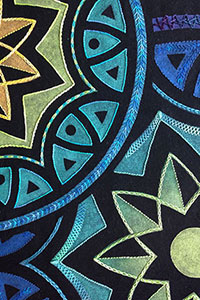 While we were chatting last week, my good friend Laura Murray asked me how I was approaching my current project. Did I choose the stitches and colors before I started? Was I working each panel top to bottom?
My reaction was "Heavens no! I have no idea which stitches and colors I will use until I get there." As she prodded me a little more, I realized that I was working more methodically than I thought — just not top to bottom. I start at (or near) the center of each medallion and work out to the edge. I choose thread color and stitches as I go, allowing the medallions to "tell me" what's next.
This got me thinking more about how I was working over the weekend. Thankfully, the universe was paying attention and dropping bread crumbs for me to follow.
Same Song, Different Verse
On Sunday afternoon, I found a fascinating conversation between Chuck Close and Paul Simon on the topic of (drum roll please…) Creative Process. Jackpot! In the interview, Close and Simon discussed the similarities in their creative processes — even though one is a visual artist and one is a musician. [Paul Simon, Chuck Close, and the Creative Process • The Atlantic website, April 12, 2011]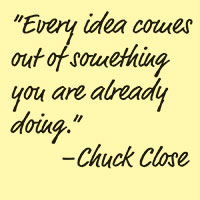 The conversation began with Close stating that "If you you are going to wait around for the clouds to part and a bolt of lightening to hit you in the head, you may wait forever. Almost everything comes from the work itself. Every idea comes out of something you are already doing. It just kicks open the door and you go through that."
Aha! Now my "inside out" process for stitching medallions made perfect sense! I settled into a comfy chair and watched all seven video clips. (Don't worry, they are fairly short and worth every minute!)
I was fascinated to learn that Chuck Close has spent his entire artistic career creating portraits in spite of the fact that he suffers from "face blindness." By refining his process, he creates amazingly accurate likenesses of people (on a huge scale!) even though he would not recognize the person if they stood next to him.
I was equally amazed to learn that Paul Simon's song-writing process has evolved to the point where he begins with a rhythm and then works backward through the chords, melody and lyrics. He said it is as though he is painting the background first, then deciding what the subject will be and what the subject is thinking or doing. Now that is different!
By working in a process, each of these talented artists is free from "the big picture." They are not tackling the whole piece at once, just concentrating on the very next step. I loved Close's comment that his process is more like "sneaking up on something and finding it" rather than conceptualizing the entire piece and then executing it.
I thing I will borrow this idea of "sneaking up on" my art. It certainly fits with my experience. While I usually have a pretty good idea of how a piece "should" look when it is finished, it rarely turn out according to plan. The best pieces evolve as I work and often catch me by surprise.
What's Your Creative Process?
Do you plan out your art or projects? Do you simply "work the plan" or do you allow the piece to evolve as you work? I would love to hear your thoughts here in the comments or over on our Facebook page.