I recently spent time working with several water-based art supplies to see if I could achieve a water-color look with rubbing plates. You're probably thinking that "water-color" and "rubbings" are a contradiction in terms, but that hasn't stopped me yet!
I played with ink pads, dye sticks, water soluble wax pastels and Inktense blocks. The results of my experiments were mixed, especially in terms of wash fastness, but that was not surprising. I used supplies I had on hand and a few I picked up at the local craft store.
The biggest lesson I learned was pretty much a no-brainer – if the package doesn't say the color can be set, it's just about guaranteed that the color will wash right out of fabric. On the flip side, I don't wash everything I make, so some of these supplies will work just fine. And there are wash-fast versions of many of these tools available – they just weren't available in the local store I stopped into when I was running errands.
Here are some quick photos from my experiments. When you set out to play, take notes. I like to write directly on the fabric. If I don't, I know darn well that I won't have a clue how to reproduce the look of my samples.
Inkpad Rubbings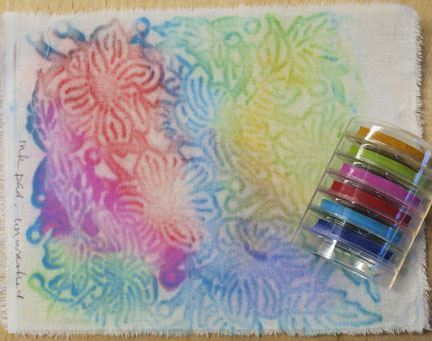 I don't have many inkpads in my supplies (although that could change…) but I was pleasantly surprised at the rubbings I was able to make from this rubbing plate in the Garden Flowers set. This ink can't be heat set on fabric, but after snooping around on the web, I found references to other types of ink that are permanent. I liked the way the colors blended and the final look.
Dye Sticks Rubbings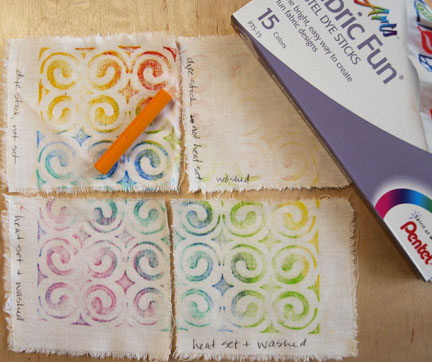 I had pretty good luck with the Pentel Dye Sticks. These are waxy like crayons and made very crisp rubbings. The dye sticks are not a water-based product and they don't give a water-color look. But they were on my list of things to play with, so I'm telling you about them anyway.
The color range is limited, but they are easy to work with. I saw some color in my wash water, but heat setting makes them reasonably permanent. (The fabric square on the top-right was washed without being heat set. The color did not wash out completely, but it's definitely not permanent without heat setting.)
Wax Pastel Rubbings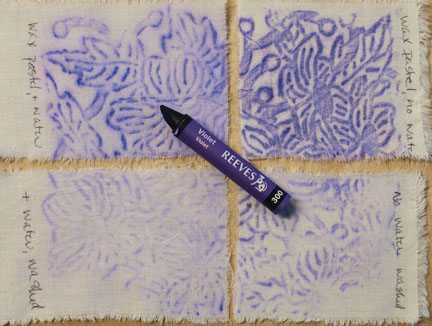 I found some very inexpensive water soluble wax pastels at a local store. The rubbings are very clean and soften up nicely when water is added. This brand is definitely not wash fast.
Inktense Rubbings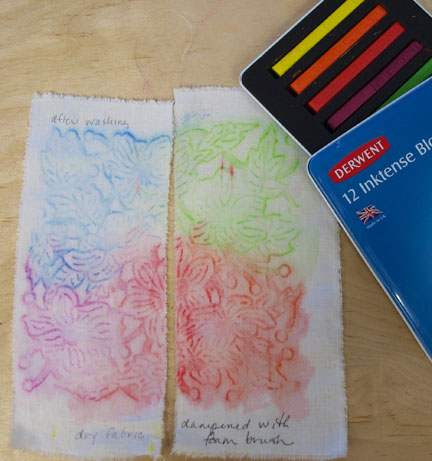 I've heard a lot about Inktense pencils and blocks. The instructions say they are permanent once water is added. I did a number of tests with this product and found that the color must be thoroughly wet – not just dampened to get a lasting color. (I also learned not to accidentally set my wet fabric on one of the blocks. It will soak up that color immediately, adding unintentional "design element" to your fabric!)
My thoughts on the water-based materials…
I have to admit that I really like some of these water-based supplies. I was able to create some really nice effects on fabric, and most can be made permanent with the right supplies. I'll have to do some in-depth experiments to learn more about these products, but that's true of anything new.
I did note that these materials are limited to working on light colored fabrics. They simply don't show up on dark fabrics. (Yes, I tried…) I'll never give up my beloved paintstiks, but I'm happy to make room in my toolbox for more delightful toys!