Are you ready to design your own fabric?
Do these thoughts ever cross your mind?
This fabric is close to what I want, but it's not quite right. It would be really cool if…
Someday, I'm going to figure out how to make my own fabric designs.
I spent all this time working on this project, and then I see one that looks almost identical. Argh!
You're not alone... and it's certainly not your fault!
Let's face it. As quilters, sewers and fabric artists, we have an AMAZING array or ready made fabric that we can use in our project. (In fact, the choices can be totally overwhelming!) But… in spite of the abundance of choices, there are times when there is nothing in your stash – or your favorite store – that comes close to being "just right" for your project.
It's okay. We all run into this. You are definitely not alone in being frustrated when you can't find the right piece of fabric. You're a creative person, and it's perfectly normal for you to "see" the right design, color, scale or pattern in your mind's eye. You were born that way!
The question is… what are you willing to do about it? Are you willing to learn something new? Are you willing to dip your toes in the the big wide waters of designing your own fabric?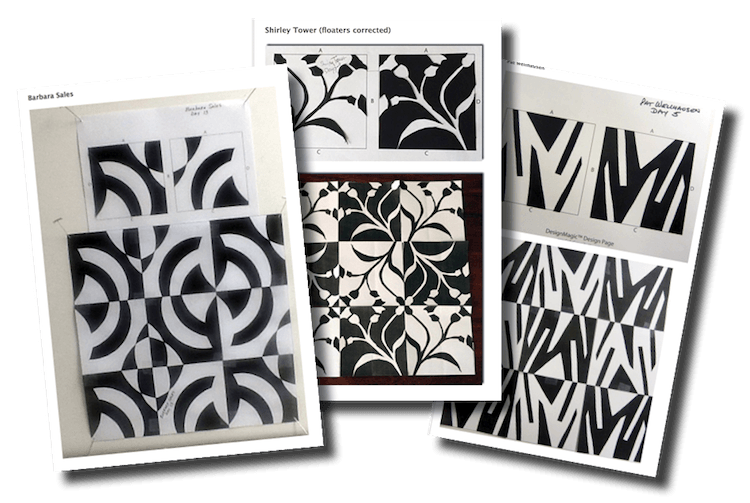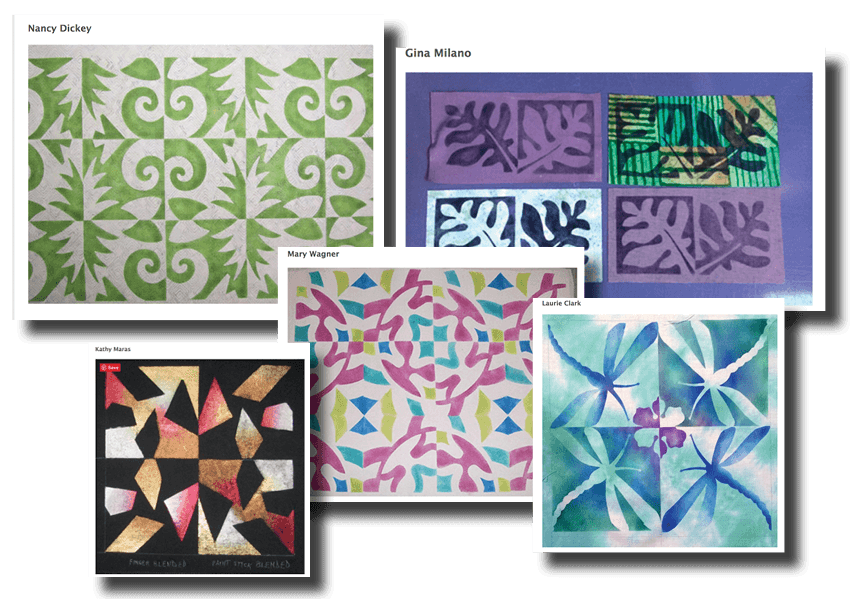 Student designs and painted fabric from Barbara Sales, Shirley Tower, Pat Wellhausen, Nancy Dickey, Gina Milano, Laruie Clark, Mary Wagner and Kathy Maras.
Learning a versatile method for creating designs and repeating patterns that are unique to you
Painting your designs on your fabric with stencils you cut by hand or with your cutting machine
Being challenged to push the boundaries of this design method – and your own skills – in a safe and supportive environment
If this sounds exciting, you're in the right place!

I'm Shelly Stokes, founder and Creative Mentor at Cedar Canyon Textiles, and I want to turn YOU into a fabric designer!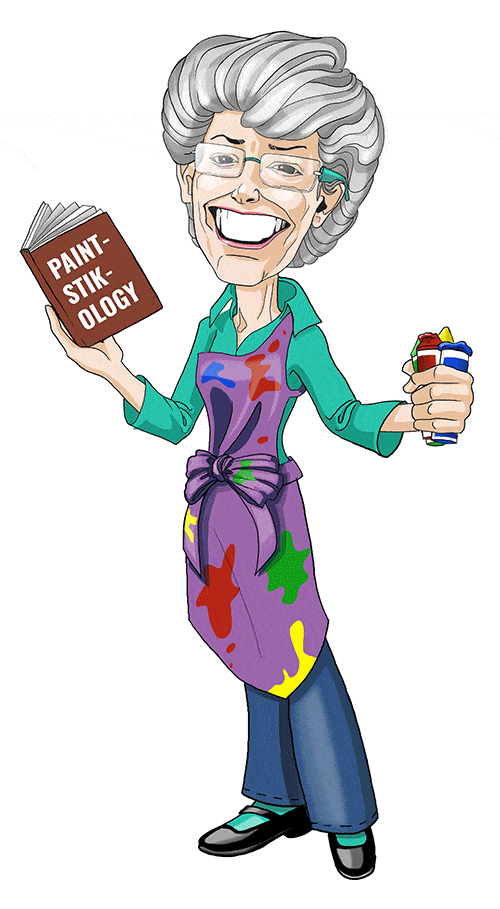 I am an artist, author and "Professor of Paintstikology." My quilting and fabric art adventure began in 1995 when I dropped out of the computer engineering world. I began with quilting, developed a small hand-dyed fabric business, and then fell in love with Shiva Artist's Paintstiks in 1999.
I've spent all the years since then working with Paintstiks, writing books about Paintstiks, developing really cool products that make Paintstiks even more fun – and teaching people just like you to create beautiful fabric with these simple tools and techniques. It is no stretch of the imagination to say that Paintstiks took over my life!
The 15+ years I have spent working with Paintstiks, including 10 years as the supplier and product champion in the quilting marketplace, have given me ample opportunity to explore the ways they can be used with fabric, discover what works and what doesn't – and to see just how far they can be pushed without crumbling, cracking or creating a mess.
The 15+ years I have spent working with Paintstiks, including 10 years as the supplier and product champion in the quilting marketplace, have given me ample opportunity to explore the ways they can be used with fabric, discover what works and what doesn't – and to see just how far they can be pushed without crumbling, cracking or creating a mess.
About 10 or 11 years into my Paintstik adventure, I began playing with positive/negative (Notan) designs and turning them into repeating patterns. Once refined, that bit of "play" became Design Magic – a very cool method for creating original designs and painting them on fabric!
Now that I'm dedicating my work time to teaching and making my own art, I'd be honored to share my hard-earned knowledge with you. Nothing makes me happier than passing along the things I have learned – and watching people just like you take that knowledge and head off on pathways I haven't imagined possible.
You Are Creative
~ Even if you don't always feel that way
Now, before those "I'm not creative" gremlins have a chance to jump out and spoil our party, I've got something important I want to say.
I am totally confident that you have some great creative genes in you – even if you feel like they have been "hiding out" most of your life. Those little talent genes are there – and it's our job to uncover them! In less than a minute, I am going to share with you that one special secret that will change the way you approach all your creative activities.
But first, I want to make sure you are in the right place. I have an incredible secret to share. It's for you if you are tired of doing the same old thing with your once-favorite tools, if you feel like you're stuck in a creative rut – or if you feel like you simply can't start on anything NEW until you use up some of the stuff that's taking up space in your studio. If this is you… read on!
You don't have a patent on the creative "blahs" ...
It happens to everyone!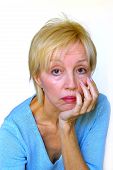 Today's big secret is important to you, to me, and to all of us at some point in our creative life. When we're stuck in a creative rut, or just simply bored with what we are doing, we get a case of the 'blahs' and drift away from our creative activities. When we're exploring something new, we get excited – and get back to having fun.
Now, I know what you are thinking, because I am just like you – and I still struggle with the same dragons. Do you ever think to yourself…
"I would love to learn to do this one new thing, but I have no idea where to start."
"It's too hard and it takes too long to really get good at a new technique – I'm sure I won't get over the hump."
"I'm so tired of struggling when I try something new – I just want to be able to make something beautiful quickly and easily."
I know exactly how you feel! So many times, I've been right where you are, wishing I could snap my fingers and *poof*, instantly master a new creative technique and start producing fantastic results in no time. Unfortunately, it doesn't usually work that way.
That's why I'm so excited about sharing this special secret. I just know that you'll be able to put it to use IMMEDIATELY – and get back to having the fun in your creative life that you deserve – and get back to loving all the wonderful goodies that you've collected over the years. And what's not to love about that?
As creative people, we are plagued
with a short attention span.
Believe it or not, it's unfortunately true. As I traveled to trade shows, guild meetings and classes over the past few years, I have asked literally hundreds of people what holds them back from mastering a tool or technique. And over 90% of them say the same thing, "I just don't stick with it long enough" or "I'm too easily distracted by something new."
As quilters, painters, artists and crafters, we tend to learn something new, practice one or two variations, and then set it aside as we pursue the next new and exciting tool or technique.
The most obvious reason for this is simple: As a creative person, you are blessed with an abundance of curiosity and willingness to explore new things. But you may lack the patience and persistence to keep going back to the well with the same tools and techniques to see "what else" you can create from them.
Unfortunately, this short attention span and the tendency to move on to the next thing can lead to feeling guilty and getting down on yourself as you think "I can't believe I bought all this stuff and now it's just taking up space in my studio!" or "Why do I think I'll be able to design my own fabric when I've never mastered any of the other things I set out to do?"
As a teacher, here's what I've learned that keeps creative people stuck. Ask yourself if any of these have stopped you before:

No Step-by-Step System
Do you get stopped in your creative pursuits because you don't have a step-by-step system – just a bunch of ideas but no clue where to start?

Too Hard a Process
Do you worry that you will use up a bunch of perfectly good fabric and supplies without anything to show for it because the process is too hard, so you never finished the project?

Can't Get Results Shown in Book
Maybe you feel like you'll never be able to create something that looks like the picture in the book – and that you'll be disappointed in yourself, or that it will simply take far too long before you can create something you like.
If you can relate to any of these feelings, I'm excited to share that you can have a whole new relationship with the tools and supplies stashed in your studio. Now, here's the big secret that I've been promising you…
The secret to CREATIVE SUCCESS is
Playing – Within A Framework
To to that, you need STEP-BY-STEP
SUPPORTED LEARNING, using
simple tools and techniques, so you get
GREAT RESULTS RIGHT AWAY!
Getting stuck creatively is almost never a matter of talent or ability – it's a matter of process. And that's pretty easy to fix.
Now here is the key… the power of exploring a topic in a step-by-step fashion is that repetition builds confidence – and confidence boosts creativity. By having step-by-step expert guidance with a simple technique, you'll have fun immediately (which means you'll stick with your creative process long enough to develop it fully).
Then you never have to feel guilty about having yet another set of supplies that are just gathering dust or another class technique that gets you nowhere. You'll know exactly how to use them for any number of projects!
If you follow this path, you will build your collection of beautiful, creative work right away, not to mention your confidence. Guaranteed!
In fact, I am willing to bet that if you use a step-by-step approach like I have been describing, you will find that you can't wait to get into your studio, to tackle the next step — and to have fun again. And that's what it's all about!
Best of all, this magically wonderful step-by-step process will be handed to you, because we've created it for you!
Start designing your own fabric NOW
If you're reading this, you've clearly had thoughts of creating your own designs and putting them on fabric. But you are probably like I was a few years back – full of lots of ideas and not a clue where to start.
Today, I would like to invite you on a new adventure that I call Design Magic. We'll use a simple three-step process to go from our initial designs to fabulous fabric with stencils, brushes and Shiva Artist's Paintstiks.
But before we start talking about this design process, Let me say this: You can do this! The Design Magic process works. Guaranteed. Every time.
Now let's be perfectly honest. You will not get a fabulous design on every try. You may not get something you're really excited about for the first couple of weeks. But if you stay engaged, and keep working the process, you will create some pretty cool designs! Here are a few designs from the students in the 30 Designs in 30 Days class held a few years back.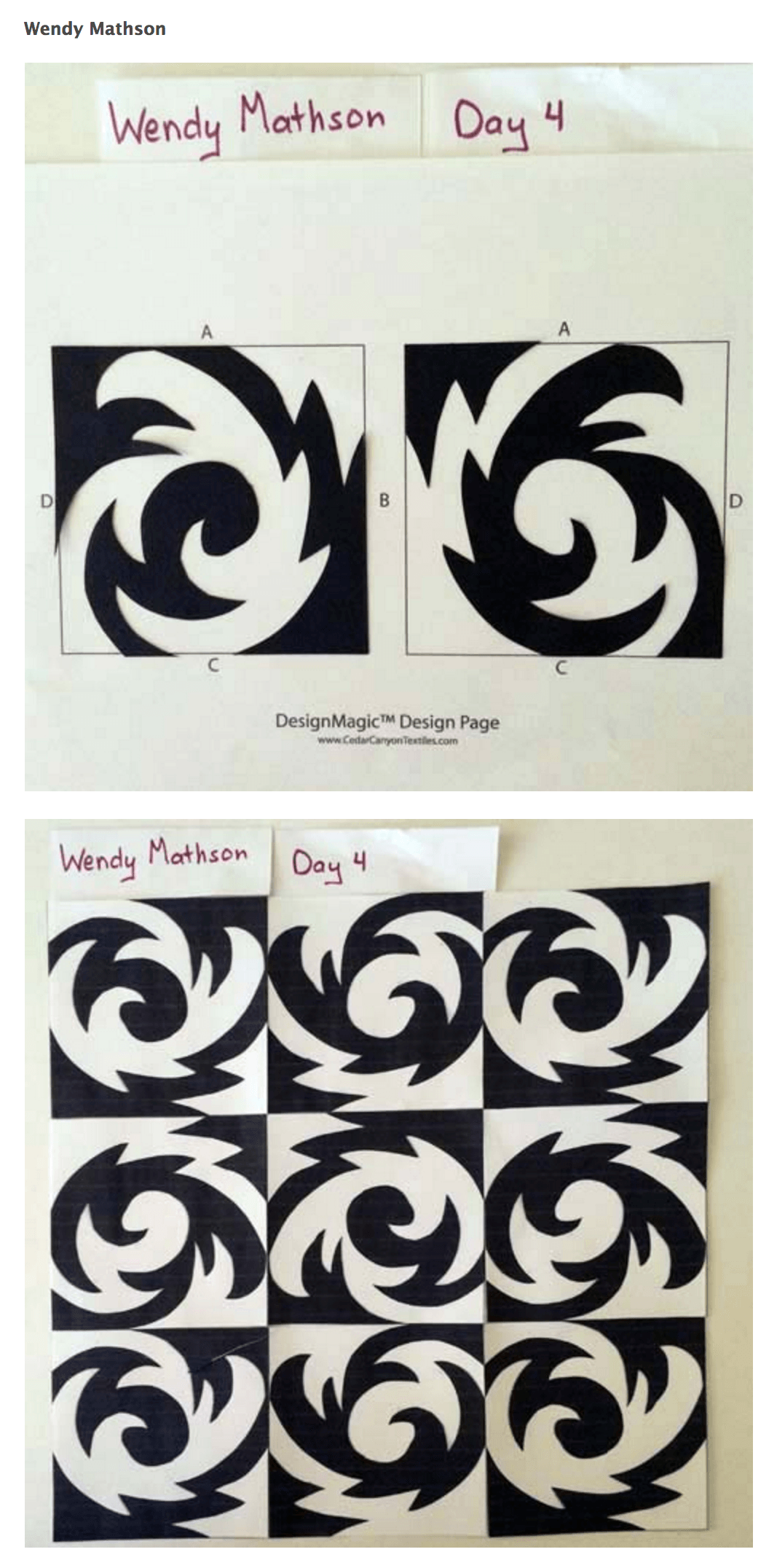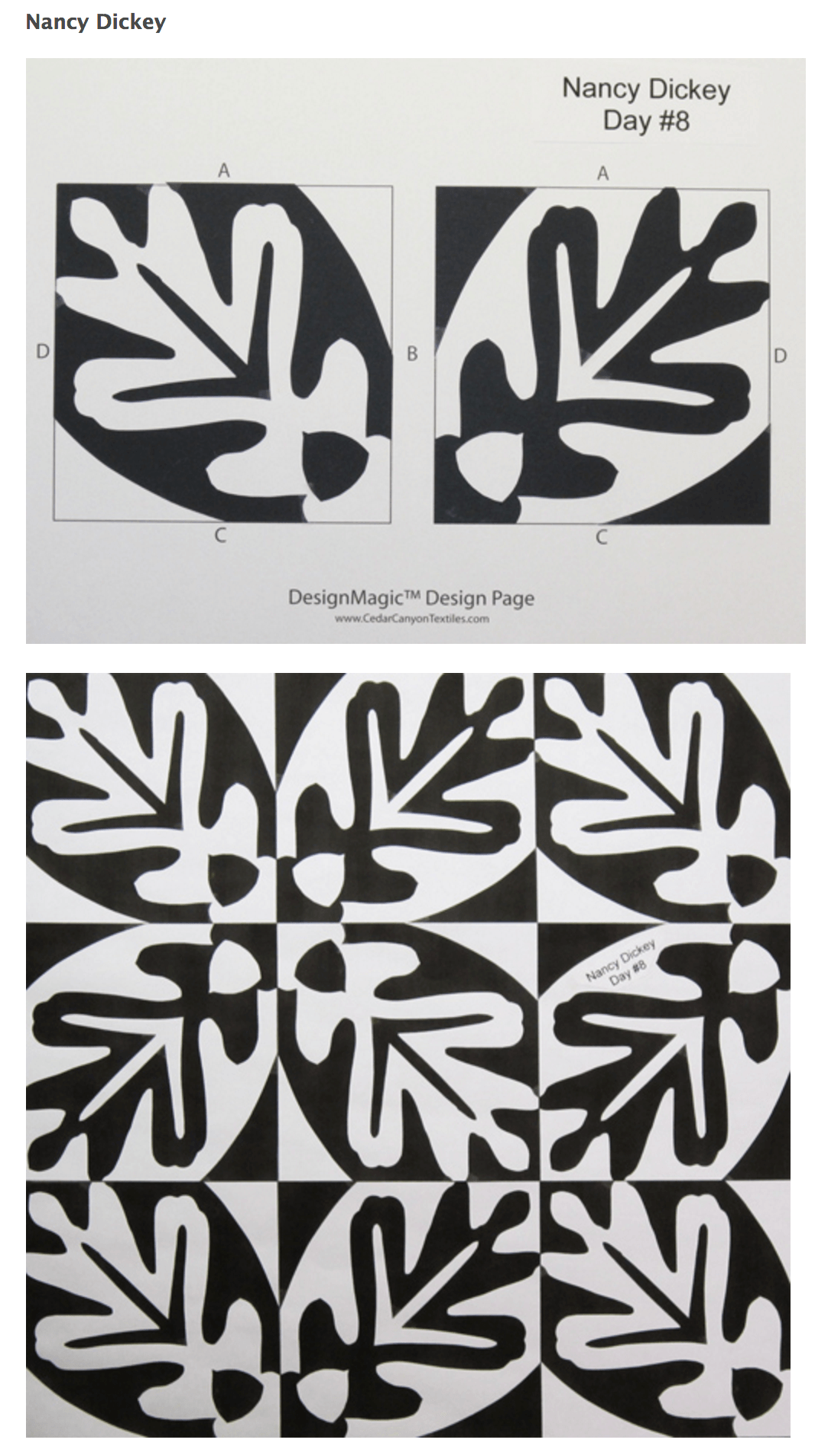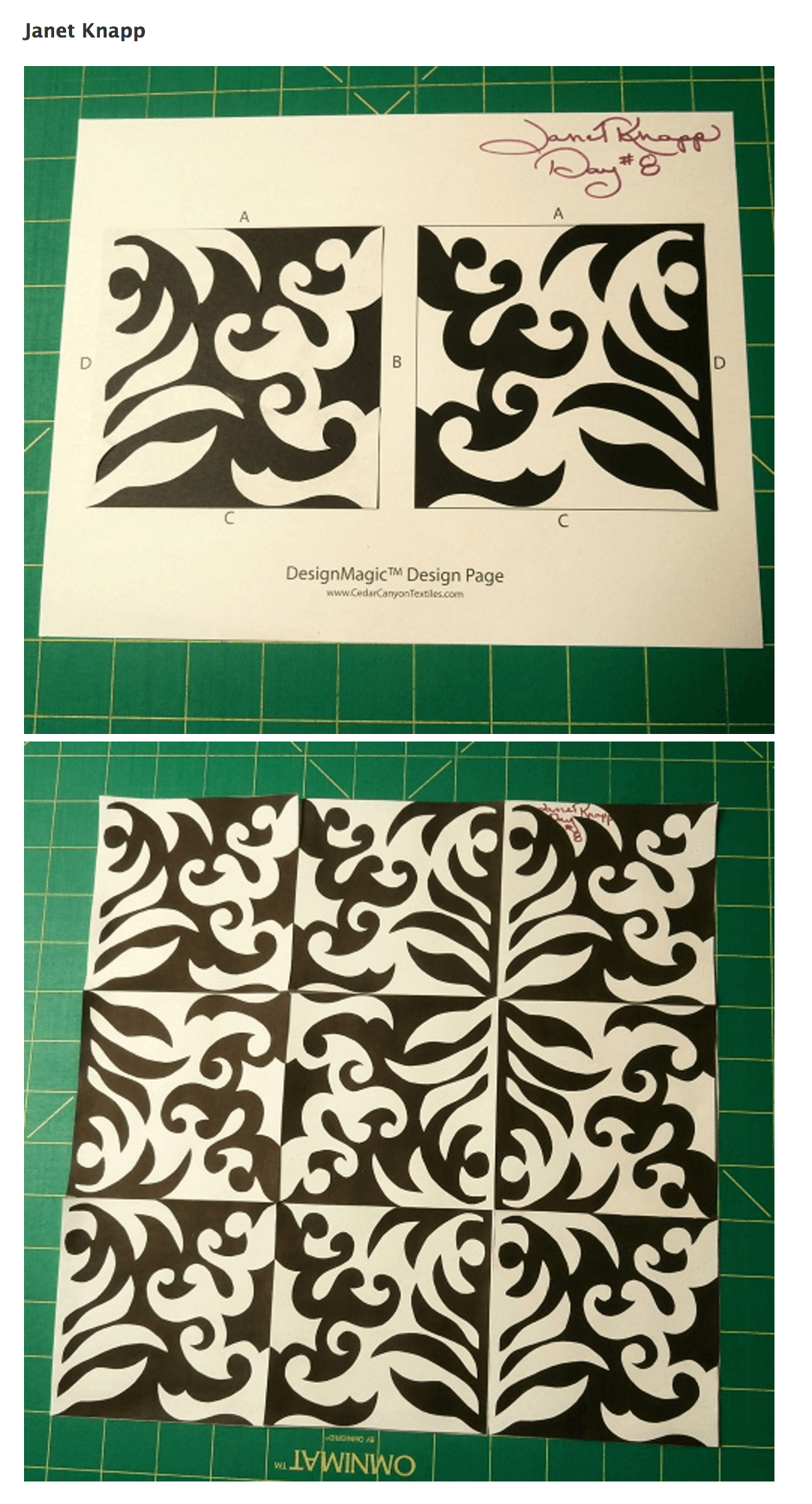 Student designs from Wendy Mathson, Nancy Dickey and Janet Knapp
The women in this class were not professional designers, but they turned out some pretty amazing designs – and you can too!
Of course, we're going to do a whole lot more than creating black and white designs. Oh no… we're going turn those designs into stencils and add them to fabric. We'll cover the ins and and outs of cutting stencils by and and with a Silhouette cutting machine, then paint up a storm with my favorite Paintstiks – and take a peek at some additional "coloring" options.
Yikes! This is turning into a serious adventure! With that said, let's take a look at the course.
~ Design Magic ~
What We'll Cover in your 6-Week Course
Our course includes a series of weekly lessons specifically designed to do two things: First, to explore the design concepts one-at-a-time instead of lumping everything together in a single session; and second, to combat the 'short creative attention span' that plagues so many of us by working on new skill in a systematic fashion.
There are six lessons on our Design Magic course. The first lesson lays the foundation for a successful adventure – much like packing your suitcase and checking it twice (or three times!) before you set out.
From there, we will explore this concept from A to Z – from design to finished fabric! Let's take a look…
Module 1: Create Your First Designs
With Design Magic, the only way to get started is… to get started! We'll start with simple designs while we get the hang of the process. Our first lesson will cover:
We will intentionally stick with the basics of the design process during the first module. It's all black and white for now, but we'll be working in glorious color in just a few weeks!
Module 2: Balance, Bonus Shapes and Refine Your Designs
Now that you have the hang of the basic process, we'll take a look at additional design considerations. Specifically, we will look at:
Balance: Is there a similar "weight" of black and white?
Creating Bonus Shapes in the corners of the square 
A doodling process to help you Generate More Ideas
Organizing your designs with a Studio Journal
Design Prompts: Designs 6-10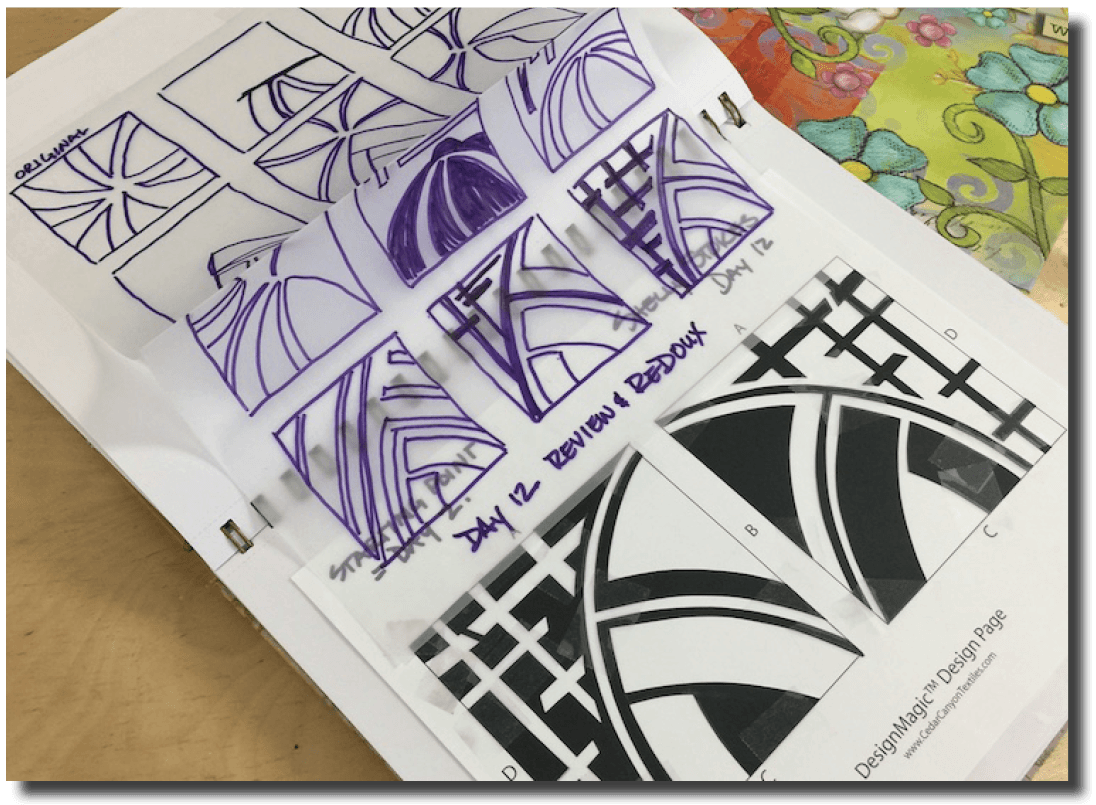 As you can see, Module 2 is our week to take our designs and make them better. Don't worry, we'll start turning them into stencils next week!
Module 3: Turn Your Designs into Stencils
It's time to start turning a few of our designs into Stencils! We'll cover both the original Design Magic process with freezer paper stencils – and some additional options for those of you with Silhouette cutting machines.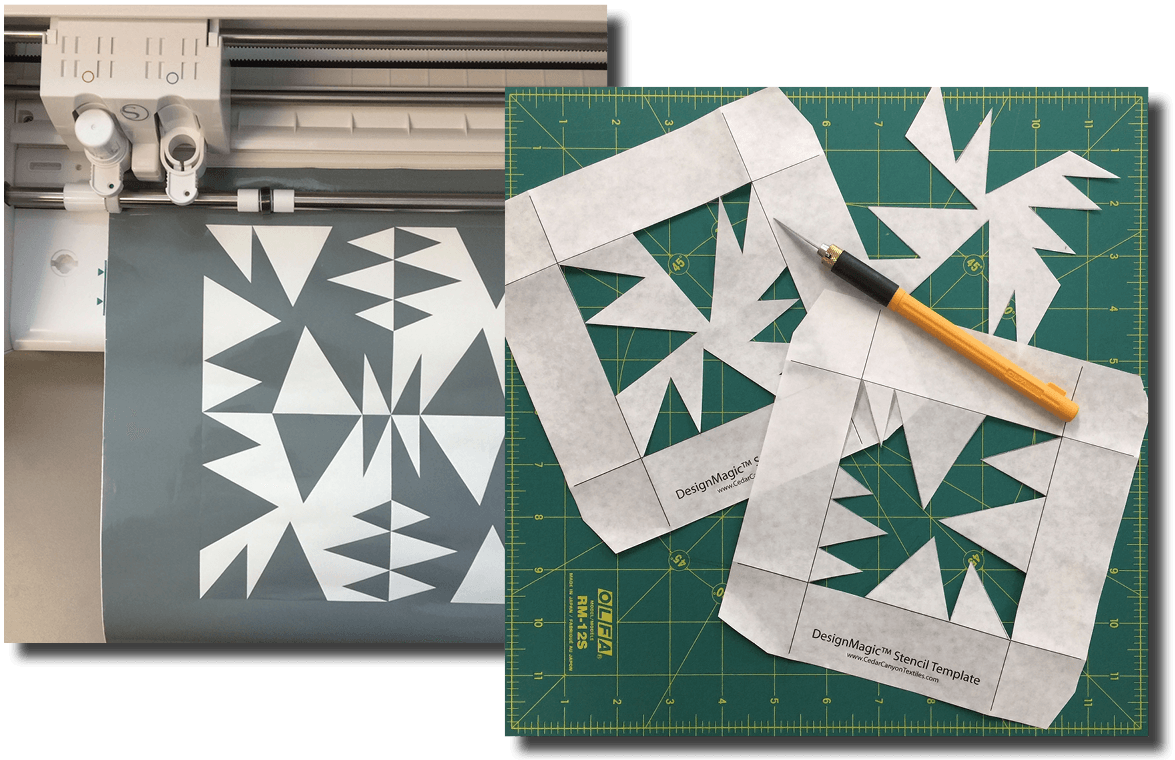 Cutting Freezer Paper Stencils (by hand)
Cutting Renegade Stencils (with a cutting machine)
Special Tips for working with Freezer Paper
Design Prompts: Designs 11-15
Once we have our stencils cut, it's time to learn how to paint!
Module 4: Add Your Designs to Fabric with Shiva Paintstiks
With stencils in hand, it's time to add your designs to fabric. (Finally! We get to play with color!) Shiva Artist's Paintstiks will be our tool of choice, as they work well with Freezer Paper stencils. In this module, we will:
Prepare fabric, Paintstiks and stencils
Paint designs on fabric with Shiva Artist's Paintstiks
NEW! Experiment with Soy Wax Paste and Liquid Paint
Make the images Permanent with proper heat setting
Design Prompts: Designs 16-20
While Paintstiks are the "go to" paint in my toolbox, I'll be experimenting with the new Soy Wax Paste from Jane Dunnewold Studios during our course. Plus… for those of you cutting Renegade (vinyl) stencils with a cutting machine, liquid paints are also an option. Don't you love it when we get to try new things?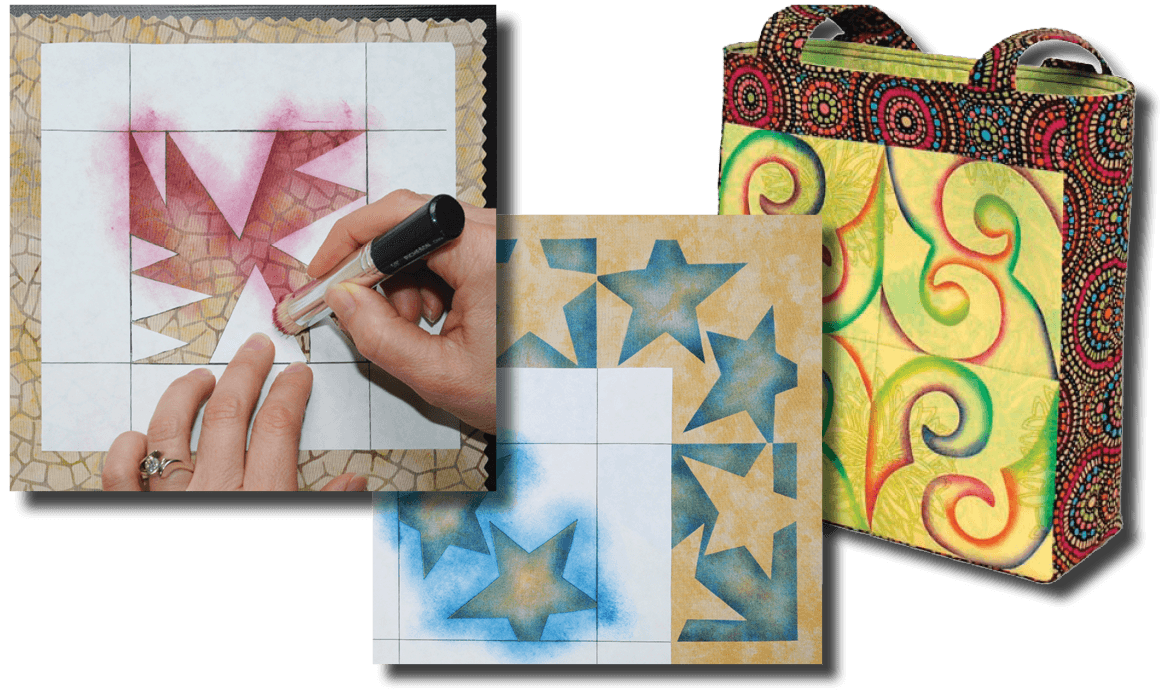 Module 5: Break the Rules (with Renegade Stencils)
This module is specifically for those of you with a Silhouette Cameo or a similar cutting machine. While these machines are far from necessary, they do open the doors to breaking a bunch of rules – and detailed designs that are too difficult to cut by hand.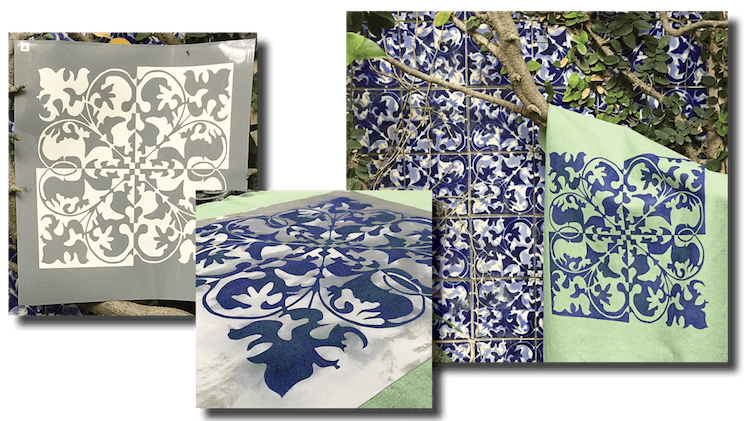 Harness the power of Silhouette Studio

Ignore that "no holes" rule whenever you want

Add "fussy" details to your heart's content

Scale your designs up or down – it's easy in software

Design Prompts: Designs 21-25
No cutting machine? No worries! Continue creating and painting fabulous designs while the rest of us play with our high-tech helpers for a few days.
Module 6: Relax. It's Wabi-Sabi Time!
Do you ever feel like your designs are a little "too" perfect? Do you yearn for your fabric to look a little more "hand made?" More like a wax-print or a batik instead of a print? In our final module we'll explore the possibilities for adding a healthy dose of "imperfection" to the Design Magic process.
If you're a recovering Perfectionist like me, this is the perfect place to let your hair down and have some fun! There are times when neat, tidy and "perfect" are worthy aspirations. But it's good to give yourself permission to be imperfect – and the freedom to play like a 6-year-old with a new set of paints!
Embrace Wabi-Sabi and the Gift of Imperfection

Delight in creating intentionally imperfect stencils

Enjoy the freedom of imperfect painting

Design Prompts: Designs 26-30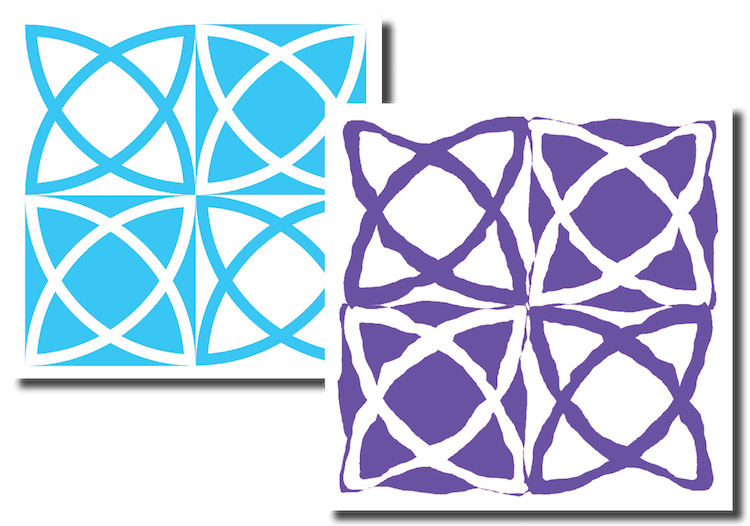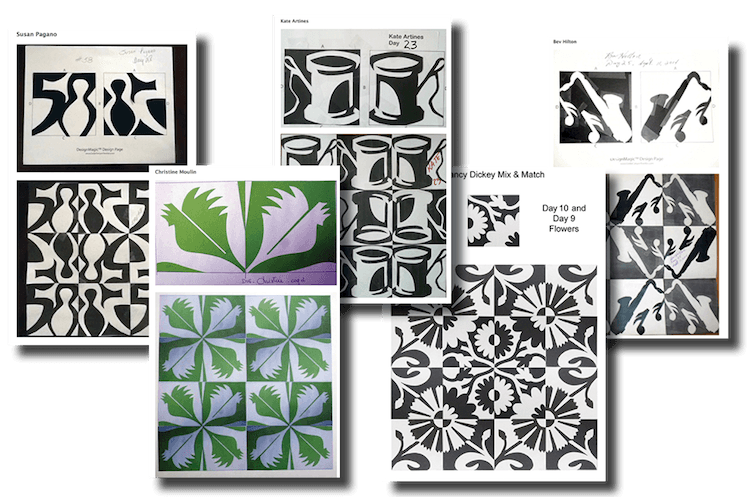 Student designs from Susan Pagano, Christine Moulin, Kate Artines, Nancy Dickey and Bev Hilton
Got a few nagging doubts? Let's tackle those right now.
Me? A designer? This is out of my league...
No, it's not. I've taught this exact process to people just like you, both in person and through my online courses. The process for making designs works for basic beginners and experienced fiber artists. In fact, this is a variation on the Expanded Square exercise that Jane Dunnewold has been using with her Art Cloth students for "forever."
The big difference is that I simplified the process and added a few key "rules" that make it possible to turn our designs into stencils. It works. You can do this!
This is going to take too long… It takes me forever to get good at something new. .
No, it won't take forever. I will be right there with you at every step, and make sure you have everything you need to start getting great results quickly. And I do mean quickly. If you follow the steps in the lessons and do each exercise, you'll see very cool results in short order. You will not need months or years of practice to become proficient at creating designs and putting them on fabric!
Oh Shelly, I've got so much going on already! How can I possibly justify anything new?
Only you can decide if creating personal designs is high enough on your "list" to justify the time and effort that will go into this course. (Or any other course!)
But what about the frustration or the desire that got you here to this page, reading this right now? Are you going to limit your fabric choices to the whims of the market place? Or are you going to take charge of your own creative projects and learn to a way to create designs and get them onto fabric? You choose!
What if I'm traveling or I can't get online at the right time for the classes?
No worries. All of the videos for the classes are pre-recorded. There is no "set time" that you need to be online. You'll get a message when each new lesson is available, but you watch the lessons and do the exercises when it's convenient for you. If you have a vacation scheduled, enjoy your trip! The lessons will be ready when you are ready to resume your Design Magic adventure.
What if something comes up and I can't finish the course on time? Can I come back to the lessons?
We all know that Life Happens and unexpected things can upset our plans. Again, no worries. You have "forever" access to the classroom, and you can come back to review the lessons whenever you want.
A few of my Design Magic projects...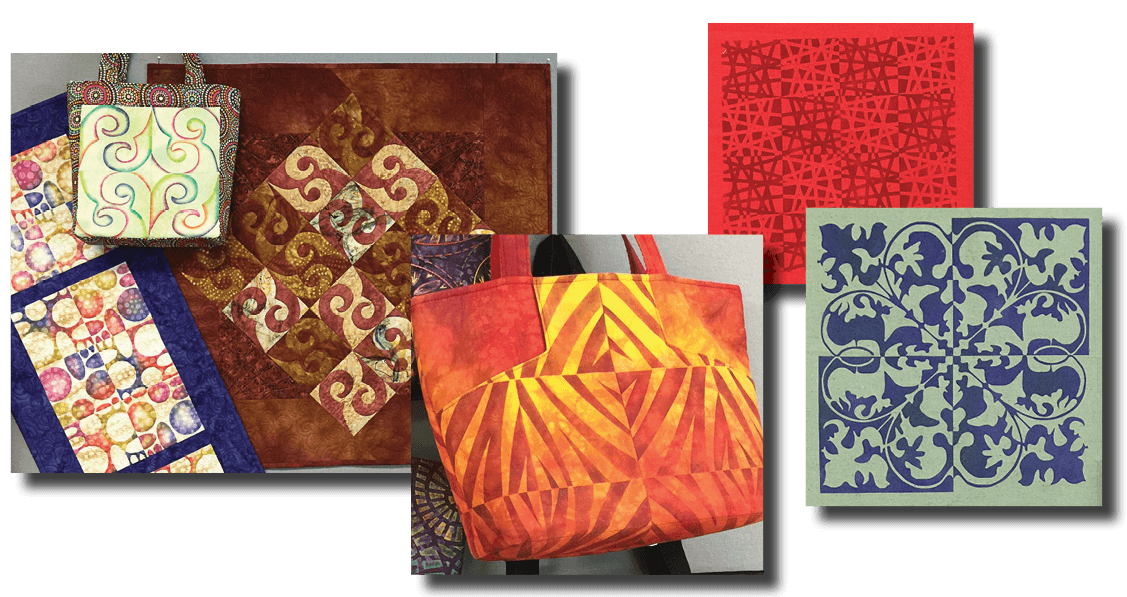 For quilts and bags, I worked with stencils that were initially cut by hand. To make the fabric on the right, I cut Renegade (vinyl) stencils cut on a Silhouette cutting machine.
~ Design Magic ~
A Six-Module Adventure for $147
What's included? I'm glad you asked! Let's take a look at all the wonderful resources that are included in your course.
Six Weekly Lessons, Beginning February 6th, 2017
A detailed material list, so you have everything you need before we begin
A thorough review of the topics for the week, including video demonstrations where appropriate
Pre-recorded lessons and videos that allow you to work when it's convenient for you
Specific exercises to get you started as you explore the technique
Five Design Prompts each week to keep the creative pump primed
Permanent Access to your lessons in our Ruzuku classroom
The link to your lesson will arrive once a week in your Email, just like clockwork. That's your cue that it's time to make an appointment with yourself to sit down with your designs, stencils and fabric and explore the next phase of the adventure.
The lessons alone are worth the price of the course, but you'll get a whole lot more…

Bonus #1: Private Online Interactive Group
Along with your weekly lessons, your classroom includes a private discussion areas where you can ask questions, post photos of your work and chat with your classmates.
A safe and supportive environment for asking questions and getting feedback,
A way to connect with the other participants in the course, and
Endless inspiration as you "see" what your friends in the group are creating!
You'll get far more out of the course when you activity participate in the online discussions. As a matter of fact, I can just about guarantee that some of the coolest "aha" moments will come from the conversations in the group — and not from my pre-planned lessons. (And I LOVE when that happens!)
Bonus #2: Personal Attention in a Small Group Setting for Eight Weeks
This course is limited to 200 people so that I can give each and every one of you the attention you deserve. And we'll have 8 full weeks together. Not 8 hours, not 8 days, but 8 entire WEEKS where you can learn at your own pace and on your own schedule. (That's 6 lessons over 6 weeks plus 2 Bonus Weeks to ask questions and get feedback and the end of the course!)
Through the online forum, I will be answering any and all questions you post, providing encouragement, and giving you the personal feedback and guidance that you deserve.
Now, I know that 200 students may seem like a large group, but it's not. The reality is that only a portion of you will chime in with questions and post your photos – and the rest will be happily lurking in the background, soaking up all the inspiration!
So don't worry… you'll get plenty of my time and attention. I promise! With 15 years of experience in creating designs and putting Paintstiks on fabric, I'm the perfect person to serve as your guide on this Design Magic adventure.
(For the record, we had 157 folks in the 30 Designs in 30 Days challenge course, and it worked just great!)
Bonus #3: Technology Lessons!
In the Module 5, we will discuss how you can do things quickly or more easily using the technology you my already have in your studio. Specifically, we will explore how you can use a Silhouette Cameo computer-driven cutting machine to draw shapes and cut stencils a whole lot faster than we can do by hand. (If you have a different machine, the concepts should transfer quite easily to your machine.)
Please Note: The technology lessons are OPTIONAL. You do not need a cutting machine to take this course. But for those of you who already own one of these marvelous machines, we'll take the plunge and put them to work!
Creative Learning can be hard!
Our private classroom is the perfect place for talking about the hard stuff. The things that keep us stuck. The old messages that keep coming up as we learn new things. The feeling that "it will never look as good as the picture in the book" — or the real zinger — "I'm not good enough."
I'll be there for you when you feel like you're dragging yourself through the creative muck – and so will the other students in the class. I've watched this time and time again. I know you'll find plenty of support when the going gets tough.
Creativity, Connection, Community
When you get right to the bottom of things, the real reasons for joining me and for joining this group learning adventure are simple. It's the connection. It's the community. It's the opportunity to nurture your creative spirit while you learn some exciting new skills — and create amazing designs and tools for your fabric art.
Forever Access to the classroom
I've said it once, but I'll say it again… When you purchase a course at Cedar Canyon Textiles, you have permanent access to the classroom. I will not be available to answer questions after the allotted time period, but you can come back to review the lessons any time you like.
One last dose of inspiration!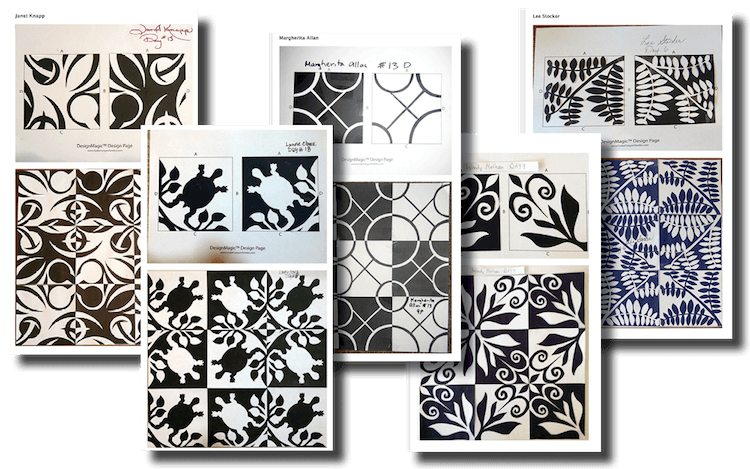 More student designs from Janet Knapp, Laurie Clark, Margherita Allan, Wendy Mathson and Lee Stocker. Aren't they beautiful!
This is where the rubber hits the road. It's time to get registered!
Your investment in this 6-Lesson Adventure is $147. No plane tickets, no driving, no hotels, no restaurants. Just one flat fee for 8 weeks of learning from the comfort of your own home.
But don't delay. In the past, registration slots have filled in a matter of days. (I know that sounds like hype, but it's true. If you want to join the group, you really have to register right away.)
I'm not going to do a big song and dance on why this is such an amazing value. If you're reading this, you've been around the block more than once. You know that you have to invest time, effort, and money to reach the next goal in your fabric art journey.
If this course is right for you – and I truly hope it is – here's your next step.
Click on the big green button to get claim your spot in the Design Magic course!
If you want to take the class, sign up now. As in RIGHT NOW. Don't hesitate. Don't fool yourself that you'll think about this later. Just click the button, fill out the form – and give yourself a big pat on the back for treating yourself to a marvelous creative treat. You're more than worth it!
Before you go, fast forward a couple of months...
Imagine that it's three months from today. Are you still feeling frustrated because you can't find the "right" fabric for that project? Even worse – are you avoiding your project or your work room altogether to avoid your dilemma?
Or, are you celebrating the completion of your Design Magic adventure, feeling great about how much you learned, and confident that you can design and paint the perfect fabric and move forward?
It's your choice. Join the fun – or risk staying stuck. As for me, I'll be blazing the trail for the Design Magic adventurers, and we'll be whooping it up, chatting and laughing all along the way. Come join the fun!
Design Magic – The Bottom Line
Creating "Design Magic" designs and adding them to fabric is a fascinating process. It allow me to create repeating patterns for one-of-a-kind fabric without any special technical know-how – and it can do the same for you.
There's a lot to learn, but it's certainly not rocket science. This course is designed specifically for non-designers – with some bonus material for folks with Silhouette cutting machines.
The methods you learn can be a jumping off point for the next leg of your fabric art journey. I would be delighted to be your guide.
You can do this. Click the green button below and sign up now.
PS. If you are an adventurous fabric lover looking to take a step into the design world, this course is for you. You'll work with a new iteration of a tried-and-true design technique to create stunning designs and fabulous fabric.
PPS. Six lessons, personal support from me, a friendly classroom, $147. Sign up now.