I'm having lots of fun designing some new Design Magic Stencils. I worked on a design earlier this summer that started off as a goofy squiggle shape. I was playing around in the Illustrator program, which is definitely not my strong suit, but I decided to turn the shape into a repeating pattern to see if it had any possibilities at all. After some editing, I came up with a shape that looks like this.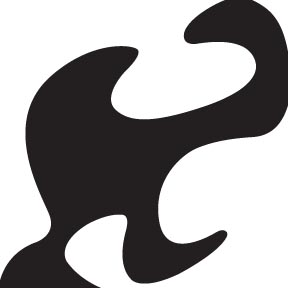 The shape doesn't look like much by itself, but it makes a pretty neat repeating pattern.
Using the full image
After making up a pair of freezer paper stencils, I painted up a quick test block using Iridescent Gold paintstik color on black fabric.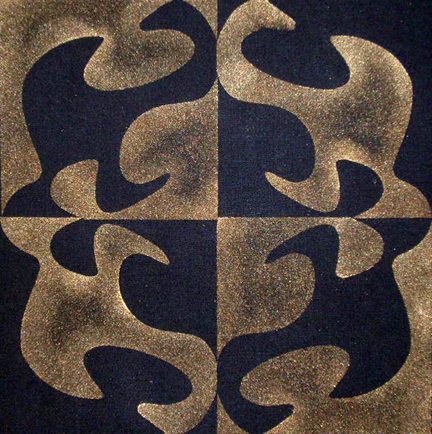 I liked the circular nature of the repeating pattern, and the image reminded me of a wreath.
Painting just the outlines
While I was playing that afternoon, I wondered what would happen if I didn't paint the entire image. I was curious to see if I could minimize the checkerboard effect of the Design Magic format.
I pulled out another piece of fabric to see what would happen – and I really liked it. Here are the same 4 images, with just the outline of the curved shape painted.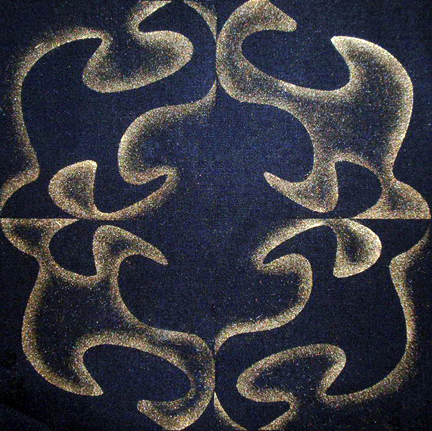 Here's another look at the Wreath design, one with the full images painted and one with the outlines: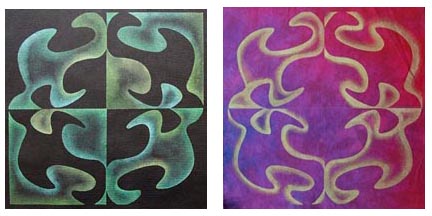 The design is the same, but the effect is totally different.
Scroll design – full images v. outlines
Next, I decided to see if I liked this effect with another set of stencils. Here are two pieces that I made with the Scroll stencils.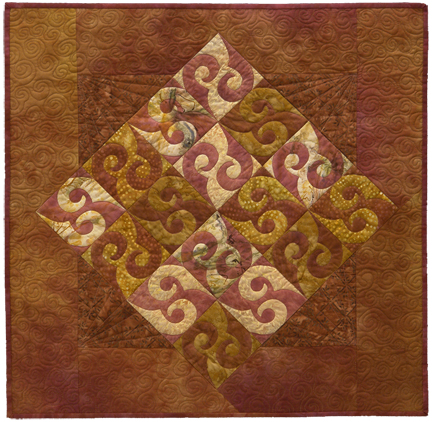 This is the Scrollwork Quilt from the Design Magic book. when I painted the blocks for this quilt, I painted from edge to edge on the Scroll stencils, using the entire design.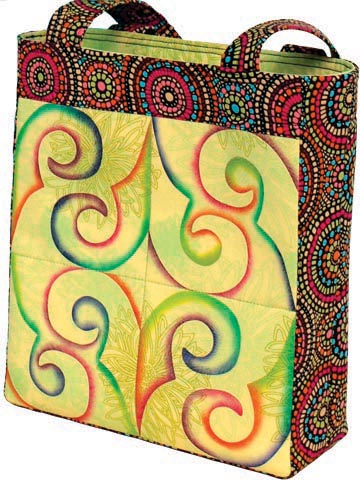 Here is another project I made with the Scroll stencils. (This is the Lunch Tote from a new pattern I'll be introducing in October.) As you can see, I only painted the outlines of the 2 curved images rather than filling in the entire image. Again, same design, two different looks. Fun!
So, the next time you are playing with Design Magic stencils, give this technique a try. Add paint just around the edges of the images rather than filling in the entire design. You may be pleasantly surprised!
And just in case you are wondering about the Wreath stencils… Yes, this is a new set of stencils from Cedar Canyon Textiles. The final packaging on the stencils is going on as I type, so they have literally just made it in the door here at the warehouse.
Stay tuned – my next post will include a free project using the Wreath stencils and the outlining technique.