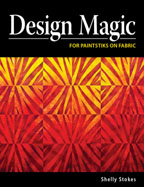 With all the activity here on the new website and online store, I've been hearing a lot of questions, some more than others. I thought I would take some time to answer one that has come up a number of times related to my latest book, Design Magic for Paintstiks on Fabric.
For those of you who are new to our community, Design Magic is my second book, published in the middle of 2010. The book covers 2 main topics. The first is creating your own design that can be turned into a repeating pattern on fabric. The second is the process for stenciling those images on fabric with Shiva Paintstiks. The Design Magic book also contains instructions for 5 projects, ranging from placemats to a large quilt. And for those who are not ready to make their own designs, one set of pre-cut mylar stencils is tucked into the back cover.
Now, on to today's topic…
What is a Design Pack?
"What is a DesignPack?" and "How do I use the DesignPack with my Design Magic book?" have been asked enough lately that I thought it time to post the answer in my blog. It may look like a bunch of paper stuck in a bag, but it's a huge time-saver when it comes to making a little (design) magic! Read on…
The DesignPack is a convenience item that we put together for readers and teachers. It contains pre-cut and pre-printed templates that allow you to jump right into the design process without taking the time to make templates. Each DesignPack contains:
6 pre-cut 4″ squares of black paper,
6 pre-printed Design Pages, and
6 pre-printed freezer paper stencil templates.
The DesignPack came to life after I taught my first test class for Design Magic. While we made it though the process just fine, it was clear that we spent a lot of time making templates that could have been better used making the actual designs. Personally, I'm a lot more excited about making designs than making templates – I like to see results now! And I figured that a lot of you think the same way, and therefore, we have a DesignPack.
To answer the question about how to use a DesignPack with the Design Magic book, let's do a quick review of what Design Magic is all about. The best way to do this is a high level overview. I'll point out how the DesignPack contents are used along the way.
Design Magic – the Short Course
Design Magic is a simple process for creating a design, turning it into a pair of stencils, and then transferring the design to fabric with paintstiks. All of the lovely details are in the book, of course, but here is the high-level overview.
1 – Start with a square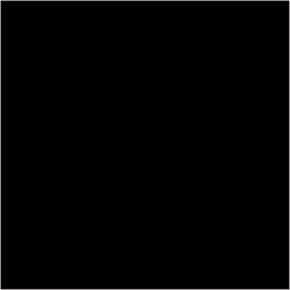 All designs start as a simple square. I prefer to use black paper because it's easy to see the contrast between the black paper and a white background. If you don't have black paper, choose the darkest color you can find.
All of the designs in the Design Magic book (and our pre-cut mylar stencils) start with a 4″ square. The DesignPack contains 6 pre-cut 4″ squares. You can, of course, work with squares of a different size if that works better for your project.
2 – Cut shapes from the square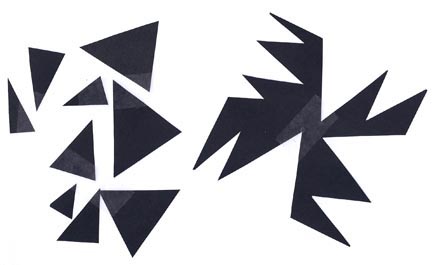 Cut one or more shapes from the square – and save all the little cut-outs. The only real rule here is that the shapes have to start and end on an edge of the square. (You can't cut a hole out of the middle.) This example has a lot of shapes cut from the square, but some of my favorite designs are done with a single shape. Don't go totally crazy cutting itty-bitty pieces from your square. This is actually one of the more complex designs that I created – simple is good.
3 – Make a Design Page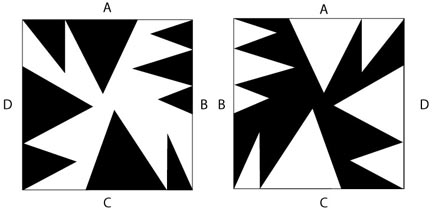 The next step in the process involves arranging the shapes that you cut from the square onto a Design Page. While it's certainly possible to make your own Design Page templates (the instructions are in the book), it's really convenient to just grab a page from the DesignPack and start getting everything arranged.
I love making Design Pages. This is where I can first see the positive and negative images that I cut from my squares and how they interact. If a Design Page is put together properly, the white shapes on one side will be the mirror image of the black shapes on the other side.
4 – Create a repeating pattern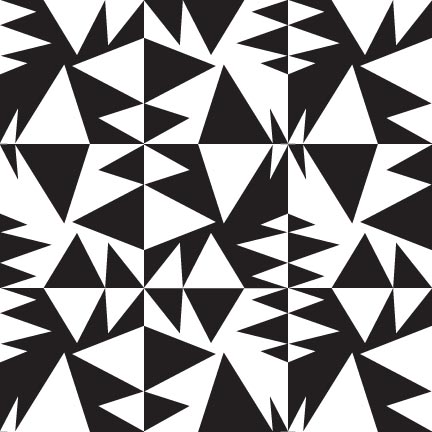 With a Design Page in hand, you can actually test a design on paper rather than making stencils and testing the design on fabric. All you need access to is a copy machine (or one of those lovely printers that makes copies). If you make 5 copies of your design page and cut out all the squares, you can do a cut-and-paste exercise and make a repeating pattern from your design.
5 – Review design and make changes (if needed)
Once you have created a repeating pattern from the Design Page, you can review the design and make changes if you wish. There is an entire section of the book dedicated to the review process along with tips on small changes that can transform an "ok" design into a really great design.
6 – Transfer the design to freezer paper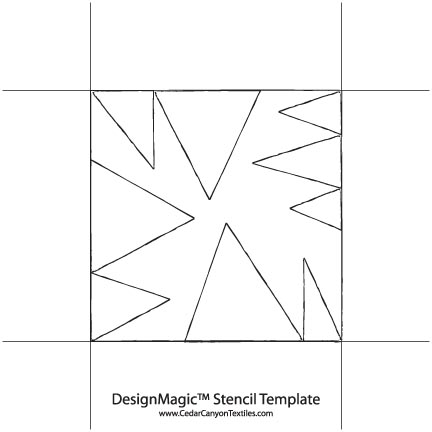 The next step is to transfer the shape from your Design Page to freezer paper. You can either make your own freezer paper templates or use the pre-printed templates from the DesignPack.
One note about freezer paper – it shrinks! It took me a while to figure this out, but freezer paper really does shrink when pressed with a warm iron. (And since we press our freezer paper stencils to fabric before painting, it's important to pay attention!) So whether you make your own freezer paper stencil templates or use the templates from the Design Pack, please read the information in the Design Magic book about pre-shrinking the freezer paper. It can save you a few headaches before you get further into the process.
7 – Cut equal and opposite stencils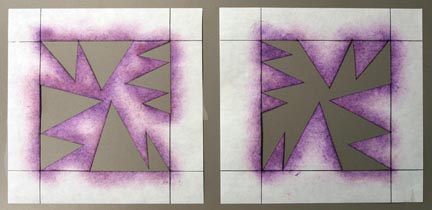 With your design copied on one stencil template, you are ready to cut a pair of equal and opposite stencils. Using the process detailed in the book, it's really fast and accurate. It's more than I can explain in a short paragraph, but the result is that you cut away the main shape in one stencil, and cut away the background in the other stencil. The pair of stencils should look just like the design page.
That's it! You're ready to paint!
As you can see, the process of making your own personal designs is not exactly rocket science. It's more a matter of sitting down and doing it. The Design Magic book gives you a recipe and the DesignPack puts you in the fast lane for making great designs. DesignPacks are great for anyone who wants to make their own designs – and a huge time-saver for teachers. I know I'll never teach another class without them!
Show us your Design Magic
Have you been experimenting with Design Magic? If you have, please send pictures! I would love to see what you are doing. The easiest way to share is to post pictures on our Facebook page.
Special Offer: Free Design Pack with purchase of Design Magic book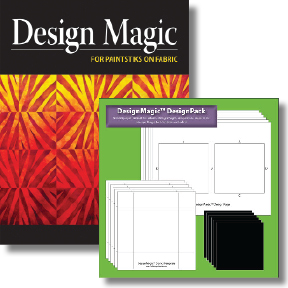 If you don't yet have a copy of Design Magic, there has never been a better time to buy one. For a limited time, we'll send you a free DesignPack when you purchase a copy of the book through our online store. No coupons, no codes. Just place your order and the DesignPack will come with your book.
To take advantage of this special offer, follow this link to our Online Store.