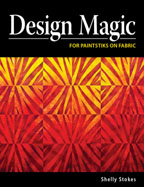 After much holding of breath and saying of prayers, the first copies of Design Magic arrived in my office just a few days before Spring Quilt Market. I felt totally blessed that the book arrived in time — and that Spring Market was held in Minneapolis this year. We're just a few hours away from the Twin Cities, so I didn't even have to drive as far as the airport.
Once the book arrived and everything was packed, I decided to take a few hours to make something special for myself using the cover fabric from the book. I've already worn out the Primrose tote that started my Design Magic adventure, so I decided to make the new Margo bag from my good friend Joan Hawley at Lazy Girl Designs.
Margo is a delightful bag with a zipper at the top — and leave it to Joan to figure out such an easy method for adding a zipper! Margo is a little bigger than I would normally make for a purse (I like them SMALL so I don't carry too much junk…) but she is going to be perfect once my iPad arrives.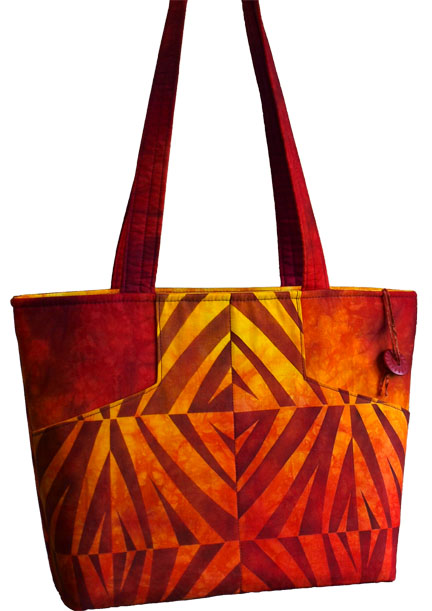 I used the Safari design and a Grape (matte color) paintstik to paint this beautiful piece of hand-dyed fabric. As soon as I finished, I knew it was perfect for the the cover of the book, and I have to say that it made a fabulous bag as well. I had a hard time cutting into this piece of fabric to make something I'm sure to wear out, but hey —  what good is beautiful fabric if it just sits in the closet? If I wear it out, I'll just have to make a new one!
More about the Safari Design
Matthew Mills, my very talented graphic designer, created the Safari design for me when I was working on the book, and I have to say it is one of my favorite designs. The design is printed in the book so you can make freezer paper stencils from it, or you can purchase our pre-cut mylar Safari stencils. The mylar stencils have several advantages — they are already cut (of course!), you can see through the mylar, and all the alignment guides are etched into the stencils to make your life easier as you paint the images on fabric. Here is a picture of the Safari stencils. (You can see all the new stencils on our New Products page.)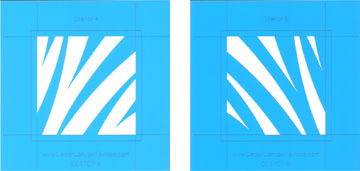 And here a closer look at the Safari design on a piece of the Gradations fabric from Benartex.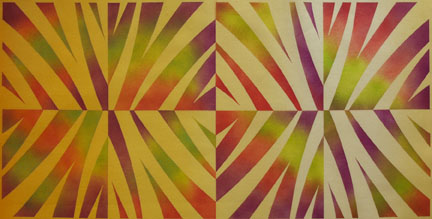 I used this set of stencils to make the On Safari quilt project that is included in the Design Magic book.
On Safari is a super-simple quilt. The 4 large panels are painted on fat quarters that are then trimmed to size for insertion in the quilt top. I just quilted in the grid lines. I was surprised how many people at spring market thought it was appliqued or pieced.
At any rate, you can go on your own Safari Design Magic adventure. Make a Margo bag, make a quilt, you decide! Whatever you choose, it will be lots of fun.