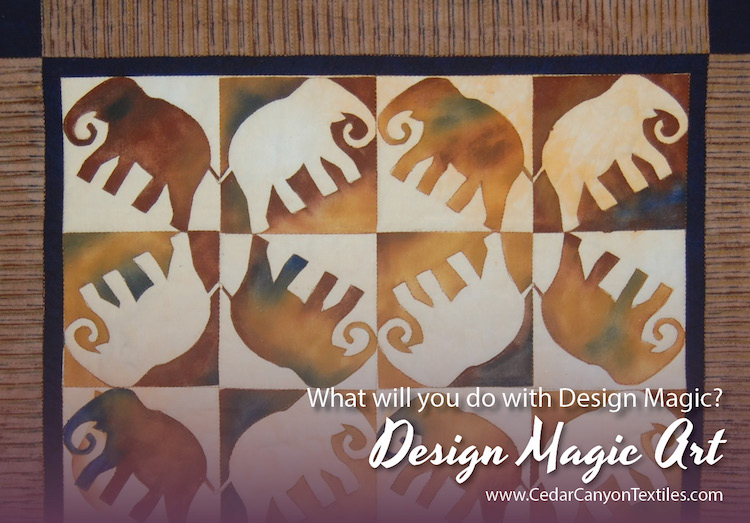 Last week, someone interested in the new Design Magic online course sent a couple of great questions. The writer said something to the effect of "Well, this design thing is easy for you – you wrote the book! What about us 'non-designers' out here?" She then asked, "what will we do with our fabric?"
First off, I'd like you to know that I'm just like most of you – a self-taught artist and quilter. I'm not a professional designer, nor I do not have any formal art education. God blessed me with a humongous sense of curiosity and an eye for details, but I learn this stuff just like you do – by taking classes and messing around in the studio. So, if you're a "non-designer," welcome to the club!
When I read the "what will we do with the fabric" part of the message, I searched the blog and found some treasures! Let's take a look at some Design Magic Art from other folks.
Readers Make Design Magic Art
A couple of months after the book was released, two readers sent photos to show how they were using animal silhouettes.
Kathy Tanner (Saskatchewan, Canada) made this design from an elephant silhouette, making sure that the design touched all four edges of the square. (That's the key to creating bonus shapes in your designs!) Click here for the full story on Kathy's elephants.
Lauren Parker was taking part in a Positive/Negative design challenge with the TARTs (based on Design Magic). Lauren started with a bird silhouette, made a few modifications, and traced the image onto freezer paper. Just like we do for Design Magic, she cut out the bird/branch on one stencil and cut out the background of the other. See, it's magic!
I love the way Lauren applied the paint in a sheer enough layer that the images on the background fabric are still visible – and the appliqué wings are a great crowning touch! Click here for more on Lauren's birds.
TARTs Make Design Magic Art
The next four photos are quilts made by the ring-leaders of the TARTs. I was not able to find current postings by the group, but it sure looked like they were having fun at the time!
Sue Engel created her positive/negative stencil from actual oak leaves and they provide the focal point of this art piece. Check out the lovely details in the beading and machine quilting.
Susan Wetzsteon separated her positive/negative circles to form strips within a scrappy pieced unit. She has named this art piece "Hugs and Kisses" because of the combination of O's created with Paintstiks and X's created with the machine stitching.
Jamie Grant designed a positive/negative stencil and painted a piece of fabric which was then cut up and used as the skin of the Winter Squash. Thread painting blends the prints and adds texture to the squash. Watercolor pencils were used to give dimension.
Sue Anne Iman has created a beautiful fall scene and has used a number of techniques to color her fabrics. The blue background is her positive/negative stencil. In order to create a subtle background, several areas were left unpainted.
Click here to see the original blog post on the quilts by the TARTs.
You Can Do This!
As you can see, you don't have to be a "professional" to create lovely designs – or to use them in your projects and art. All you need is a good dose of curiosity, a willingness to play, and a sense of adventure.
And speaking of adventures, the all-new Design Magic online course will begin on February 6th. I'd love to have you in the class!
Your Turn
What plant or animal would YOU turn into Design Magic Art? Leave a comment below – and help build the list of ideas for design prompts for the class. Thanks!