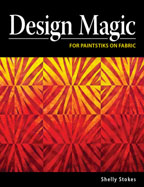 In my last post, I introduced my new Design Magic book. It's due in from the printer any day now, so you can imagine that I'm waiting on pins and needles! Did I mention that I hate waiting??? In the mean time, I want to tell you more about the book.
Design Magic is a really great way to make your own designs, turn them into freezer paper stencils, and add the designs to fabric by stenciling with paintstiks.
Freezer paper stencils? Yes, freezer paper stencils. While they don't last forever, freezer paper stencils are much more durable than you think — I really pushed one set and used it more than 50 times before it was really worn out. As a matter of fact, I used freezer paper stencils to make most of the samples in the book, including the queen-size Woodland Flowers Quilt.
And as much as I love freezer paper stencils, there is an outer limit to how long they last, and that means you have to make multiple sets of stencils for a very large project. I like making stencils (it's really quite easy), but even I was a little annoyed after making the 4th set of stencils for my big quilt. I decided there had to be a better way.
It took a few months and a series of samples from my very patient and understanding stencil company, but I figured out a way to make pre-cut mylar stencils from Design Magic designs. And I liked them so well that I decided to include one set in the Design Magic book. (I chose the Primrose set for the book because I used it for the big quilt — and that was the design I was working with when I figured out how to make the Design Magic process work.)
So, you get the best of both worlds. If you like the idea of designing your own fabric, the Design Magic book gives you a neat method for making your own designs, creating stencils, and transferring your designs to fabric.
If you just want to paint, you get a set of pre-cut mylar stencils that can be used to make any of the projects in the book — as well as any that you can dream up — without the work of making stencils. Here's a photo of the Primrose Stencils.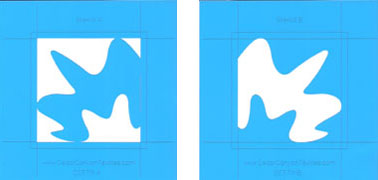 And here are a couple of Primrose images stenciled on a piece of Gradations fabric.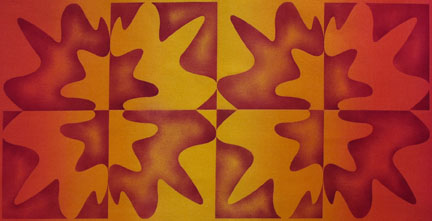 As you can see, the Primrose stencils form a stylized floral motif when they are painted in a repeating pattern. They can be painted in a single color or multiple colors. I really like painting on the Benartex Gradations fabric with a single paintstik. I used a blue/turquoise variation of this fabric to make my Primrose Tote. (Confession: The book does not include instructions for this tote. I used some very basic instructions from an old magazine article and re-sized the bag to fit my painted fabric. You could do the same using your favorite tote bag pattern.)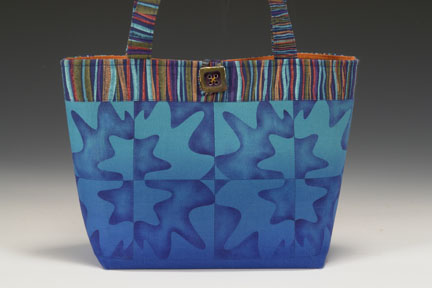 If the fabric is not changing color, I like painting with multiple colors. Here's a piece in progress that I was painting with bright colors.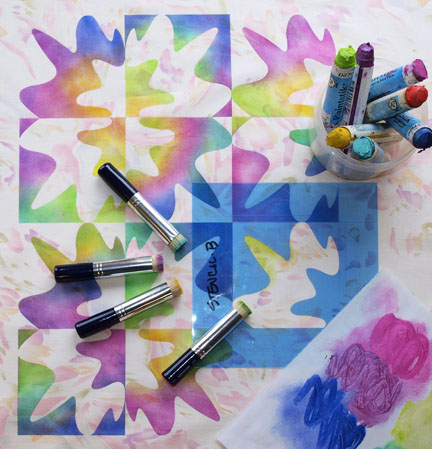 This bright and cheerful fabric will make a wonderful wall quilt or pillow cover for a room that needs a splash of color!
As you can see, there are plenty of wonderful possibilities for the Primrose design that comes with each copy of the Design Magic book. In the next post, I'll introduce you to additional Design Magic stencils.
As always, happy painting!