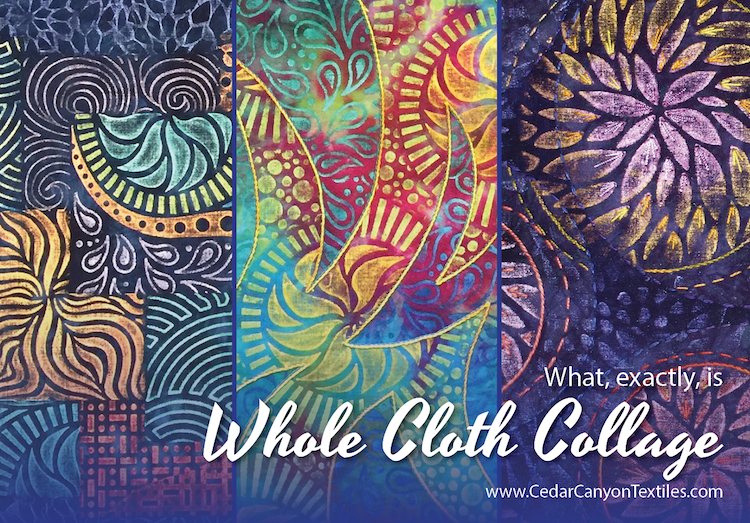 With the next session of Whole Cloth Collage coming up, I've received a number of questions that all boil down to… What, exactly, is a Whole Cloth Collage? Given all the new things I've been exploring in the past year, let's see if we can pin this down.
According to our friends at the Merriam-Webster Dictionary, a collage is an artistic composition made of various materials (as paper, cloth, or wood) glued on a surface, or a creative work that resembles such a composition in incorporating various materials or elements.
To be clear, I am not talking about collage in the traditional/layered sense of the word. Nope! Over the years, I have developed a number of ways to create the look of collage on a single layer of fabric. The bonus? No layers, no seams, no lumps and no bumps!
Shape Shifters, Split Personalities and Shady Ladies
Overtime, more and more "characters" have showed up in Whole Cloth Collage, all with interesting personalities. I made friends with some of them myself, and others showed up on the scene during a class.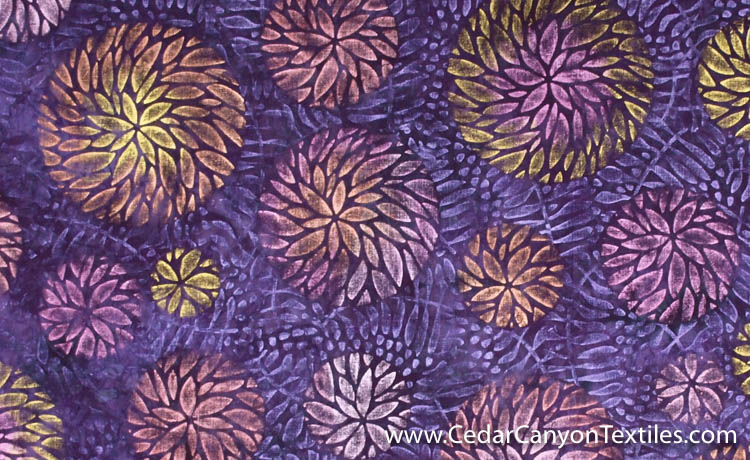 Shape Shifters were the first group of collage characters I got to know. They tend to be a bit shy, changing their appearance by peeking through holes in stencils or masks. They rarely show up by themselves, preferring to be in the company of lots of friends.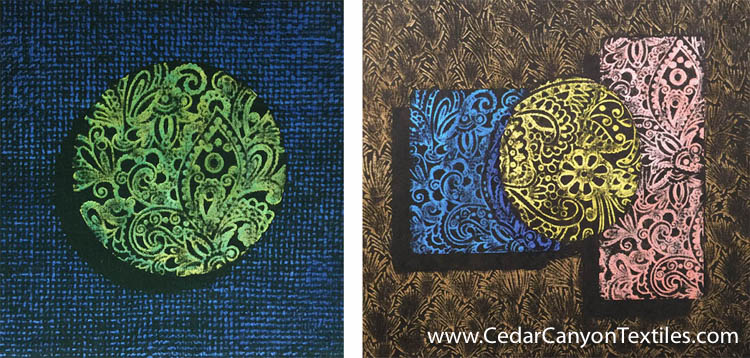 Shady Ladies, on the other hand, love the spotlight. They adore attention, and are happy to cast a shadow on anyone else who happens to be hanging around.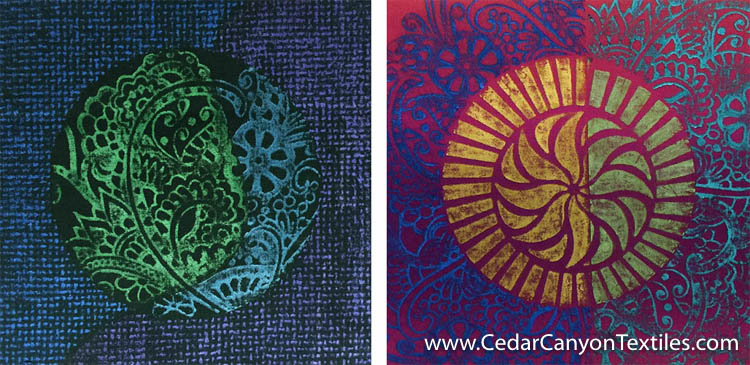 As for Split Personalities, what can I say? They are chameleons doing their best to blend into the background. If there's a border to be crossed, they are happy to change their stripes. (Or at least their colors!)
Singles or Doubles?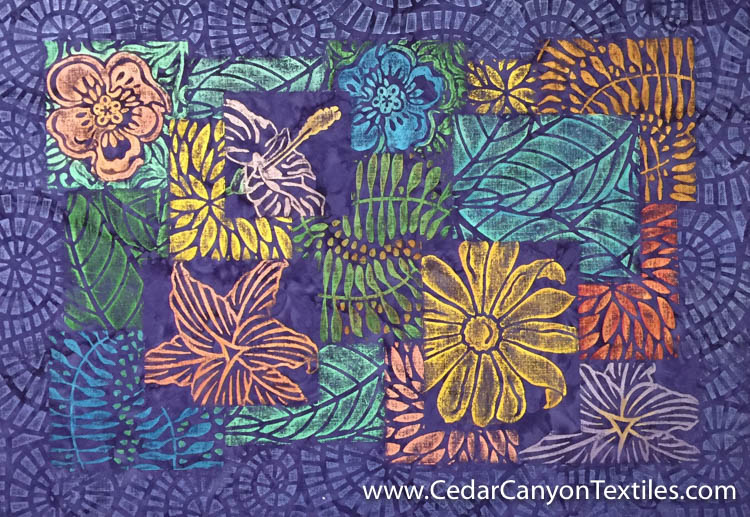 After the crazy characters wandered off, two more types of collage popped up on the scene.
After a good bit of study, I found that one type of collage was like a bunch of singles crowded into a small room. But unlike a group of wild party-goers, they behave quite nicely – and can be painted with a single layer of freezer paper that allows each texture to shine in its own special space.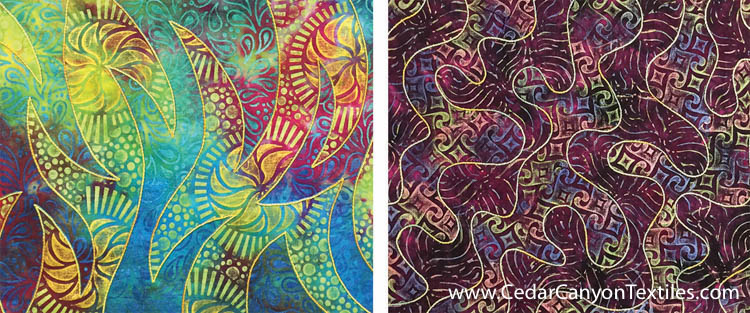 The last collage to to join the parade looks like double trouble until you realize it's just a cozy couple. These delightful duos are surprisingly easy to create with a two-layer mask. They look pretty wild when all the freezer paper comes off – but you can restore the visual order in a flash with a simple line of stitching!
Why Create Whole Cloth Collage?
Why go to the work of painting a Whole Cloth Collage instead of layering up bits and pieces of fabric? It's all pretty simple. With your one-of-a-kind fabric, there will be…
No layers to add bulk to your quilting or sewing projects.

No complex curved or inset seams to complicate the construction process.

No lumps, no bumps – and no "impossible to quilt over" spots in your fabric.
In short, Whole Cloth Collage fabrics are perfect for sewing, home dec and quilting projects!
Is There More?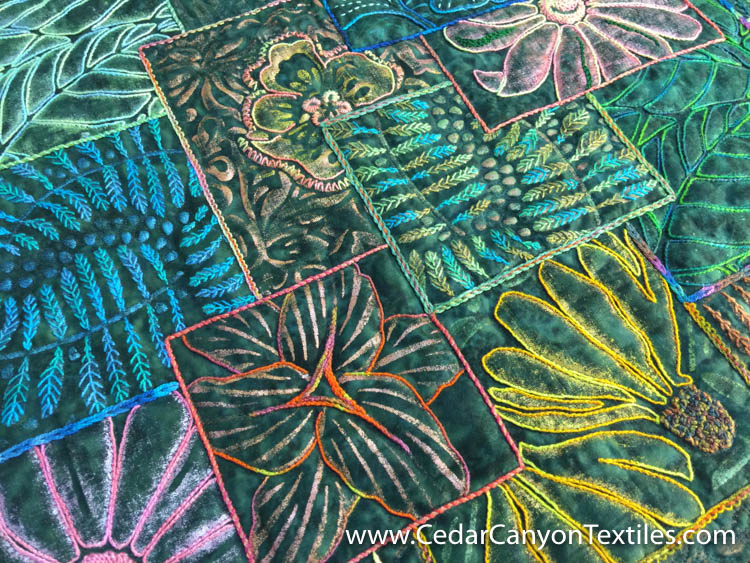 And if that's not enough, Whole Cloth Collage fabrics make a fabulous base for a Paint + Stitch adventure – and we'll be dipping our toes into the world of embroidery in the last lesson of the new online course.
Whole Cloth Collage with Paintstiks and Textures
The next session of the Whole Cloth Collage online course begins September 19, 2016. If you love Paintstiks and textures, click the big green button to learn more.
Whole Cloth Collage Course Info
Your Turn
Got questions, ideas or comments about the idea of Whole Cloth Collage? Leave a note below. I love to hear what you're thinking about.