If you like the idea of making "one of a kind" images, deconstructed screen printing might be exactly the right technique for you. It's a very cool process that allows you to transfer a fairly large number of prints from a silk screen to fabric where each print will be slightly different than the last — and the image completely disappears as you "use it up." Sound intriguing? I though so too!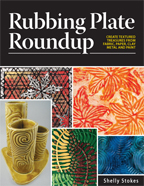 I had been hearing about this screen printing process for several years before I sat down to write Rubbing Plate Roundup. But, to be honest, I had never bothered to learn how it worked. I was truly delighted when Linda McLaughlin submitted this technique when I asked for ideas for the book. This was my opportunity to learn something new — and to share it with readers who love to play with rubbing plates.
I'll be the first to admit that deconstructed screen prints are a bit more involved than most of the other techniques in the book. But, what good is a technique book if it doesn't include one or two things that make you stretch? If you're a little bored with what you've been doing, this is a great process to play with.
Here is a small section a scarf that Linda sent for photography.
Linda used two Cedar Canyon Rubbing Plates to make her screens. One is from the Curves Rubbing Plates set and the other is from Fantasy Flowers.
But, how did she get the images on the screen? That has always been my question. I'm delighted to say that Linda's process is quite easy to follow. I had no problems replicating it on my very first try. Woohoo!
It's a matter of mixing up a batch of thick, gooey print paste, spreading it on the screen and then using one of our nifty rubbing plates to add the design. Here's a photo from the book that shows the screen after it is partially dry.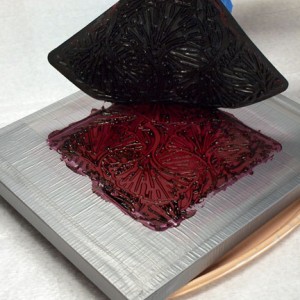 Once the print paste is completely dry, your screen is ready for use. The thing I really love about this process is that the image on the screen slowly dissolves — it changes just a little bit each and every time you make a print. How cool is that? Take a look at the next photo.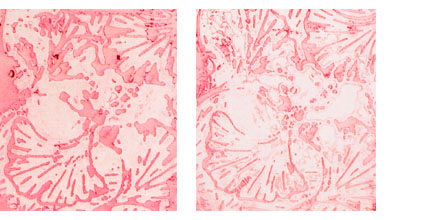 Linda created a screen using the ginkgo design (Leaves Rubbing Plates) and did a series of prints. The print on the left is one of the first prints in the series. The print on the right is one of the last. There were 42 prints of the piece of fabric she sent, so you can see that the number of prints you can make is large, but not unlimited. This is a very cool way to make a bunch of fabric for post cards, a challenge project, you name it!
Now I know that I've only given you a tiny peek at the process. You can find all the details beginning on page 24 of Rubbing Plate Roundup. If you don't have your copy already, pick one up at your favorite local retailer — or place your order through our Online Store.
Collaborator Corner: Meet Linda McLaughlin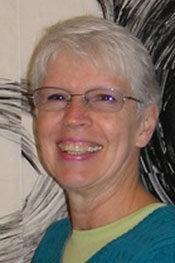 Linda is a talented artist and teacher who I feel like I've known for years in spite of the fact that we've never met in person. Linda was one of the first teachers who embraced the Artist's Paintstiks when I brought them into the quilting and fabric art market in 2005. Here's more from her bio:
Linda McLaughlin has been a full time fiber artist for the past sixteen years. Until 2009 she traveled the country selling her hand dyed fabrics at quilt shows. Her work has continued to evolve and change over time, currently Linda is working in black and white with an abundance of hand stitching. Her work has been juried into shows around the country and has won numerous awards.
Linda and her husband live in a small town in western Idaho, in a big old house that requires constant attention and work. But, it has fabulous studio space.
Be sure to visit Linda's website and blogs to get a better look at her work. Her website can be found at www.lindamdesigns.com From there, it's easy to get to her studio/life blog and her daily picture blog. Enjoy!