I'm fortunate to belong to a small group of adventurous quilters called the DIVAS. (Yes, it actually stands for someting — Designing, Innovative Visual Art Sisterhood!) We took a road trip Saturday morning to meet with a similar group called Crossing Borders. We met at a delightful coffee house called Jitters in a town that's about half-way between our two locations.
This was strictly a Show & Tell meeting, and at times it dissolved into raucous laughter. The highlight was seeing the results from the Alphabet Challenge. To start the challenge, someone drew 5 letters from the alphabet. The letters were D L K M J. We could make anything we wanted, but the associated sentence had to use the letters in that order. Here are just a few of the titles:
Do Lovers Know Marriage means Joy vs. Jail?
Dodge Lovers Keep Mechanical Junk
Daring Laura Kissed Mister Jensen
Dandelions Love Killing My Jonquils
Two of the quilts were made with paintstiks, so I just had to take photos to share with you.
Ginny Thomas loves butterflies. The title for her challenge quilt was Distance Long, Kilometers, Monarch Journeys. She made freezer paper stencils for her butterflies.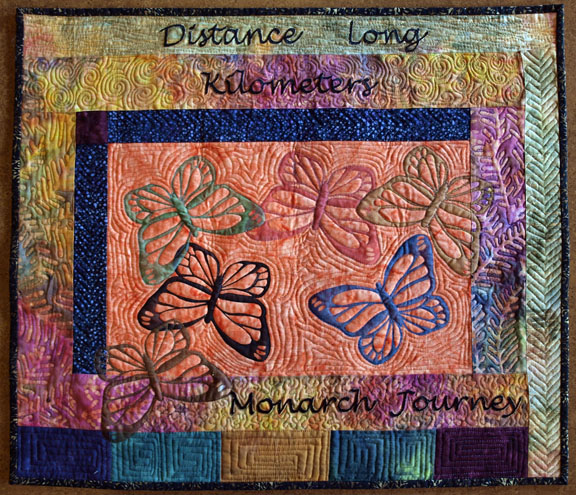 The second painted quilt was made by Sarah Howard. She made a freezer paper stencil for the word Jitters. The phrase for her quilt was Drink, Lounge, Kickback, Muse, Jitters. We all signed the quilt and Sarah gave it to the owner of the coffee shop as a thank you gift for the great hospitality.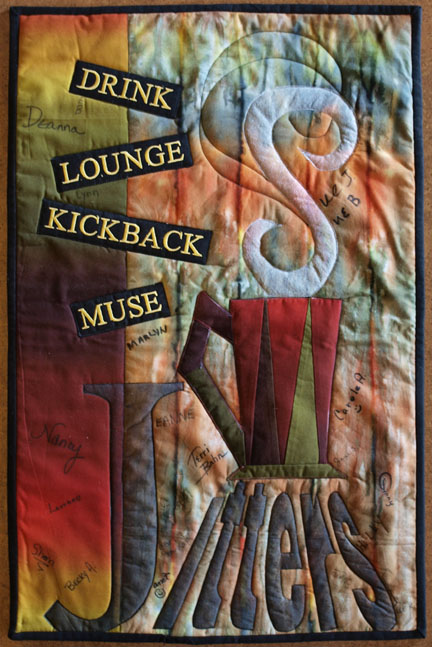 It was a great way to spend a Saturday morning. There's nothing like a great day with a bunch of creative women to get me fired up to spend some time in my studio.
What did you do this weekend?