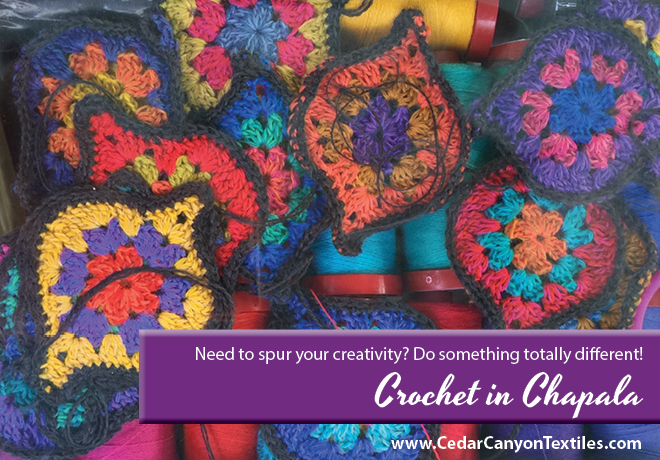 During my recent trip to Chapala, Mexico, one of the women staying at the QQ Bed & Breakfast was crocheting a bunch of lovely ornament-shaped motifs. When I asked her about them, she said they were Lantern "granny squares" from a pattern she got with a yarn kit from Janie Crow Knit & Crochet Design in the UK.
Ummm… granny squares? These lovely bits were Not Exactly Square. Not to worry, she said with a smile – the term Granny Square is used in the crochet world like the word Block is used in the quilting world. Just because it's called a "square" does not mean that the shape is actually square. So, with that cleared up in my very tired mind, I asked if I might have a closer look at the squares.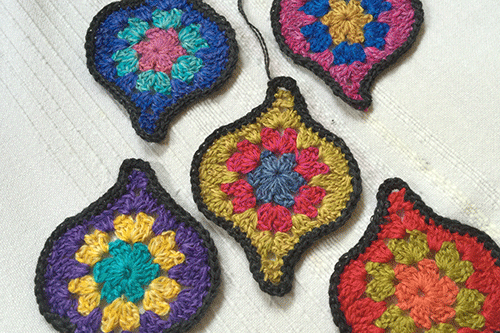 As I looked at the lantern squares, I could feel the gears turning in my brain. The shape of the design was a tessellation – very similar to the tile on the floor of the QQ patio. Hmmm… was there a way to reduce this "square" into a stencil? Could I paint the basic pattern on fabric and then do embroidery over the top? I borrowed one of Margaret's completed blocks to look at the structure of the design, but didn't get too far with the stencil idea.
After watching her work on the lantern squares for a few days, I asked for a lesson. I figured it would be a lot easier to understand the shapes in the square by actually making one. Before she agreed, I warned her that I had not touched a crochet needle since I was 15, and I had no idea how this was going to go.
I pulled out a couple of skeins of perle cotton, borrowed a hook, and was delighted to find out that my hands remembered a lot more about how to crochet than my brain did. As long as my new best crafting friend was sitting right next to me, my Crochet in Chapala lessons went swimmingly well!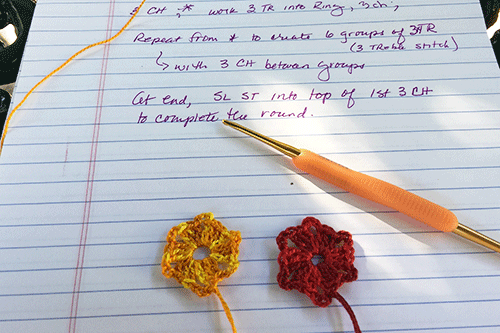 Like any good teacher, Margaret encouraged me to make more than one (so I would have a reference sample, take some notes, and to bury the loose ends as I finished each round. I don't know that any notes will make sense without having her next to my elbow, but I saved the only truly important piece of information – the source for the proper pattern!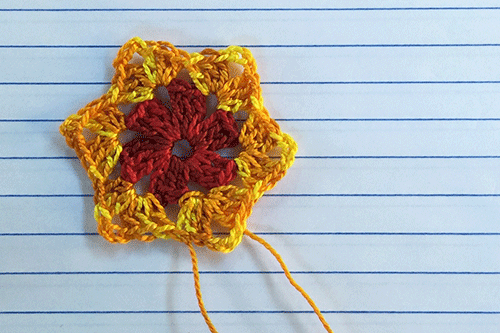 After the first two rounds of stitches, the "square" was a very nice hexagon. And that, by itself, could be made into all manner of interesting projects. We stopped for the day and agreed to tackle Round 3 at another time. (No need to overload my brain all at once!)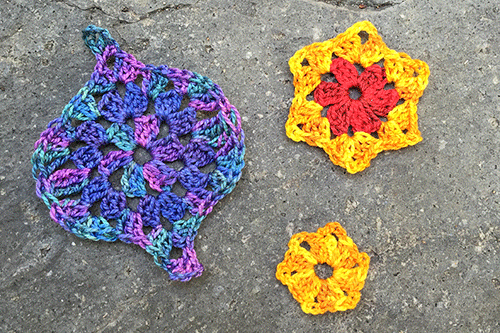 We resumed our lesson with Round 3. and I have to say that it taxed my brain more than a little bit. Trebles, Double Trebles and then a Triple Treble Together. It felt more like Lions, Tigers and Bears – oh my!
Just as I felt like I was starting to remember the stitch names, I got one of those "oh, by the way…" bits of information. The pattern was developed by a woman in the UK. Ummm… so what? If it's in English, what does it matter?
Oh, silly me. It turns out that our friends in the UK, Canada and Australia have one set of terms for crochet stitches and we in the US use a different set of stitch names. Note to self: It might just be easier to stick to quilting and embroidery!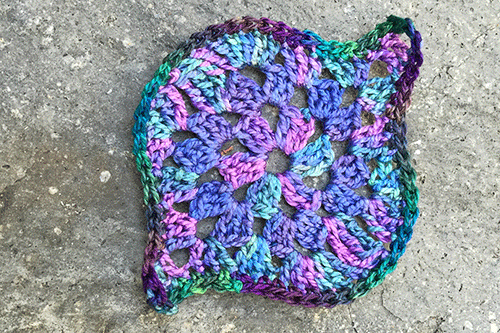 Thankfully, the edging was much easier than Round 3. (Of course, for me, almost anything would have been easier than that!) It was a bit tricky getting up and down the little loop at the top and bottom of the lantern, but my (very patient) teacher got me through it – and I have a lovely crocheted Lantern that will most likely turn into an ornament for my Christmas tree.
Do Something Different to Spur Your Creativity
Let me say right up front that I am NOT likely to add crocheting to my list of hobbies. I have definite plans on where I want to direct my creative energy and this is not it. But that doesn't mean that my short detour into the world of crochet was a waste of time. In fact, I would say just the opposite.
For me, doing something totally different is a great way to open up new creative pathways in my brain. Just trying something new or different – or doing something I forgot I knew how to do – almost always leads to new ideas that I can incorporate into my work.
Going back to my original inspiration, can I turn this motif into a stencil? Can I embroider over a painted shape to make it look like it is crocheted? Can I find inspiration for my Paint + Stitch art in the world of Crochet? I'm willing to bet the answer is Yes, and that the time I spent learning to Crochet in Chapala will prove to be a most excellent adventure!
Resources:
A note about copyright: I thoroughly enjoyed "re-learning" to crochet during my visit to Chapala, and it was great fun to make a lovely little Lantern square. The downside was that we were using a pattern that I had not purchased. As a pattern designer, that sets off my "copyright" alarm. I know full well that I need to purchase a copy of the pattern if I am going to make a project using this lovely Lantern square – and I will!
If you enjoy crocheting, you can find the Mystical Lanterns shawl kit by Jane Crowfoot at JanieCrow.co.uk. As best I can tell, the pattern is only available with the shawl kit at this time and they are waiting on supplies before selling more kits. I have sent a note to the company to ask about the pattern. I will update this post when I get more information.
Your Turn
Do you dabble in other crafts – or do you stick with the things you like best? Do you find your "dabbling" to be creatively productive? Leave a note! I would love to hear your thoughts on this topic.