Did you ever go shopping for a new car, say a beautiful deep blue Buick LaCrosse – and then start seeing that particular car everywhere you looked? It's rather amazing. This happens to me even if I don't buy the car I looked at. Once it's in my consciousness, I notice it every time I see it. The cars have always been out there… I just never noticed them until I focused my attention on that particular car.
The same thing happens with other things in my life. Whatever I'm focused on, I see all around me. I've been thinking a lot about Creative Success as I go through my business transition. As a result, I see it everywhere – in many different forms. Here are a few that popped up in the last week.
Gardens Nourish the Creative Spirit
As a part of our gatherings, the DIVAS and Designing Quilters gathered for a picnic at the home of Linda and Glenn Huebner.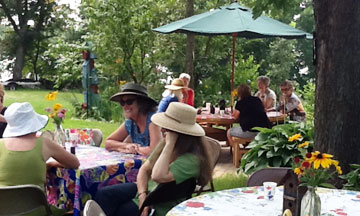 Linda and Glenn live on a point that juts out into a lake. They have created extensive gardens with something for everyone. There are wild flower beds, a fountain, herbs, and a fabulous (and flavorful) vegetable garden. They even have a wooded "fairy" garden to go with huge expanses of assorted flowers. I could spend days in these gardens and not see all the little creative details.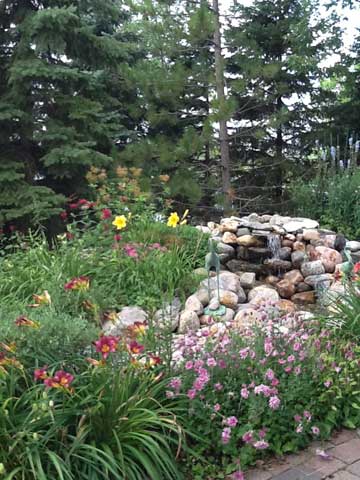 When you need a creativity "fix," go dig in the dirt – or visit a garden. You'll enjoy both the beauty of nature and the creativity of the gardener. It's a real treat.
Simple Fun Feeds the Soul
After our picnic lunch, this group of very talented art quilters settled in for some decidedly low-tech fun. We experimented with Sharpie-Marker Fabric Dying. It's a super-simple process. You make a bunch of marks on fabric with Sharpie markers, then add drops of rubbing alcohol and watch as the color runs into the surrounding fabric. Let it dry, heat set the color, and I'm told that it's very, very permanent. Who knew fabric art could be so simple – and fun?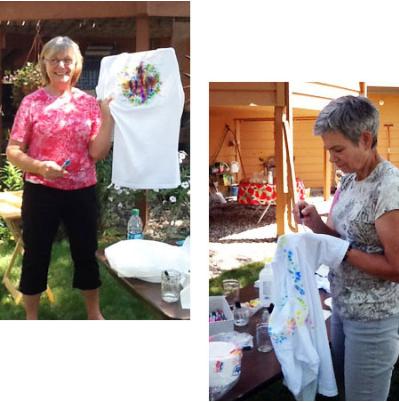 Linda (our hostess) did this activity with her granddaughters during one of their "grandma camp" visits. The girls had a ton of fun (and so did Linda) and made some pretty cool shirts. I forgot to take a shirt to the picnic, but I enjoyed my experiments and had a great time just watching a bunch of plain t-shirts come to life. Fun!
Community Gets Creative to Solve Monumental Problem
The last example I want to share came courtesy of the Wall Street Journal. (I confess, I'm an economic news junkie…) The community of Hamburg, Iowa was saved from devastating flooding last year when the Army Corps of Engineers raised the levee around the town with 8′ of additional dirt. But now, they have to come up with a huge sum of money to KEEP the levee.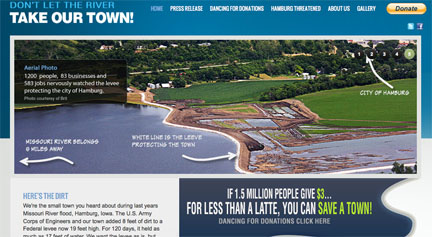 In spite of help from the state, they still need to raise over $5 million – truly a daunting task for folks in a small rural town. Well, I salute them for getting together, making a video, and asking for help. The HamburgLevee.com site says, "For less than a latte, you can help save a town." How's that for creative?
For the record, I took the 2 minutes required and made a donation. If you want to salute their creativity, you can help by donating and passing the word along to your friends. At 3 bucks a pop, our friends need about 1.5 million people to save their levee. And I'm betting they make it happen!