Shading with Shiva Paintstiks Makes Eve's Garden Glow!
by Sue Pelland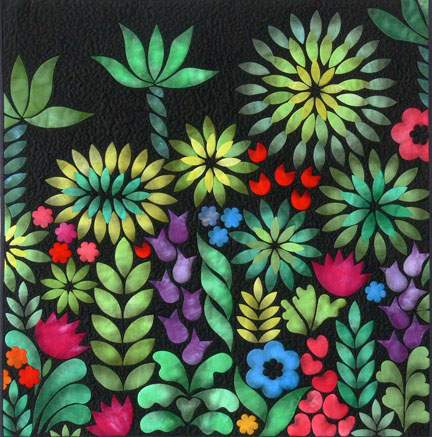 I made Eve's Garden as a challenge quilt for my quilt guild. The theme was "Gardens" and I had always wanted to do this "Garden of Eden" quilt. I had it in my head, and this was the perfect chance to get it out in fabric! I love to dye my own fabrics, so I went to my hand dyed stash, and came out with nine shades of green, plus these other bright beautiful colors. The artist who inspired this quilt made a similar illustration using stencils on black paper. Where the stencil was not completely filled with color, the black paper showed through. I wanted the same effect, but with the fabrics the black couldn't show through. Instead, I used a black shiva paint stick and a ½" stencil brush to shade the edges of the fused patches so that they faded into the black background fabric. The result was a quilt that glowed!
Instructions: Using Shiva Paintstiks for Shading Appliqué
(©2011, Sue Pelland Designs)
Shiva black paint sticks are the perfect paint for shading the Eve's Garden pattern. They are oil based sticks, so they never dry out. Just peel off the protective layer that forms on the end of the stick, and they are ready to use. Scribble with the paint stick on a scrap of freezer paper or other non-porous surface. Load your stencil brush by rubbing over the scribbled paint in a circular motion. This will load your brush with paint. Now brush off the excess paint onto a scrap of fabric. Use a circular motion, both clockwise and counterclockwise to work the paint into the bristles, and to wipe off excess paint. This gives you the right amount of paint for the dry brush technique explained in the pattern. Heat set the paint after shading. When finished, clean your brush with a little shampoo or dishwashing soap. Keep your paint stick and your brush in a zip top bag and they will be ready for your next quilt!
Spice Up YOUR Appliqué Today!
As you can see, the subtle shading Sue did with the black paintstik color is absolutely fabulous. Her Garden quilt would not be nearly as interesting without the shading. If it hasn't already hit you over the head, you should be saying to yourself "Wow! I can do that too!" Yes, you really can! Sue's dry-brush method is one of the easiest things you can do with paintstik colors to add dimension and beautiful shading to your quilts.
Now I can already hear you thinking "well, I don't want to put my quilt on a black background…" No problem. I've got 13 beautiful deep, dark paintstik colors for you that are most definitely not black. Now that you know exactly how you will use them, you can order the entire set of DARK Paintstik Colors at a very special price, or you can pick out your favorites from our Online Store.
Here are the 13 dark colors:

Alazarin Crimson is a deep ruby red that leans a bit toward purple. This is the darkest red in the Matte Color line.
Grape is a red-violet. It is more on the transparent side of the spectrum.
Dioxazine Purple is a beautiful deep purple. It's quite dark, but very rich.
Phthalo Blue is a deep blue with a slight purple undertone.

Prussian Blue is a deep blue with a slight green undertone.
Teal Blue is best described as a deep turquoise. Definitely blue, but has a lot of green in it.
Phthalo Green is a dark green with a definite blue undertone.
Old Sap Green is a great deep middle-of-the-road green. It leans just a bit more to the blue side than Sap Green.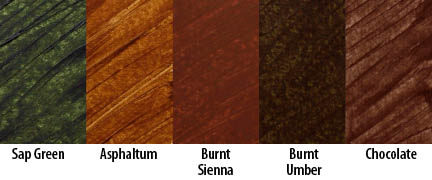 Sap Green is a middle-of-the-road green. Some teachers like this green because they can mix with yellow or with blue to get the shade of green they want. It has just a touch more yellow than Old Sap Green.
Asphaltum is a fabulous golden caramel color. It's quite transparent, but much more interesting than the name implies.
Burnt Sienna is a reddish brown and very opaque.
Burnt Umber has a definite green undertone. It semi-opaque.
Chocolate is a transparent, middle of the road brown. Think Hershey bars.
A Quick Note About Brushes…
When you use Sue's dry-brush technique to add shading to a project (appliqué or something else), be sure to use our long-handled, standard stencil brushes rather than our paintstik brushes. Here's a photo of the correct brushes.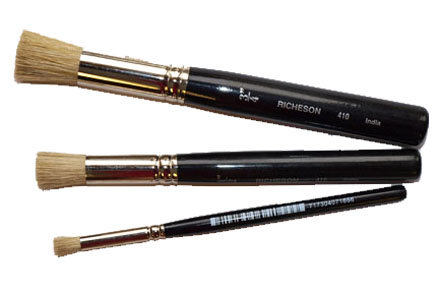 The standard stencil brushes have longer, softer bristles and are much less likely to leave brush marks as you add shading to your project.
Is is that important? You bet. Always use the right tool for the right job!
Order Your Deep Dark Paintstik Colors Today!
After viewing these absolutely yummy dark colors, I know that your mind must be racing with all the possibilities for adding shading to your quilts and fabric art projects. (And if you're NOT thinking about the possibilities… you should be!) At any rate, I have a very special offer just for you.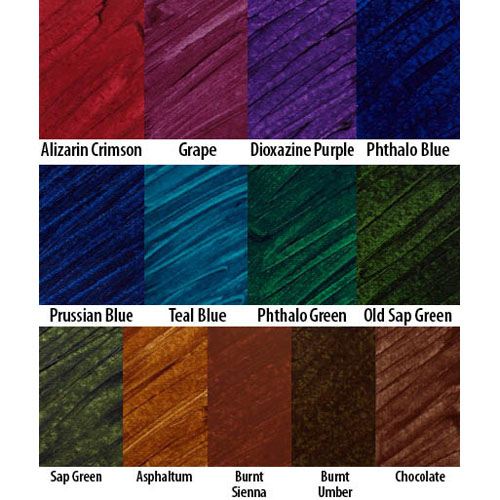 I've gathered up all 13 of the gorgeous deep dark paintstik colors and bundled them up at a fabulous price. Purchased separately, the colors sell for $97.75. For a few short days, you can add all 13 colors to your paintstik collection for just $65.00. That's a whopping savings of 33% off the retail price. This offer will disappear from our Online Store after one short week, or when we run short of any of the 13 colors. (And no, we don't stock tons of single, matte colors — so this could disappear before you know it!)
If you order by midnight on Friday, January 14, I'll give you an extra bonus! I'll have the crew in shipping add the Ivory Black paintstik that Sue used on her Eve's Garden quilt absolutely free. Don't delay — get your fabulous Deep Dark Paintstik Colors today by clicking on this link.
Enter Our Garden Quilt Giveaway!
Are you ready to try your hand at a Garden Quilt? Do you have a friend who would just love to do this project? Here's your chance to win almost everything you need to make this stunning quilt.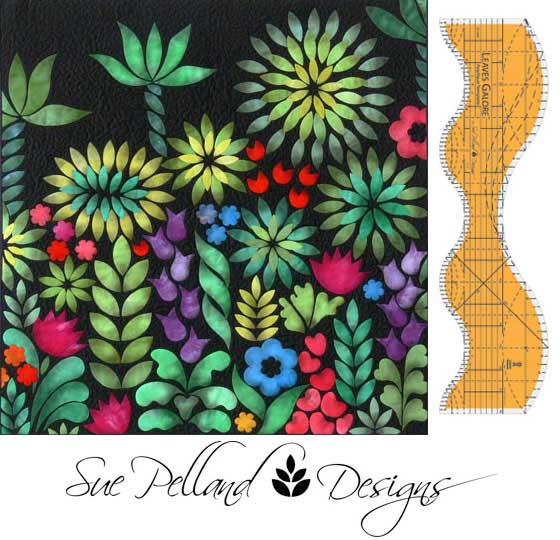 Sue has generously offered a copy of her Eve's Garden Pattern and one of her amazing Leaves Galore Rulers for this drawing. I'm adding 7 paintstik colors (4 dark colors and 3 metallic colors) and the stencil brush that you need to do the shading.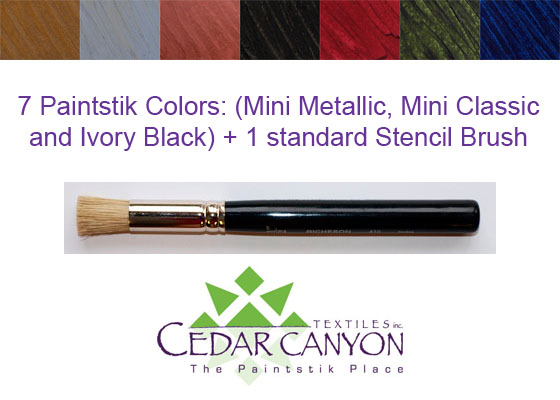 YOU have the opportunity to win this marvelous prize — and I hope you will pass the message along to your friends as well!
To enter the drawing, click on the link below. Enter your name and e-mail address in the form. On the form, you also have the opportunity to sign up for the Cedar Canyon Community and Sue Pelland's newsletter. (If you already get my newsletter — no worries. You're already subscribed and we won't send you duplicates.)
Click on this link to enter:
https://cedarcanyon.infusionsoft.com/app/form/cct_and_suepelland_giveaway
You must enter by midnight on Friday, January 20. One entry per person, please. After the deadline, I'll use a random number generator to pick the winner. Good luck!