If you are like me, you like to have some supplies on hand for those inevitable rainy days – or snow days for that matter. Or, for days when you simply want to play.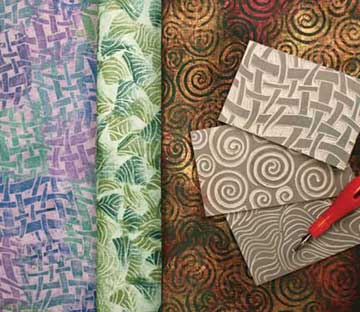 One of my favorite things to do is to make a new texture that I can incorporate into future projects. It doesn't have to be anything spectacular. Experiments are good. Sometimes I think the results are incredibly cool, sometimes they go straight into the circular file. (That's a waste basket in case you are not familiar with a "circular file.")
Here's the deal. For me, sitting down and carving up a piece of soft linoleum is a much better way to pass the time than sitting in front of the TV or spending yet another hour surfing around the internet. Over time, my collection of textures gets bigger, and that makes for more fun when I pull out my paints to play. Did I mention I like to play?
Carve Your Own Linoleum Blocks
I did a series of articles a while back related to linoleum carving and linoleum prints. Rather than reinventing the wheel, I invite you to click through to those articles. Please pay attention to that safety stuff. I just hate getting messages about trips to the Emergency room!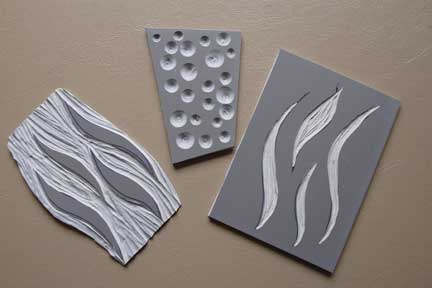 Make Your Mark: Carving Basics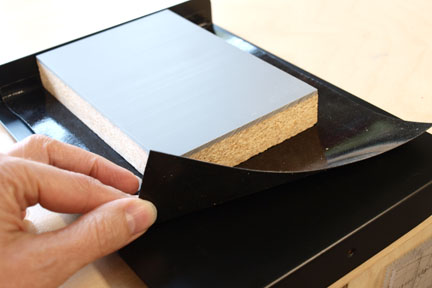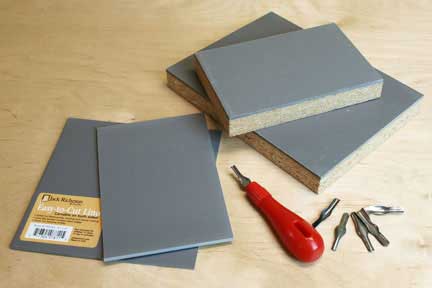 New Products: Easy-To-Cut Linoleum
Why Carve Your Own Textures
Well, why not? Okay, if you need a nudge, let me run down a few good reasons.
It's fun.
It's more entertaining than TV.
It doesn't talk back to you.
It's not terribly difficult as long as you get one of the newer "soft cut" linoleum products on the market. Yes, it takes a little practice, but that's okay in my book.
The blocks (especially the sheets) are easy to store.
And best of all, it's PERSONAL!
This PERSONAL thing is what keeps me coming back to carving. When I make my own designs, they are mine. Good, bad, or indifferent, they are unique to me.
Now, I'm the first to admit that I am often content to work with purchased textures or rubbing plates. After all, I design and sell rubbing plates. But, there are times when I want to add a personal touch to my work. And that's what keeps me coming back to my stack of linoleum sheets and my trusty carving tools.
Give it a go sometime. I think you'll like it too! It's a perfect activity for a day when you want to do something, but you don't feel like digging into a big project.