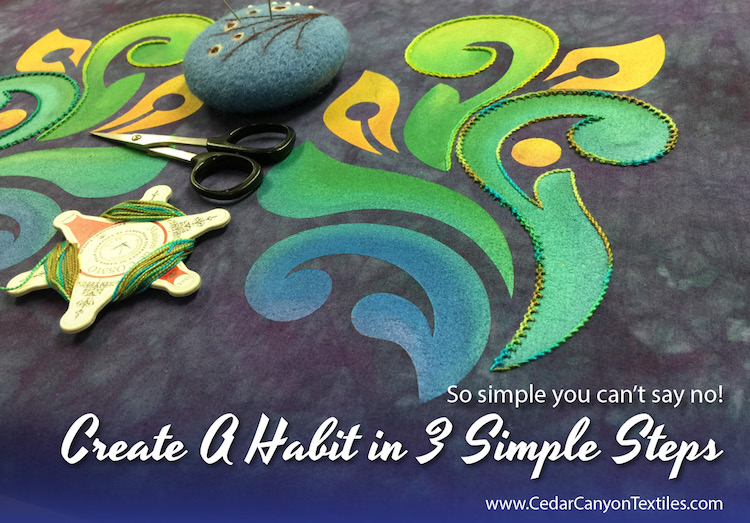 With an excess of things to keep track of this summer, my Get In The Studio habit went to hell in a handbasket. That's okay for a while, but eventually it makes me cranky. (And that's definitely not okay!) Long story short, I needed to Create a Habit in order to get back to creating the stuff that makes me happy.
For me, "getting motivated" and finding deep reserves of "willpower" simply don't work. Likewise, putting big blocks of "Studio Time" on my calendar doesn't work. It's not specific, it's not accountable, and it's too wide open. I need something so small and so easy that I can't say no.
I'm certainly not an expert on good habits, but I think I've found a formula that will work for me. For our purposes, I'll call it the the 3 W's of Creating a Habit: When, What & Woohoo!
The first W is WHEN. When will I execute my new habit? There is a lot of scientific research that shows that stacking a new habit on top of an existing habit works really well. I decided that my WHEN would be after I make my morning cup of tea and before breakfast.
The second W is WHAT. What was I going to do? Studio Time was too vague. I needed a specific activity so I didn't have to make a decision. (First thing in the morning is NOT a good time to make decisions!)
Knowing that I needed to start small, I committed to 20 minutes of stitching each morning. That's enough time for me to put one length of pearl cotton into a project. One thread-length of stitching. Small. Measureable. Doable on even the busiest day.
The third W is Woohoo! I'm a big believer in celebrating, and I love that the habit researchers agree. To create a habit that sticks, we need to celebrate our wins.
I printed out some blank calendar pages. Each time I finish my 20 minutes of stitching, I put a big, red X on the calendar – and then head upstairs to the kitchen for a yummy breakfast.
From 20 Minutes to a New Project
My new habit is already paying dividends. The most obvious result is that I'm quickly making progress on my current stitching project. The big bonus is that my little habit got my creative wheels spinning – and I'm off to to a great start on a new project!
Stitching on my Talavera Flourish piece got me in the mood to work on a new version of the design. With a clean calendar on Friday, I made changes to the spacing and simplified some elements, then turned the design into a circular pattern.
I was on a roll, so I decided to experiment with a two-part Renegade Stencil. (Bigger is better, right?)
Ummm… right. The idea was great. The execution, not so much. Thank goodness I was only cutting vinyl!
After lunch, I figured out how to work with the two part stencils – and I made up a decal (the reverse of a stencil) for auditioning my new design on fabric. Then I looked at everything I accomplished in one day and thought, "Wow! Where did all that come from?"
With a few days of perspective under my belt, it's easy to see that my new project – and my happier disposition – are a direct result of my new habit. I'm in the studio. I'm doing something productive, and I'm inviting my Art Brain to come out and play.
Create a Habit with When, What & Woohoo!
To sum things up, my new habit is based on the 3 W's.
When – After I make my first cup of morning tea…

What – I'll stitch for 20 minutes on a current project.

Woohoo! – I'll put a big red X on the calendar and enjoy a good breakfast!
Please feel free to use this formula to create a habit of your own. Use it, tweak it, make it into something that works for you. Start small. Be consistent. Enjoy the reward.
Your Turn
Do you have a creative habit that has become automatic? Would you like to explore this idea further? Pop a note in a comment below. I'd love to hear your thoughts.