I thoroughly enjoyed my trip to the Minnesota Quilt Show and Conference with my friends from the DIVAS. The quilts were marvelous, the class I took was delightful, and I had the chance to catch up with tons of people I know.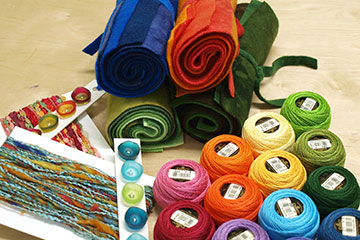 And I did some shopping, of course! Although I have honed my ability to get in and out of a quilt shop with only the things on my list, I'm not so good at shows. The array of goodies is simply too tempting.
On the other hand, shows are the perfect place to get a "color fix." Between the magnificent quilts and a stroll through the vendor mall, the sheer volume and variation of color is absolutely intoxicating. Can you tell I'm more than a little bit of a color nut?
If you haven't figured it out by now, I have to confess that I'm a "bright and shiny" girl. With the exception of choosing a background to show off my favorite (mostly bright) colors, I will walk right by the dark, muted colors favored by many shops – no offense intended. Dark and muted just aren't my thing.
So, you can imagine my delight when I found that the wool dyers and vendors are now showing bright colors. At Quilt Market in Portland, Sue Spargo was showing off brightly colored kits and fabulous stitching in her booth, and Weeks Dye Works also had clean bright colors on display.
Then, at the Minnesota Quilt Show, Tracy Trevathan had absolutely scrumptious little rolls of wool in her booth that I just couldn't resist. I restrained myself and started with just four, but I suspect the rest of her collection will find it's way to me soon.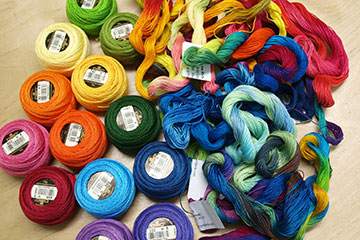 I also added to my growing collection of pearl cotton for embroidery work. I've been collecting beautiful variegated threads from Laura Wasilowski at ArtFabrik for a while. While I was at the show, I took advantage of the opportunity to add a nice assortment of solids to my collection. After all, sometimes I just want PURPLE! Since my mind works in color wheels, I picked out the 13 brightest colors I could find in pearl cotton, conveniently avoiding all of the dark muted colors.
Now the question is how to keep track of my threads. I need a visual way to keep track of what I have on hand so I don't go buying the same thing when I'm out shopping. Any suggestions?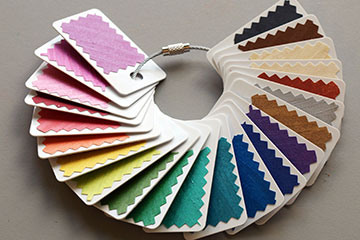 Is there a way to do a variation of my paint swatches with thread that you can think of? These nifty swatch cards from Swatch Buddies are great for fabric and paint, but I haven't figured out how to use them for thread. If you have a suggestion, post it here on the blog or over on the Facebook page. And thanks! I look forward to your great ideas.