In spite of the weather, it has been feeling a bit like spring for the past couple of weeks here in the office as we put the finishing touches on a new Coneflower pattern by designer Nancy Kazlauckas. I have a perfect place in my office to hang these quilts – and then it will be spring year-round! (Just don't tell Nancy – she thinks she's going to get one of them back…)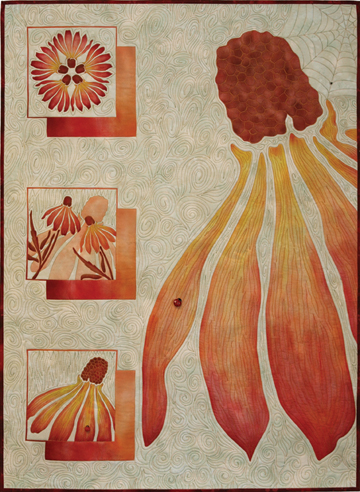 Nancy's latest creation is a 27 1/2″ x 38″ whole cloth quilt. That's right – it's all paint and no piecing! I actually sat down and painted several of the shadow boxes on the left side of the quilt to finish up the photography, and I can vouch for the fact that it's easier than it looks. Nancy has a super easy method for putting those shadow boxes together. It really works!
Not just a pattern…
This is our first Pattern Plus. In past patterns, all the stencils were traced and cut from freezer paper, but this time we tried something different. You cut the big coneflower stencil from freezer paper, but we've made mylar stencils for the smaller images. This will save you a ton of time – and you can use the stencils again and again for other great projects. Given the price of stencils these days, our retail price of $14.95 for pattern plus stencils is a real deal.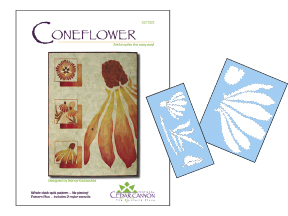 Here's an alternate colorway for those who prefer cool colors. They are both beautiful, so you'll have to choose. Or pick your own colors!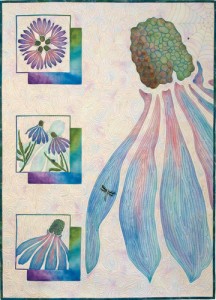 Speaking of colors, the warm color quilt was created with matte paintstik colors. Nancy used Azo Yellow, Peach, Azo Orange, Napthol Red, Alizarin Crimson and Burnt Seinna.
The cool color quilt was created with iridescent paintstik colors: Iridescent Pink, Purple, Turquoise, Dark Blue and Leaf Green.
We expect to begin shipping Nancy's new pattern by April 6.