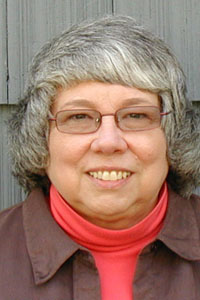 I love working on book projects, but I rarely have all the ideas I need to do the best possible job. I've learned to ask for help — and I'm always amazed at the results! My most recent book is a perfect example of the wonderful things that happen when I ask for help. Five of the 12 techniques showcased in Rubbing Plate Roundup were submitted by Cedar Canyon community members after I posted a call for sumbissions.
Jeanine Center, of Ann Arbor, Michigan, sent beautiful photos to show how she uses rubbing plates to add dimensional texture to her functional pottery pieces. I knew that potters were using the rubbing plates, and I was thrilled to find someone willing to share their knowledge with me and my readers. Here's a little more about Jeanine.
Jeanine's art adventures began with making jewelry. She started working in clay in order to make her own beads and pendants. She found herself totally hooked on clay and expanded her work to include functional pottery. Her jewelry work has been published in numerous magazines, including Bead Trends, Creative Jewelry, Easy Wire Jewelry and Stringing. She lives in Ann Arbor with her husband John, who generously puts up with art flowering all over the house.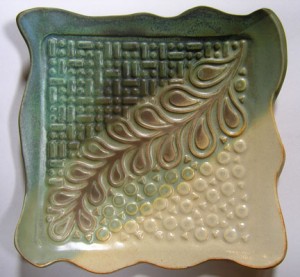 Just a few days ago, Jeanine sent this photo of her latest plate created with a rubbing plate. She used one of the new Doodles Rubbing Plates to add the design to the plate, then dipped the plate into several different glazes to show off the various parts of the design. Well done, Jeanine!
Want to know more? Get all the details for adding texture to pottery — AND 11 ADDITIONAL TECHNIQUES — when you order your copy of Rubbing Plate Roundup today.
Another Special Thank You…
While I'm on the topic of pottery, I want to give a special thanks to Mimi Seykora of Alexandria MN. Mimi generously opened her pottery studio one evening to help me with the how-to photos to go with Jeanine's instructions.
Mimi is an accomplished potter who is truly a kindred spirit. I was totally blown away as I looked around her studio — it was filled with amazing textured objects! Mimi has been using all kinds of found objects to add dimensional texture to her pottery for years and we had a lively discussion about our obsession with textures. My visit with Mimi was a perfect example of help arriving in exactly the right form. I asked my friends for referrals to potters, and one of them sent me to exactly the right person. I could not have asked for more!