Paint•Stitch•Bead – Join us today!

Paint • Stitch • Bead is a monthly membership program, with a dose of creative Inspir•Action delivered straight to your email inbox each and every month. The lessons are designed to support your creative habits with exercises in fabric painting, hand embroidery and beadwork.  The principal tools used during the course are Shiva Artist's Paintstiks, embroidery threads and seed beads.
The monthly Lessons are hosted in our Online Classroom, and include access to the Design & Lesson for the month, a wide range of tutorials, two Stitch Libraries, and active discussion rooms. Membership is $29.95 per month.
Next Session to be Announced
Almost Invisible Art Quilt Facings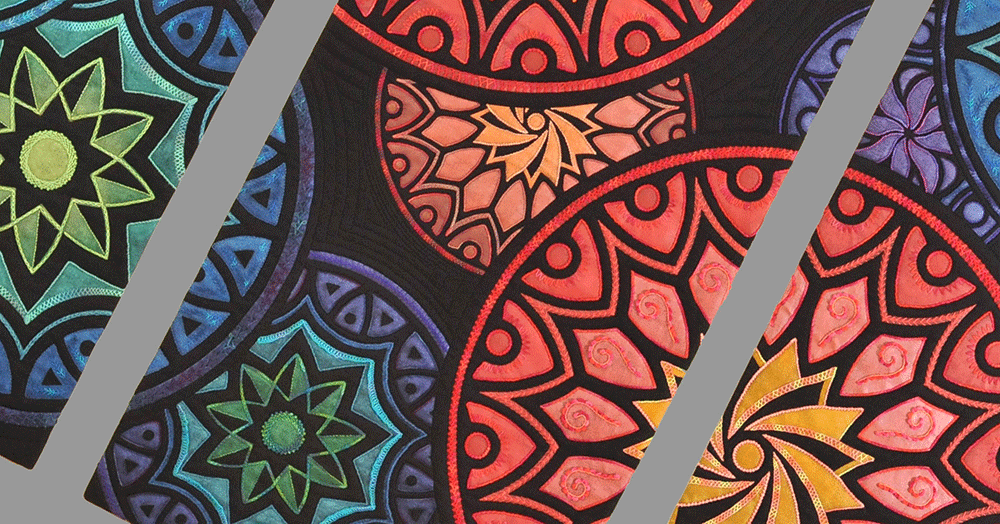 Finish your art quilts with "disappearing" edges and perfectly flat corners worthy of a Best-of-Show award. This facing method allows your design elements to extend all the way to the edges of your quilt, it is virtually invisible, and it will have your viewers thinking "art" rather than "quilt."
The Almost Invisible method makes use of garment sewing techniques that have been around for centuries. You can download the free Three Secrets document now to discover the three principles that make this method work. (Get the Secrets using the little form on the right side of this page.)
Note: This method is not recommended for quilts created for everyday use. Art quilts and wall quilts only, please!
Silhouette for Fabric Art

Silhouette For Fabric Art is a Creative Cornerstone course for quilters and fabric artists who use Silhouette Cameo cutters. By the end of our course, you'll be in love with your cutting machine and everything you can do with it, confident that you know how to use it – and you'll have a clear strategy for getting ideas out of your head and onto the fabric the way YOU want it to look!
During our 6-Module course, we will:
Explore the Silhouette Studio software tools and features and how they can be used for fabric art
Work with existing designs and manipulate them for your projects
Learn to draw designs directly in the Silhouette Studio software
Scan and trace your hand-drawn images and appliqué patterns
Work with text in our designs
Explore the ins and outs of cutting various materials, including freezer paper, stencil plastic, fabric, and vinyl –– the secret to making Renegade Stencils!
This Creative Cornerstone course is designed for students who are new Silhouette Cameo users and those who want to learn more about ways they can use the machine for quilting and fabric art applications. All of the examples will shown in the Silhouette Studio software.
Next session to be announced
Design Magic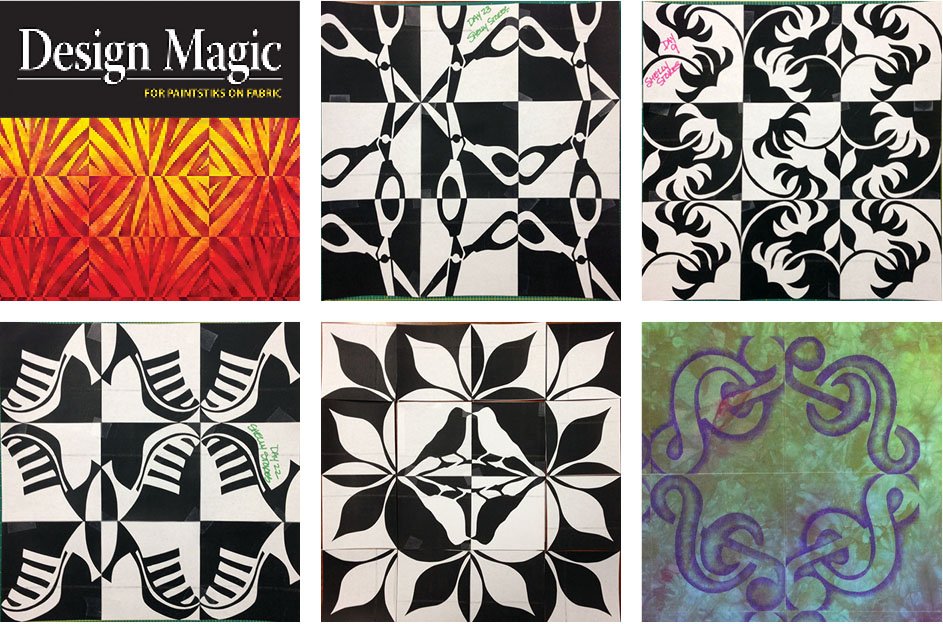 Design Magic is a Creative Cornerstone course for the design process described in my Design Magic book. During the course, we'll create 30 Designs in 30 Days, but have no fear – we take weekends off. But, this is not just a design class. We're going to turn your designs into stencils and add them to fabric with Shiva Artist's Paintstiks.
We'll cover:
Creating designs with the Design Magic process
Refining designs to account for Bonus Shapes and light/dark Balance
Cutting stencils by hand and with a Silhouette cutting machine (optional, of course!)
Adding your designs to fabric with Shiva Artist's Paintstiks
Breaking the rules! (For those with Silhouette cutting machines)
Achieving a "hand made" look when you want a more relaxed look
And yes, we'll make lots of designs! You'll receive design prompts for each of the 30 designs (everything from flowers to sewing supplies to shoes!) and complete lessons for everything else in our friendly online classroom.
This Creative Cornerstone course is open to all students. No previous experience with Paintstiks or design required.
Next session to be announced
Whole Cloth Collage

Whole Cloth Collage is a Pushing Boundaries course for students who have good Paintstik Rubbing skills and are ready for the next adventure. The six-week course is divided into three parts:
Lesson 1-3 are all about trapping patterns within simple stencils called Masks. (I also call these Shape Shifter Rubbings.)
Lessons 4 & 5 are devoted to creating collages that only appear to be pieced using my Peel & Paint single-layer masks and two-layer masks for more complex shapes.
Finally, Lesson 6 is an introduction to the marvelous world of hand embroidery and a method I call Paint + Stitch.
This Pushing Boundaries Course is geared toward students who have completed Totally Textured or who are confident in their Paintstik Rubbing skills.
Next session to be announced
Totally Textured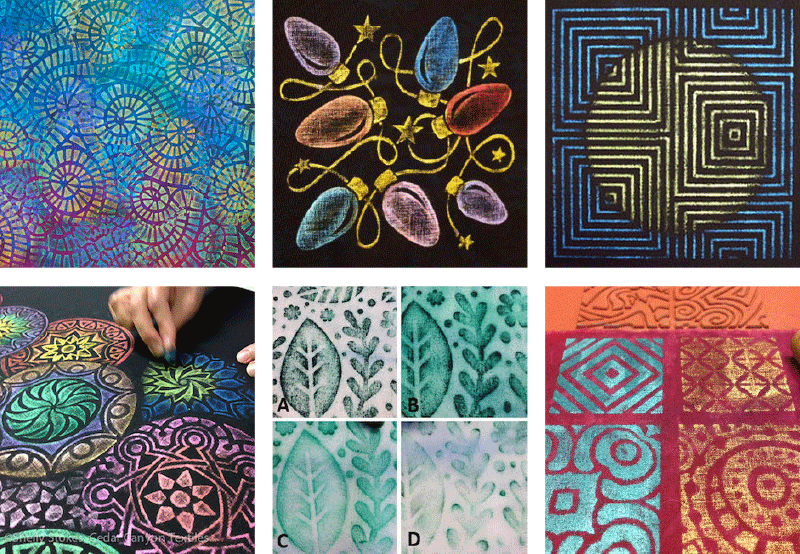 Totally Textured is my Creative Cornerstone course for all things related to Paintstik Rubbings. When you've finished the six lessons, you'll be excited to have Paintstiks in your toolbox because you know exactly how to use them – and know that you can create fabulous fabric with confidence for all your quilting, sewing and home dec projects!
We'll cover:
Paintstik Rubbings & Fill the Fabric Prints
Rubbing Plate Portraits and Multi-color Rubbings
Masked Marvels
Rubbings in the Round
Soft, Subtle Rubbings
Dramatically Detailed rubbings from Rubber
This Creative Cornerstone course is geared for students who are new to working with Paintstik Rubbings or who wish to refine their skills. After completing this course, you will be able to tackle any Paintstik Rubbing project that comes your way.
Next Session to be announced