I'm really blessed to belong to a small group of women who share a love for adventurous quilting and fabric art. They are incredibly creative and talented, and I'm constantly inspired by their ideas.
For the past year, we've had a monthly Challenge topic. We generated a long list of ideas a while back and then chose one for each month. Now, I have to admit that I don't often participate in the challenges. I often use the excuse that I'm "too busy" with work stuff to go play in my sewing room. (Does that sound familiar???)
But once in a while, one of our members will create something that I just can't resist. I take one look and say, "Oh my goodness, I just HAVE to make one of those!"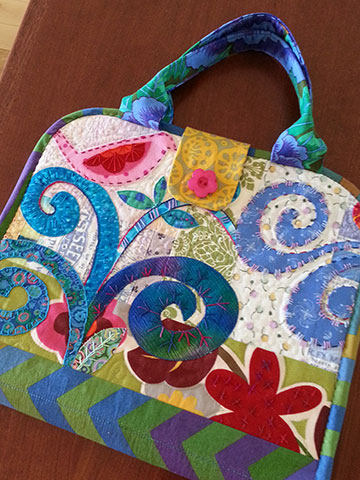 When it came time for our Chop It Up challenge, my friend Deb Mohr was truly brave and daring. She took a beautiful quilt she had made for a group project and chopped it into two pieces. She used one piece for the cover of this Tag-Along tote, and the other piece to decorate the top of her covered picnic basket.
Deb customized the interior of her Tag Along to carry her embroidery work. Since I am now carting embroidery stuff around, I just had to make one for myself. So, long after the challenge was due, I hibernated in my studio for two long evenings and produced my own tote.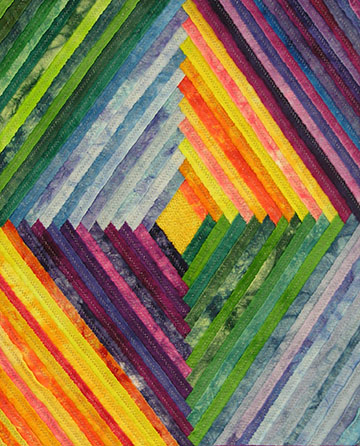 I started with this little quilt which was an old class sample. It's been hanging around the closet for nearly 10 years, so I had no pangs about cutting it up.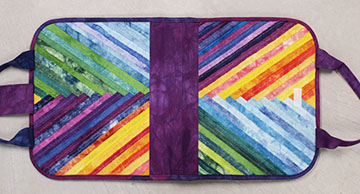 The quilt became the outside of the tote bag. This little quilt is from my Rough Around the Edges body of work, so it has an interesting Chenille-like texture. The strips have one torn edge and that is left exposed on top of the quilt.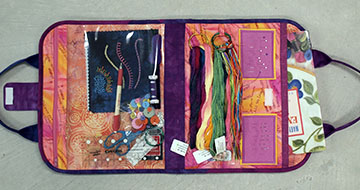 The inside of the tote has a zippered vinyl pocket, and a cloth pocket that is big enough to hold a book. Deb advised me to make any and all additions to the outside of the pocket before everything was assembled and I'm so glad I listened!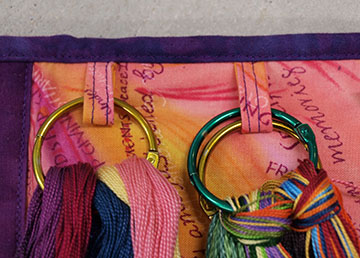 Based on Deb's bag, I added a couple of loops to the side. The loops are perfect for holding snap-rings full of embroidery thread.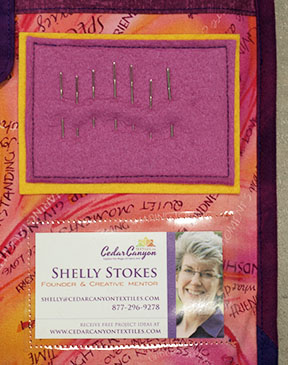 I also added a couple of felt squares that hold needles and pins. My last addition was a clear vinyl pocket for my business card, in case I manage to leave my tote somewhere in my travels. (And yes, I've been known to do stuff like that on far too many occasions!)
Challenge Squared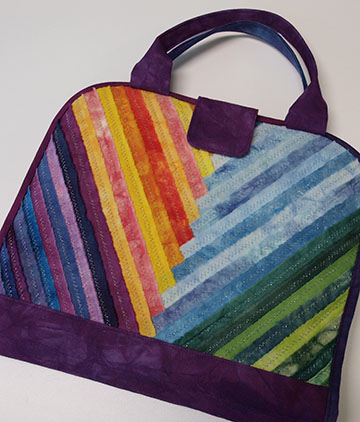 When I sent photos of my bag over to Deb, I teasingly asked if I can get credit for the challenge even though it was 6 months late. She laughed and told me I had actually managed to complete a second challenge (Symmetry) due to the design of the quilt I had chopped up. How do you like that?
I took my tote with me to Charlotte for the Transform conference. I enjoyed stitching on my flights – and loved having my little tote to keep everything neat and tidy.
What Will You Chop Up Today?
So, have you got any orphan quilts that could be chopped up and given new life? I'm betting that there's at least one hiding in your closet somewhere…
If yes, what will you make from it? Deb and I made Tag-Along totes from a little pattern by Sheri Falls at This and That Patterns. I looked at her website and it's not clear that the pattern is still available, but I've put a call into Sherri to see what I can learn about it.
In the mean time, there are tons of beautiful patterns that might be the perfect place to recycle your orphan quilt. All it takes is the courage to Chop It Up! And have fun with that!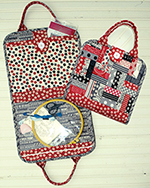 Update: The pattern from Sheri Falls can be found under Charm Patterns. You have to scroll at least half way down the page to get to this pattern. Deb and I made totes that don't look anything like the pattern, so it's easy to scroll right by.
Sheri's pattern calls for piecing the cover of the bag. You can ignore that if you are going to use a piece from a previous quilt project.
My quilt did not have enough body to skip the Timtex / Peltex / Craftex that gives this bag it's body. I used Stiff Stuff from Sew Lazy and machine quilted my lining to the Stiff Stuff. (I was out of Peltex and the store was closed…)
This pattern is long on words and short on pictures. I'm a picture person, so I had to read carefully. But it worked. The one change I'm happy I made was to cut my binding narrower than what is called for in the pattern. (Thanks again to a head's up from Deb.)
Have fun! And send pictures!