I just love it when you send me photos. Really, it makes my day! I'm always thrilled to see what you are doing with Paintstiks, whether it's something blissfully simple or a complex piece of art.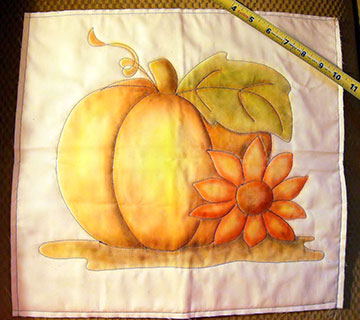 Last week, this photo arrived from Thea McCurry. I found it totally charming and was grateful that she allowed me to share it with the rest of you.
In her note, Thea said,
"Last summer, I took a class in using paint sticks to color in a muslin quilted pumpkin using only red, yellow and blue – I enjoyed the class so much, I want to try more similar quilted coloring.
I've attached a photo of my class project – and hope to do similar 'coloring' in the near future.  I'm looking for similar 'continuous line' quilting designs."

Now I was intrigued by the colors, because I'm quite sure she used the Matte Mini Primary Colors. As you can see, these are bright red, yellow and blue. So, whoever taught the class clearly did a good job on teaching color mixing to get these lovely autumn colors. I asked Thea for more information, and here's what she had to say:
"I took the class at the Original Sewing & Quilt Expo in Pittsburgh from Helene Weber. She was an excellent instructor and I'd love to take more classes from her, but I don't see anything in the current brochure about a class similar to this. I think she might have been an art teacher in a former life.
The paints were blended on a Styrofoam plate (pallet) and then 'brushed' into the fabric with a stubby stencil brush.  The colors were thoroughly worked into the fibers with a circular motion until there was a consistent coverage."
But wait 'til you hear Thea's final tip. This is really a hoot!
"I especially like 'setting' the paint in the hatchback of my Prius – no sense wasting all that 'free heat' of the season!'"
Now that's what I call creative thinking! I got a huge laugh out of this. I'm not sure I'm up for sharing my car with the smell of paintstiks, but I have to admit that a hot car would be the perfect "oven" for speeding up the heat setting process! Well done, Thea – and thanks for the chuckle!