As I look out the window, it's truly starting to look like winter here in central Minnesota. We've got a fresh coating of snow and the air is full of big, fluffy snowflakes. It's a perfect day to think about decorating for the holidays and it looks like weather this Thanksgiving weekend will be more suitable for hibernating in the sewing room than fighting the crowds at the shopping malls.
So I'll pull out the paintstiks and a couple of our new sets of stencils and have some fun playing with gift bags and some simple decorations for the holidays. My graphic artist extraordinaire, Matthew Mills, did a fantastic job pulling some great images together for these stencils. The Ornaments are very classy and the variety of sizes works for large images and small. I hope you enjoy the new stencil designs as much as I do!
Ornaments Stencils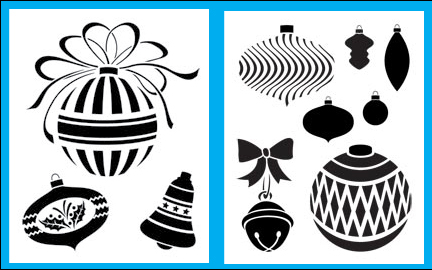 The Ornaments stencils are really gorgeous. There are two large ornaments, several medium-size ornaments, and a series of small, old-fashioned images that are cuter than a button. Here's a little project I put together for one of our ads.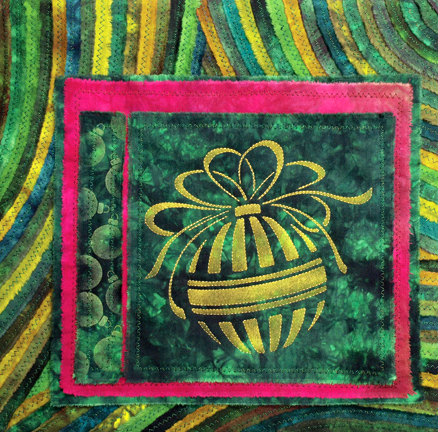 I use one of the large ornaments and an Iridescent Light Gold (yellow) paintstik to add a large image to one block, and some light shadowy images to the small vertical strip on the left.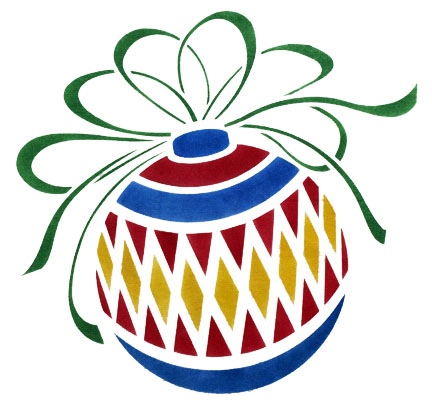 The second large ornament is another great image. I added the bow from the other stencil sheet as it was sized to fit both. To make this sample, I picked out a bunch of primary colors and used post-it notes to mask off the various areas white I was painting. It's a bit more time-consuming that using a single color, but it's quite fun to see what can be done with a little patience.

And I just love these little gems. My assistant Leanne really wanted to include a few of the old-fashioned ornaments for borders and small projects. If you shade the color around the opening instead of coloring it in solid, these are just precious!
What will you make with paintstiks today?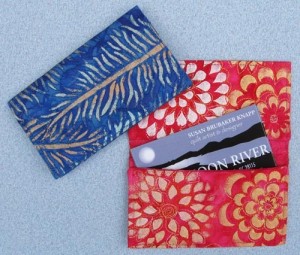 There are just tons of possibilities for these stencils. I'm thinking about a simple set of placemats and napkins for our table and some cards for my sisters.
If you give a lot of gift cards, hop over to Jen Mason's blog at Cloth Paper Scissors for instructions on how to make these lovely little gift card holders.  Stencil the fabric with ornaments and they'll be perfect for Chirstmas!