We've been working furiously to get everything ready for Fall Quilt Market at Houston, including — drum roll, please — our new line of stencils! The first three sets arrived a few short days ago, and we have two more sets coming in the door tomorrow. It's always exciting (and often rather disruptive) to get a totally new product line launched. We have so much to learn, from packaging — to figuring out where we are going to put the new items. It's a challenge, but we can do this!
We started our stencil collection with four beautiful sets of Leaves, and then just couldn't resist tossing in a set of Snowflakes to get in the mood for winter. (It's truly a good thing it's not quite cold enough to snow today — with the way the wind is blowing, we'd have a full-fledged blizzard — and no, it's not too early for snow in Minnesota…)
Well, enough about the weather, let's talk about stencils. All our stencils will be sold in sets of two stencils. So when you see the package, be sure to turn it over to see the 2nd stencil on the back. I've designed the stencils specifically for quilters, with one large block-size image and various small- and medium-scale images. On most sets, I've also included a border image with the designs specifically arranged for ease continuous-line quilting. Each of the stencils is 7.5″ x 9.5″ in size. They are cut from 7-mil blue mylar, which is thick enough to be strong and thin enough so you don't get a lot of paint build-up around the edges.
I want to introduce you to our Ginkgo stencils today, as this was one of the first sets through the design process. This set of stencils is based on drawings by Nancy Kazlauckas, who has designed several of our patterns. Here is a photo of the two stencils.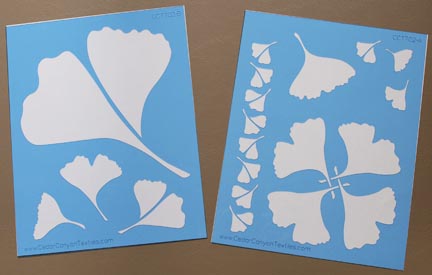 Designing stencils is an interesting process, and here at Cedar Canyon, it involves several people. Nancy provided the initial drawings, Matthew transferred the drawings to Illustrator, and then it was my turn to play. My job is to decide which images go on the stencils, how large they should be, and how they should be arranged. And given that I know next to nothing about Illustrator, that can be a challenge at times. But I'm learning…
When the first set of samples arrived, I just had to try out the image of the 4 interlocking leaves. I stenciled the fabric and whipped up a little bag from Lazy Girl Designs. This is my version of a Run-Around Bag. I did a fair amount of the hand stitching in the airports and flights on my way to Cleveland at the end of August. (Layovers in Chicago go must faster if you have something to do.) I still need to dig through the trinket box and find some beads and bangles for a zipper-pull, but it's a lovely bag.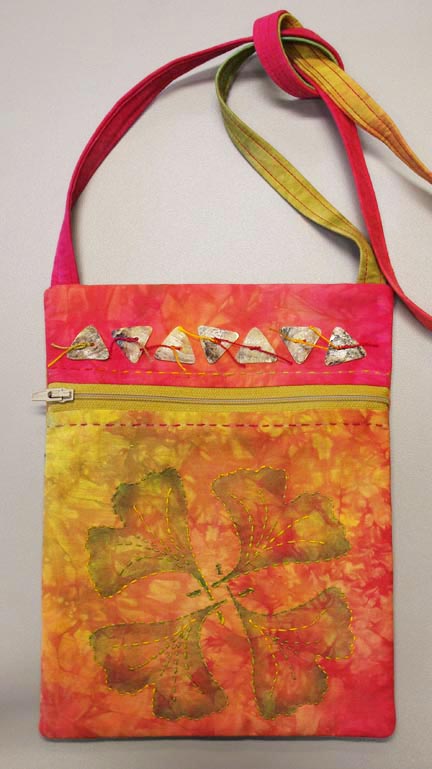 I used a light application of green paintstik color and didn't completely fill in the images. By painting only around the edges of the stencil openings, the beauty of the fabric shows through. A small amount of hand stitching was just enough to finish off the design.
Over the next few weeks, I'll introduce our Birch, Oak and Maple Leaves and a glorious set of Snowflakes. Until then, happy painting!