Celebrations aren't just for the holidays. There are countless reasons to celebrate over the course of the year. We all have birthdays (whether we want them or not) and most of us have reason to celebrate weddings, anniversaries and other gift-giving events throughout the year.
To make a gift truly special, I like to wrap it up in a hand-made gift bag, preferably something that can be used more than once. And I really like the gift bag to match the occasion. Here's an example I made from our Bosa Nova Bags pattern and the new Celebrate Stencils. And don't forget about that new Lime green paintstik – I love that color!
Celebrate Stencils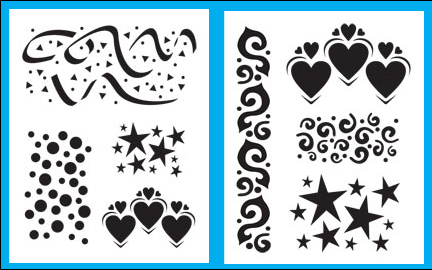 The new Celebrate Stencils have a variety of delightful images that are perfect for gift bags, cards, and more. Nothing serious, just lots of fun. They can be dressed up in classy colors for weddings and anniversaries, or painted in wild and crazy colors for a grandchild's birthday. Here is a section of one of my quilt market samples.
Customizing a Bosa Nova Bag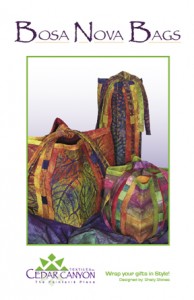 As you can see, the Celebrate stencils create tons of possiblities adding some zip to a gift bag – all you need to do is get them in the right spot before you sew your bags together. Fortunately, the Bosa Nova Bag pattern has a special page of instructions showing exactly where to add embellishments like stenciled images. After all, there's no need to add images to the bottom of the bag or the areas that will be covered by the seam allowances.
Painted images are perfect for these bags, whether stenciled like the blue bag above or made with rubbings like the bags on the pattern cover.
Take care not to embellish Bosa Nova Bags with beads or anything heat sensitive. You actually do more pressing than stitching to assemble these bags. Beads are tough to press around – and heat-sensitive goodies won't hold up to all the pressing required.
Recipe for a zippy Bosa Nova Bag
You can do 3 simple things to dress up your own Bosa Nova Bags:
Stencil images on the outside of the bag pattern with our Celebrate stencils and Artist's Paintstiks.
Use a wavy blade rotary cutter when you trim the panels to size to make the bag a little less formal.
Fuse two ribbons together with a narrow strip of Steam-a-Seam2 rather than making your bag ties from fabric.
Result: Beautiful gift bags that can be used again and again to celebrate special moments all year long!