by Shelly Stokes, Founder and Creative Mentor

As an artist who loves to write, I was thrilled when Morna McEver, CEO of the International Association of Creative Arts Professionals (ICAP), asked me to write a column on Creativity for their quarterly journal. This article appeared in the Winter 2014 issue under the title Five Ways to Nurture Your Creative Energy.
While the article was written for creative business owners, the lessons apply to all of us. Enjoy!

Congratulations! You are a bright, talented and, most importantly, an extremely creative person. Yes, I am talking to you! Regardless of how you felt when you rolled out of bed this morning, I know that you are a creative person.
But wait! You are not just any ordinary creative person. You have gone the extra mile and turned your creative passions into some type of business. You may be creating and selling art, designing patterns to feed the creative urges of others, or providing a service that helps other people finish their creations.
Whatever it is, you took a leap of faith and found a way to indulge your creative nature and to make money at the same time. Good for you!
Before we break out the champagne, let me ask an important question. Did anyone share the deep, dark secret that a creative business can be bad for your health? That it can wear you down physically, emotionally and spiritually? And would you have done anything differently if someone warned you? I suspect not.
Creative Entrepreneurs are Different
You may be thinking that all budding entrepreneurs face the same stresses when they start a business. After all, starting a business – any business – adds a lot of demands and complexities to our lives.
Now, on top of all the "normal" stuff, like taking care of our kids, husbands or wives, homes, pets and parents – and trying to squeeze in time with friends – we have to take care of the "business side" of our business. And yes, that applies to anyone who maintains his or her own business.
Having said that, I believe that the entrepreneurial path is especially hazardous to creative people. Why? Because we have a hard-wired need to create – to express ourselves in a tangible way. And it is dangerously easy for that need to get lost in the day-to-day grind of running a business.
Before we tackle ways take care of our creative health, let's take a closer look at this intrinsic need to create. After all, it's hard to take care of a need unless we understand what it is and embrace it as part of our lives.
Our Need to Create
Every person on this earth is born with a set of unique set of qualities. Some people refer to these as traits or talents. I have come to think of them as energies. These energies, stripped down to their essence, are our unique gifts to the world. And when we harness these energies and align our actions with these energies, the results can be incredibly powerful.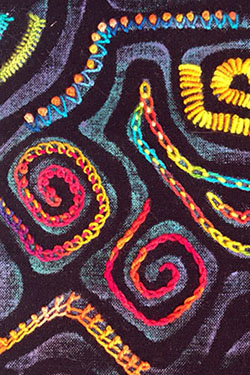 As a group, creative entrepreneurs have one of these energies in common. It is, of course, the energy of Creativity. Some of us will resonate directly with the word Creativity. For others, the word we choose may be Self-Expression, Imagination, Artistry or Innovation.
Regardless of the word we choose, having this creative energy in our life means that we have a physical, emotional and even spiritual need to design, stitch, paint, sing or dance our way through life. Simply put, we need to create in order to be a complete and happy person.
I have a friend who owns a quilt shop here in my hometown. As we shared a cup of coffee one day, she told me that her need to create is so strong that she feels completely "out of whack" if she does not sit down and make something on a very regular basis. She said her creative need is so obvious that even her husband sees it. If she gets frazzled or wrapped around the axle about something, he gently points her in direction of her sewing room and says, "Honey, I think you need to go sew for a while." (Now that is a very perceptive man!)
The Importance of Self-Care
So here we are, creative people with this non-negotiable need to create, running a business. Whether we recognize it or not, we have put ourselves in a situation where the needs of the business can easily crowd out both our personal needs and our precious creative time. We have literally created a conflict that can cause bodily harm, drain us emotionally, and wound our spirit. Yikes!
This may sound overly dramatic, but it's not. I have suffered several major health problems that were caused by over-work (and under-play), and I have watched many of my entrepreneurial friends go through similar health crises. The demands of running a business can be overwhelming at times, and that takes a toll on us physically and mentally.
So what can we do to keep our creative business world from turning into the roller coaster ride from hell? I would like to prescribe a double dose of self-care. Or maybe more! Let's take a closer look at three important aspects of our self-care.
Physical self-care is pretty easy to envision, even if it is easier said than done. We need to eat well, get some form of regular exercise, and get plenty of sleep. This is the stuff our mom has been preaching all our lives. If we are wise, we will pay attention.
Emotional self-care can take on a lot of forms. For me, it includes getting out of my office to spend time with friends, staying connected with my sisters, enjoying a "date night" with my husband and indulging in a massage once in a while. I am sure your list is a little different as we all have different energies that need our care and attention.
Finally, we come to that critical component, creative self-care. This is the set of activities or practices that allow us to feed and nurture our creative spirit. As people who share the energy of Creativity, this is every bit as important as physical or emotional self-care.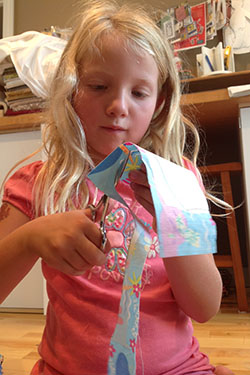 If you are having trouble thinking about what it might look like for you, I invite you channel your inner 6-year-old. Deep inside of you is a creative little girl (or boy) that just wants to come out and play! She loves to sing and dance and draw and paint. She is uninhibited, adventurous, and totally non-judgmental. She just wants to play!
Your challenge is to make time and space for her creative playtime on a very regular basis. This is so she does not sulk and feel ignored.
You know how a "real" child can be demanding and disruptive when they need attention? Your inner child can be equally troublesome. She will do whatever it takes to get your attention if you ignore her for too long!
Five Ways to Nurture Your Creative Energy
So how do we engage our creative sprite and manage the demands of our very "adult" life and business? Here are some actions that can help.
Build creative time into your schedule. While you may feel that creative time should be spontaneous, my experience shows that it won't happen if it is not in the schedule.
Honor the schedule. Short of someone having a heart attack in the next room, your creative time is of equal importance to anything else on your calendar. 
It is tempting to think that we can "make up" the creative time at the end of the day or on weekends, but it rarely turns out that way.
Include creative workshops and retreats in your business budget. Remember that you need to explore and express your creative nature. It is not optional. 
If you cannot fit the workshops into your business budget, put them on your wish list for your birthday, Christmas and any other gift-receiving occasions. These are the gifts that keep on giving in terms of nurturing your creative spirit.
Make time for pure "play." It is fine for some or most of your creative time to be related to your business, but your inner 6-year-old really needs that pure experimental playtime.
Celebrate your accomplishments. Post photos of your creations on a little bulletin board or in your blog, or make entries in your "I Created This" list. It's great fun to watch the list grow as you honor your commitment to take care of your creative self.
As a creative entrepreneur, you are blessed to have the energy of Creativity in your life and your work. Properly nourished, this energy can lead to amazing results in your life and business. But there's a catch.
Your Creative gift also means that you need an extra dose of love and attention in the form of creative self-care. You can do this by honoring your need to create and making it a priority in your business and in your life. Your reward will be better health, a more balanced life, and a happier inner 6-year old. And that's a very good thing.
Resources:
If you are a creative arts professional or are thinking about starting a business based on your creative skills, it is very helpful to find a community of like-minded friends. Click here for more information about ICAP, the International Association for Creative Art Professionals.