I'm really excited. I finally got into my studio and finished my new Candace Bag, and she's absolutely beautiful! Before you ask, I used the Candice Bag pattern by my good friend Joan Hawley at Lazy Girl Designs. This is the second bag I've made from this pattern and it's even better than the first.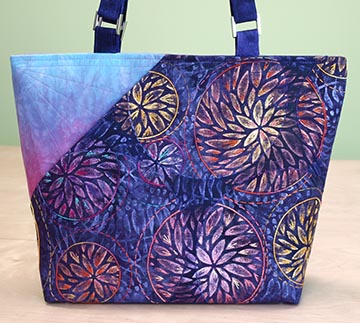 I love the way everything came together. The cover fabric was a blast to make. It was so cool to take off on my very first Shape Shifter adventure. From the first layer of rubbings to the final layer of embroidered stitches, I learned something new with every step.
Now, I'll be the first to admit that it can be hard to cut up a really cool piece of fabric after I've painted it. But I keep telling myself to just do it! I can always paint another one. Fortunately, I resisted that ever-present urge to save the fabric for something special; I made something special right now! Why wait?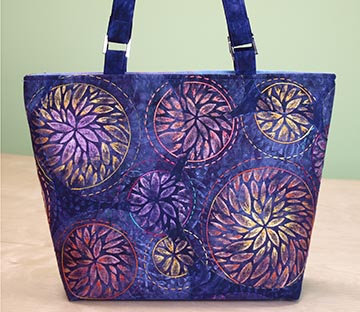 Assembling this baby got a little challenging at times. With all the layers of stabilizer in the body of the bag, the lining, and even the pockets, I had to s.l.o.w…d.o.w.n a lot while I was stitching. No zooming along with this one.
My favorite thing? I absolute love the way this bag stands up. Even with my iPad inside, the sides don't sag. Woohoo! The new Stiff Stuff interfacing from Lazy Girl Designs is just the ticket in my mind; I will never put fusible fleece in a bag again.