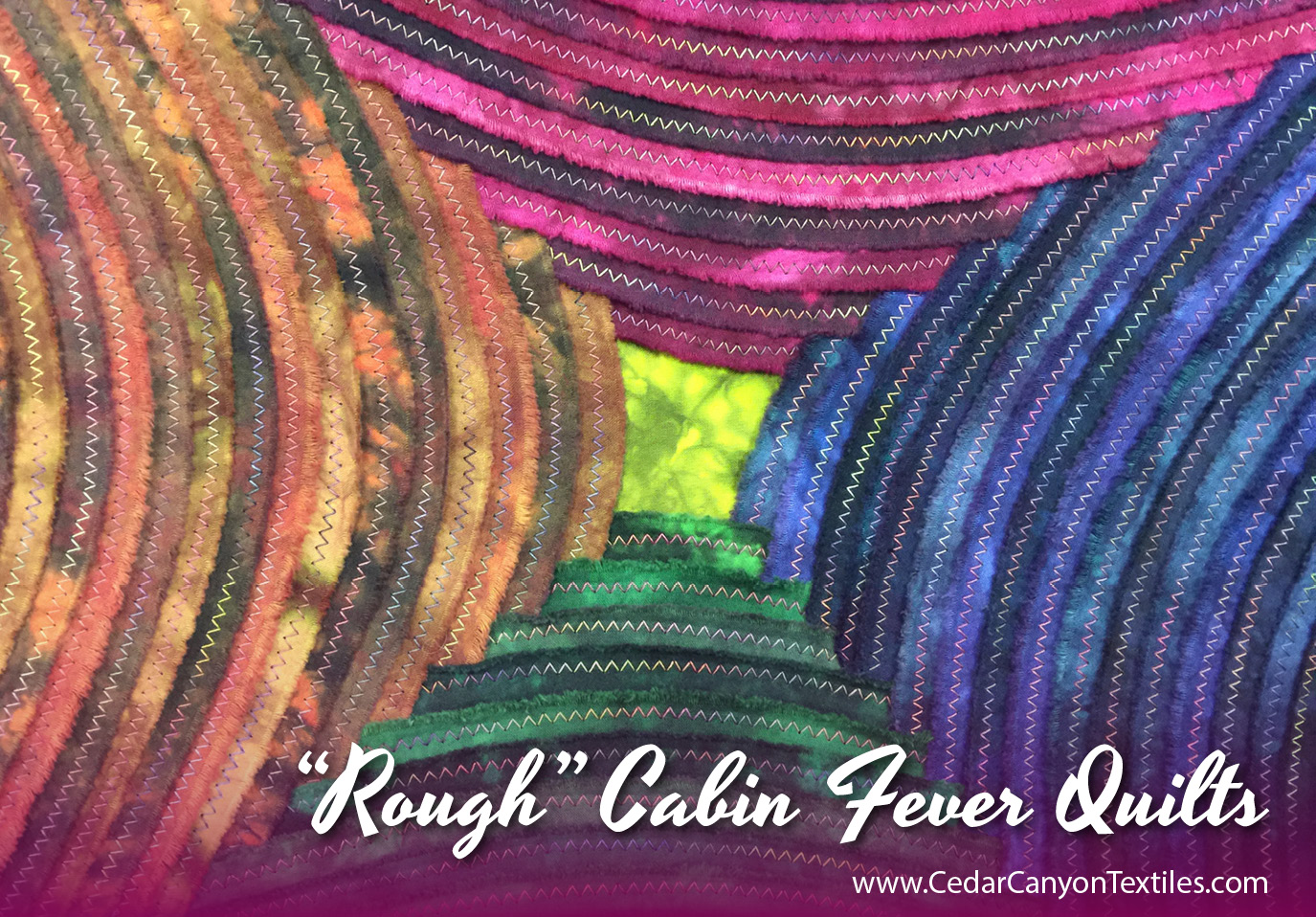 As I started my Studio Slimdown project, I realized that I have a lot of finished art hanging around. And tucked in cubby holes, and in the closet. And… umm… you get the idea. Let's have a look at three Cabin Fever fabric art pieces I made in 2004. You can add one (or all three) to your personal art collection with the links at the end of this post.
The Cabin Fever pieces are from my Rough Around the Edges series. Each piece is 15½" x 18" in size and stretched around a wooden frame.
The frames are 2" deep, so the pieces stand off the wall. The edges are covered with black canvas.
The pieces are constructed with narrow strips that were cut from the edges of my hand-dyed fabric. (In case you're wondering, I was dying and selling fabric when I founded Cedar Canyon Textiles 20 years ago.)
Each of the Cabin Fever pieces features two sets of complementary colors. This piece features fabrics that began as fuchsia, green, orange and sapphire blue.
Taken together, the three Cabin Fever pieces feature a 12-step gradation of bright colors that were toned down in various dye recipes. I love the way the bright colors peek through in different spots. The finished pieces are "reserved" – but far from drab.
About the Construction
All of the quilts and fabric art pieces in my Rough Around the Edges series begin as strips of fabric. When I was cutting my dyed fabric into saleable pieces, I tossed all of the wonderful "fuzzy" strips in bins instead of the trash.
The pieces are constructed one strip at a time in a quilt-as-you-go fashion. The construction for the Cabin Fever pieces mimics the traditional Log Cabin block. I started in the middle, and then added strips to each side in a rotating manner.
On the back side, all you see is the stitching used to secure the strips.
Buy One Today
The Cabin Fever pieces are available for purchase in the Online Store. Each piece is $149, and includes free shipping to a US address. International orders are welcome. I'll contact you about additional shipping fees. Here are the links that will take you directly to the Cabin Fever pieces:
Cabin Fever 1: Orange, Deep Blue, Fuchsia, Green
Cabin Fever 2: Yellow, Purple, Red, Blue-Green
Cabin Fever 3: Red-Orange, Bright Blue, Lime Green, Violet
Please note that the colors on your monitor may vary from the actual artwork.