by Shelly Stokes, Founder and Creative Mentor

No, I have not totally lost my mind. Blue fingers really are happy fingers. And if you must know, it's because Susan Cleveland says so — and she's right!
Susan Cleveland (another crazy lady from Minnesota) and I had a little confab in my hotel room during Quilt Festival a few weeks ago. Susan wanted to see my big project, and I was happy to indulge her curiosity.
She took one look at all of the stitching on the panels and said, "Are your fingers falling off yet?" We had a good laugh and then I told her that I can only stitch until I get these weird sensations in my right hand. It's almost like an electrical charge.
In typical Susan fashion, she looked at me and said something to the effect of "You need blue fingers!" Okay, I thought… blue fingers. What in the world?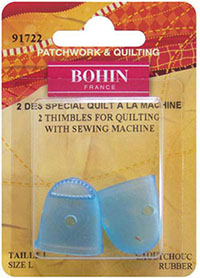 Someone in Susan's family is a physical therapist and she had some really good information to share. When we are stitching, it's the PULLING motion — pulling the needle through the fabric — that causes the pain in our hands. It's not from pushing the needle. Susan suggested (make that insisted) that I get myself right over to the vendor hall and get a couple of rubber finger cots from Bohin.
So, off to the vendor hall I went. Thankfully, the Bohin company had a booth and I was able to try on the different sizes. My hands are pretty big, so I chose the large size. I am now the proud owner of blue fingers. Or at least blue rubber finger cots. Close enough.
Better yet, they work! Let me show you.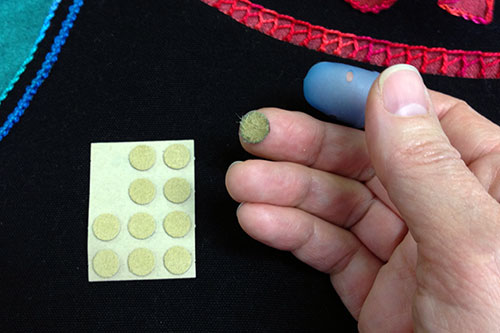 Here I am, ready to stitch. I have one of the Bohin finger cots on my index finger and a ThimblePad on my middle finger.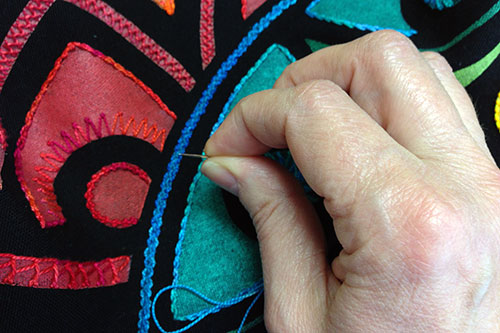 Without the finger cot, I have to grip my needle firmly to pull it though the fabric. The heavier the thread, the more I have to grip.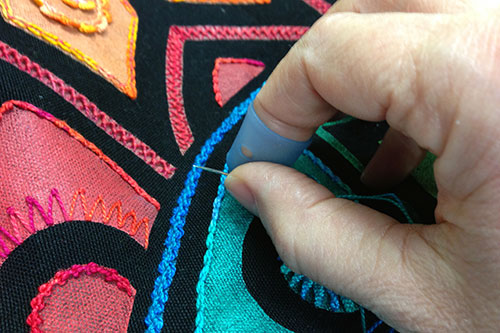 With the finger cot, I can pull the needle through with almost no effort. Can you see how my hand is more relaxed? It was a little bit awkward at first, but I love it. I have done a couple of long stitching sessions and have had no shooting pains in my hands. Woohoo!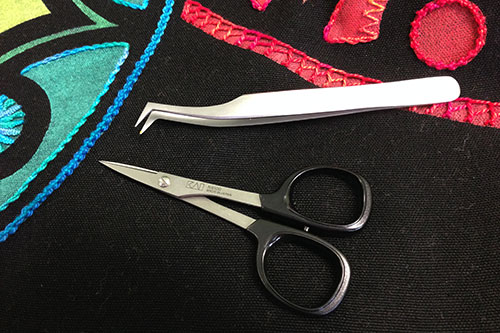 The other things I keep nearby are a small pair of really sharp scissors (Kai) and a precision angle tweezer (Famore) for picking out stitches.
My needle threader disappeared sometime during my trip, so it's time to get a new one. You'll have to let me know which is your favorite so I can order one and add it to my toolbox.
Resources:
For tweezers, check out the Famore website.
For Bohin finger cots, Kai Scissors and ThimblePads, visit the Sewing Notions page at SueSpargo.com.