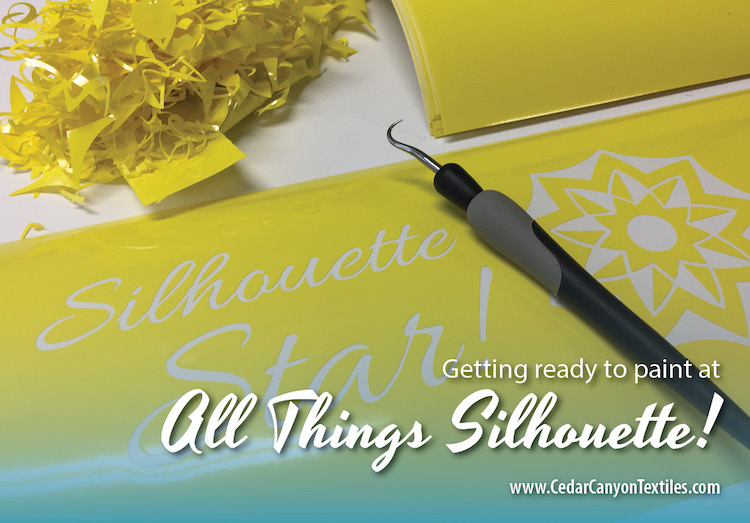 Drum roll, please… It's almost time for All Things Silhouette! Terri Johnson's ATS Conference is coming up faster than fast, and I'll be teaching two sessions about stenciling on fabric. My sessions will be a teensy bit of lecture and a "make and take" activity, where we will be stenciling on canvas zipper pouches.
Now I've been teaching for what seems like a gazillion years, but the thought of prepping 150 stencils for the conference was more than a bit intimidating. (And it would be if I had to send them to the cutter one at a time!) Thankfully, the Business Edition of Silhouette Studio makes it super simple to send multiples of a design to the cutter.
See that long column of red images next to my design? You simply queue them up and let 'er rip!
I'm still trying to figure out what possessed me to purchase a (huge) roll of bright yellow vinyl. It works fine, but it is soooo hard on the eyes. I think I'll stick to gray for making stencils. It may not be pretty, but it keeps me from going blind!
Normally, I would have student weed the excess vinyl from their stencils, but with 70 people in each 75 minute class, that's not going to work. Guess what I've been doing while Jack watched the football games?
Next up was a layer of transfer tape to hold everything together. Now they are ready for class!
When I looked at this pile, the theme of Mission Impossible started playing in the back of my mind. "Your mission, should you choose to accept it…" But that's part of the game when you have the good fortune to teach at an event like All Things Silhouette.
That's probably more than you wanted to know about what an instructor does to get ready for a make & take class. The next time you sit down to a "quick" activity at a show or conference, just know that a bunch of elves (also known as instructors) have been working overtime to make it look easy.
Your Turn
What's the wildest Make & Take activity you ever did at a show or conference? Spill the beans in a comment below — I'll bet you have a doozy of a story to share!