by Shelly Stokes, Founder and Creative Mentor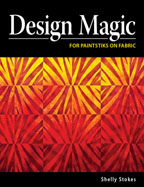 If you can cut shapes from a square of black paper, you can design your own personal fabric prints! Yes, I am talking to you!
Don't believe me? Then you have not tried out the nifty method for designing repeating patterns in Design Magic For Paintstik On Fabric. This simple method allows you to turn designs into a pair of stencils — and then transfer the designs to fabric. Yes, you will be designing your own fabric prints in a just a few short days.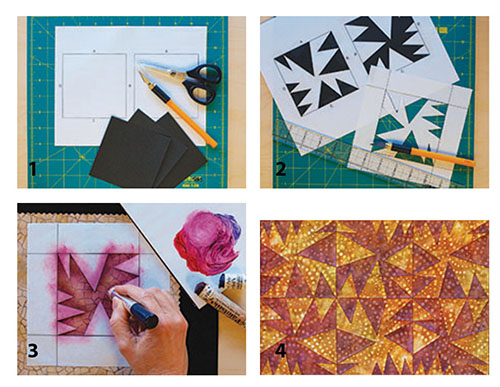 As I mentioned in the last couple of newsletters, I am going to revisit the Design Magic methodology by doing 30 designs in 30 days. And after digging in to figure out the best way to share the designs with you, I have come up with a way for you to join me for this adventure. Here is the scoop:

The best way to learn something is to do it repeatedly, but not necessarily all in one day. The 30 Days program is set up so that you (and I) will spend a little bit of time each day. By going back each day with a fresh set of eyes, the design process becomes more intuitive and less of a struggle. And by the end of 30 days, we should have at least 2 or 3 really cool designs!
Our 30-Day program begins August 18
Beginning August 18th, I will share one design each day along with a prompt for you to create a design of your own. And, as we go through the 30 days, I will be revisiting several of my designs to see how they can be modified and improved, and how some of them look painted out on fabric.
Who Should Join The 30 Day Adventure?
Before you read any further, I want to warn you about something. 30 Days of Design Magic is NOT a full-blown step-by-step how-to class. The daily prompts will assume that you have a copy of the Design Magic book, and that you have the initiative to read, experiment, and design along with me. You are welcome to simply follow along, but this is not going to be a basic-beginner type of program.
To be perfectly honest, this program is an experiment in Online Learning. You will be my first ever online group, and we will be figuring out some things as we go along. There are bound to be a few technology hiccups along the way – there always are, but we will figure it out. I am really excited and I would be thrilled to have you join the group.
So, if you are interested in learning a very cool method for creating designs and turning them into personal fabric prints, and you can be flexible enough to deal with a teacher who is learning the ropes of an online learning program, I would love to have you join me for 30 Days of Design Magic!
30 Designs For Less Than $1 Per Day
Your investment in this 30-Day adventure is just $29. That is right, less than $1 per day for an entire month of inspiration.

Of course, that is not all… (you knew that was coming, right?)
Bonus 1: Get 6 Free DesignMagic Design Packs (Value: $41.70)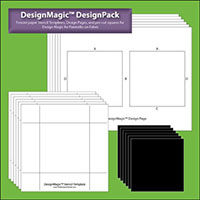 Can I admit something out loud? I love the Design Magic methodology, but really dislike the up-front prep work. Cutting 4" squares of black paper and drawing out Design Pages is not my cup of tea — I just want to jump right into making designs!
When you register for 30 Days of Design Magic, I will send you a promo code for 6 FREE Design Magic Design Packs. Each Design Pack contains all the pre-cut and pre-printed supplies you need to skip the tedious stuff and jump right into designing. You pay the shipping, but I will give you the Design Packs as a thank-you gift for joining the program.
We have got a bunch of Design Packs in the warehouse, but it is not an unlimited supply. Free Design Packs will be available for the first 92 people who register.

Bonus 2: Access to a Private Online Interactive Group (Value: Priceless!)
As I explained earlier, this 30 Day program is an experiment in Online Learning. To make it more interactive, I am inviting a small group to join me in a private Facebook group. If you are one of the lucky people in this group, you will be able to post pictures of your designs, ask questions and get feedback directly from me and from the other people in the group. And that will be a whole lot more interesting than just me talking and you listening.
But here is the deal. I cannot possibly keep up with the conversation if there are 173 people in the group. (I have to eat and sleep some time!) So I am limiting this group to 30 people — and I am one of the 30. To get an invitation to the Facebook group, you need to be one of the first 29 people to register.

That is it, plain and simple. 30 Designs in 30 Days, 29 bucks, and some pretty cool bonuses for the first people to register. I am really excited about this adventure and I sincerely hope you will decide to join me!