by Shelly Stokes, Founder and Creative Mentor

Sherrie Mahoney and Ann Thompson recently sent photos of their quilts. Both quilts make excellent use with Paintstik Rubbings, yet are as different as they can be. Let's start with Sherrie's quilt.
Sherrie Mahoney's Paintstik Rubbing Sampler
Sherrie Mahoney (Salina, Kansas) is retired from Kansas State University in the Research & Extension service. When I asked her more about her quilt, this is what she said.
"I only found out about Quilting Arts TV a couple years ago and ordered the series DVDs. I saw you on a show and wanted to try the rubbing plates and paintsticks. First, I made a wall hanging of the leaf rubbing plates.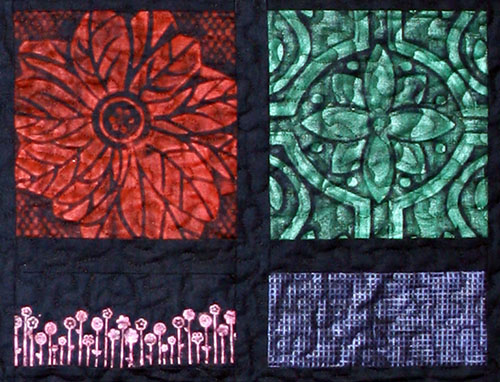 "I kept looking for things that would have texture – along with rubbing plates, like textured wallpaper, household items, seashells, rubber stamps, etc.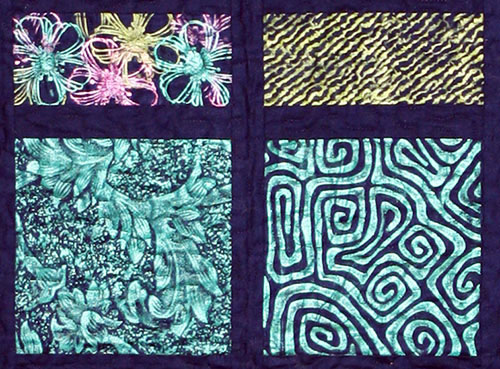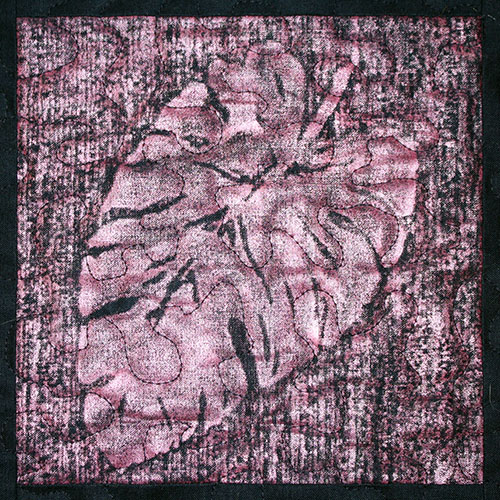 "When I had made enough blocks for a quilt, I just put them together.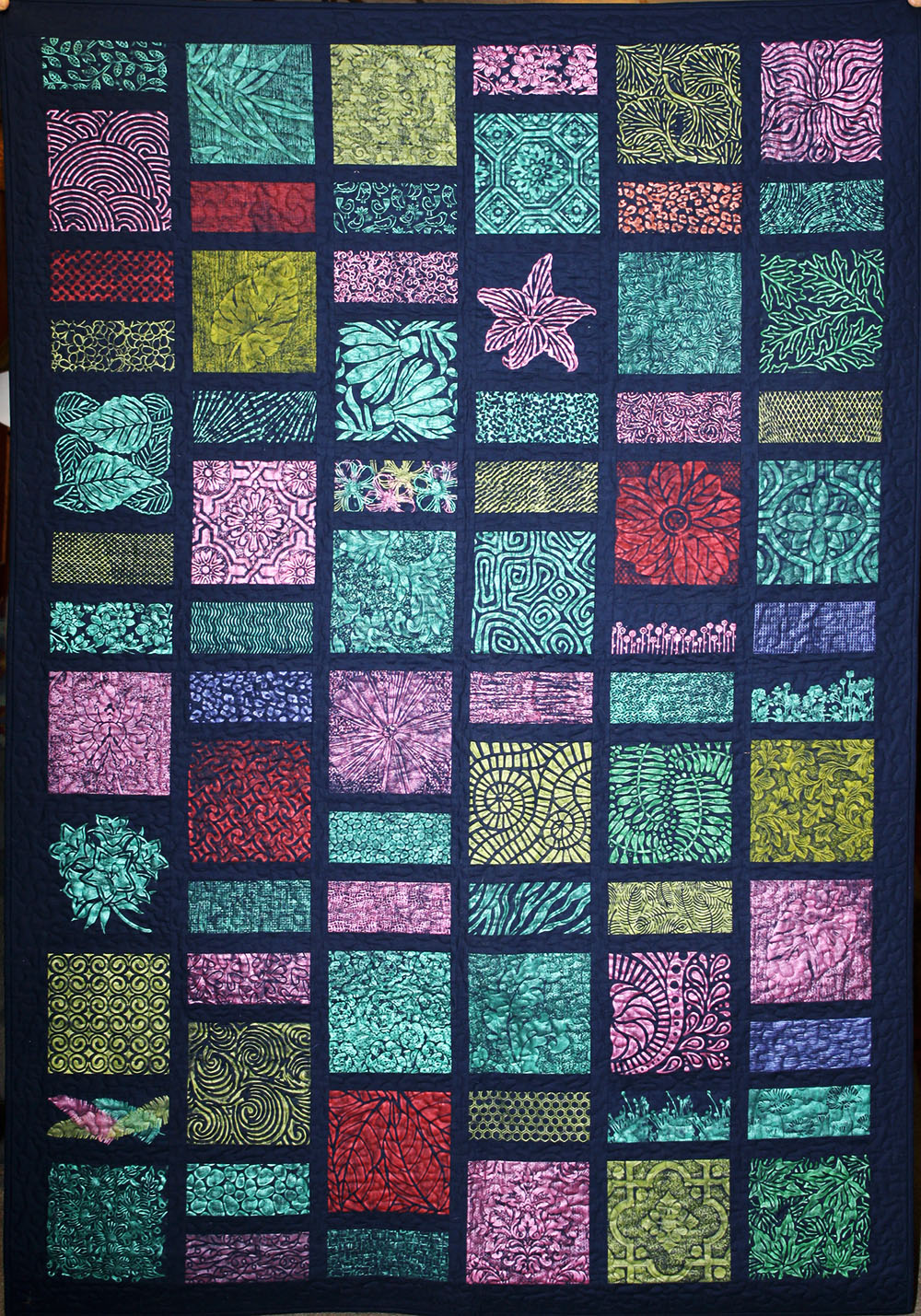 "I've already started making blocks for another quilt. It is great fun. If people aren't familiar with paintsticks, I enjoy sharing the possibilities."
Ann Thompson's "Take A Hike" Quilt
Ann Thompson (Raleigh, North Carolina) took an Intro to Paintstiks class and used her blocks to create a quilt with a hiking theme. When she sent her photos, she included the following comments.
"Here are photos of my class project from an intro to paint sticks course. Our task was to make a quilt from our blocks, but I was totally unhappy with one of mine because of smears.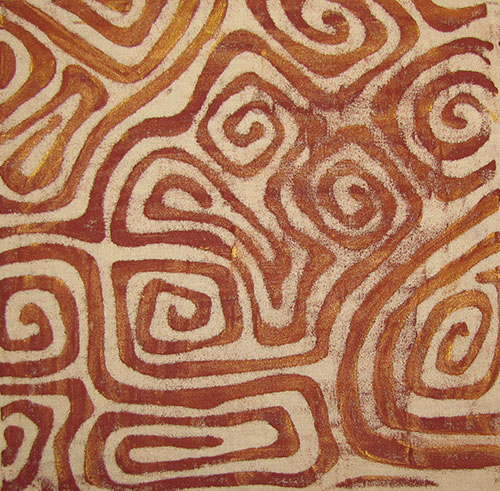 That turned into inspiration with I visualized the smeared block as the bottom of hiking boots.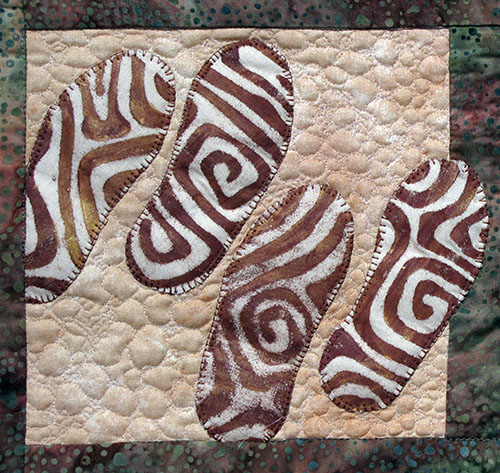 I used acrylics with Golden medium to paint the landscape in the center of the quilt.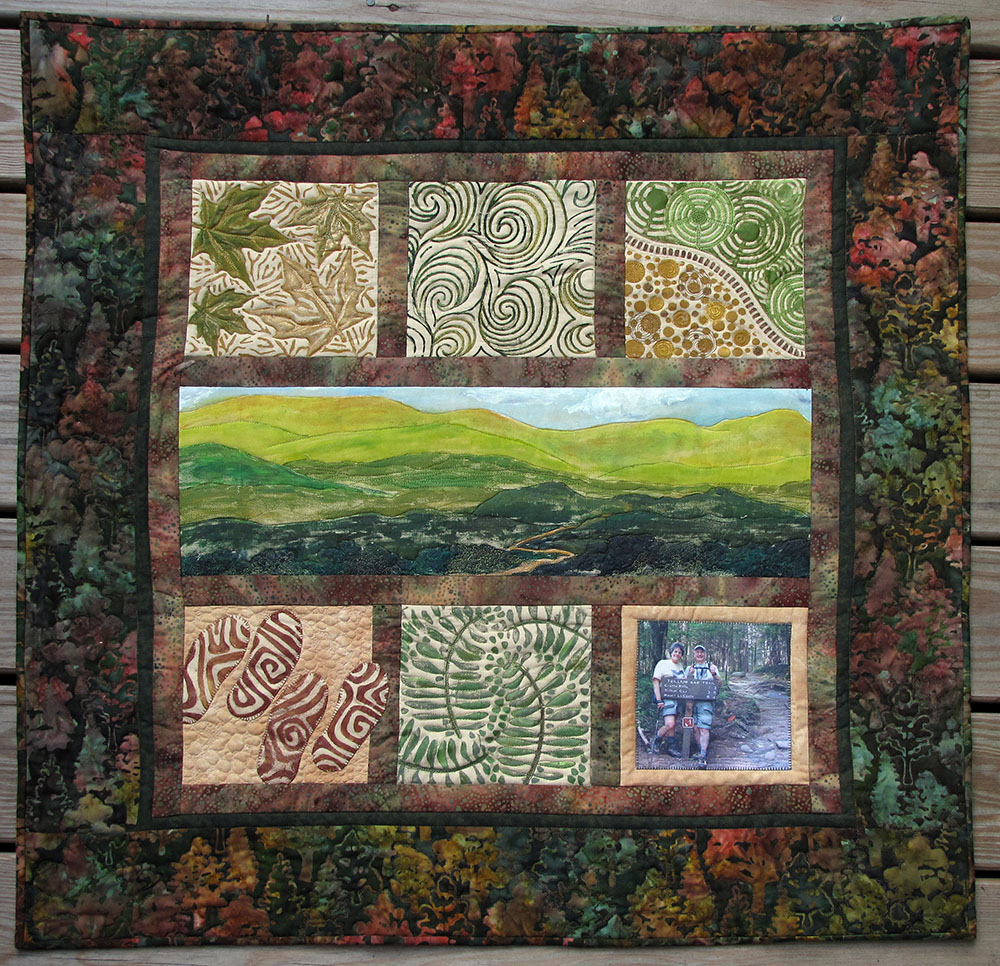 My special thanks to both Sherrie and Ann for sharing their projects with us. Both quilts are delightful, and show two different ways to integrate Paintstik Rubbings into a finished quilt.
Resources:
Ann's quilt includes images from the Curves, Doodles and Leaves rubbing plate sets.
Sherrie's quilt includes images from the Curves, Leaves, Garden Flowers and Doodles rubbing plate sets. And, if I am not mistaken, there is one image from the Floral Fantasy set in the lower left corner.
All Cedar Canyon Rubbing Plates can be found over at the Online Store.