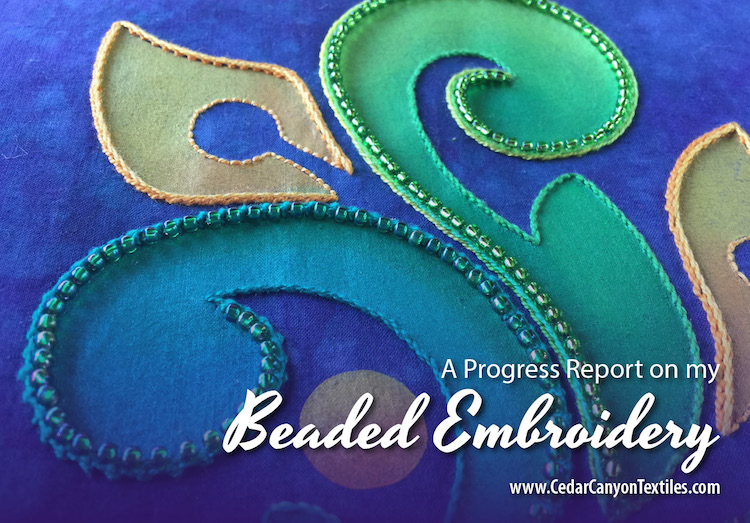 For the past few weeks, I've been adding beads to my current Paint+Stitch+Bead project. This project has turned into a bit of a stitch sampler and a test for my beaded embroidery stitches. Here's the current update along with links to some of my previous posts.
Beads fit nicely into Palestrina Knots, so long as I don't work the stitches too close together. This is a versatile stitch for adding beads as they can be added on either side of the stitching line.  
I love the Portuguese Knotted Stem Stitch, but adding beads was challenging. This is one that deserves another round of experiments for attaching the beads. I think I was making it harder than it needed to be.
Adding beads to my Pekinese Stem Stitch was pretty straight forward. I used exactly the same Pekinese wrap for the beads that I used to wrap the initial line of stem stitch.
The beading revealed that my stitch length was not always consistent. I was a little disappointed until my friend Sue pointed out that a varied stitch length could be used strategically. (Don't you just love friends who can find the silver lining in your mistakes?)
A Chain Stitch offers several options for beading. In my initial Beaded Chain Stitch post, I showed you how to add beads by wrapping the thread under both sides of the chain. On this piece, I wrapped the thread under one side of the chain, but not both.
I'm not quite sure what I'm going to do with the flowers. I want to change things up rather than adding lines of beads along the outline. At the moment, I'm considering a smattering of smaller beads for a different look. As always, I think I'll test this out on my doodle cloth. (I'm always paranoid about sticking needles through my painted shapes unless I'm absolutely sure it's what I want to do!)
All in all, I'm thrilled with the way this is shaping up. The beads add even more dimension to the piece, and the sparkle of the beads looks fabulous with the iridescent paint. I'm excited to finish up with this experiment and move on to my next big project!
Your Turn
How do you like the beads with the embroidery stitches? Would you attach the beads to the fabric instead of the stitches? I'm always curious to hear your reactions. Leave a comment below and let's chat.