As I have been working on my big project, I was feeling pretty lucky that I had done a minimal amount of Reverse Stitching. Given that most of my stitching has been along the edges of my painted shapes, an occasional change of plans has been easy to execute.
Until last week.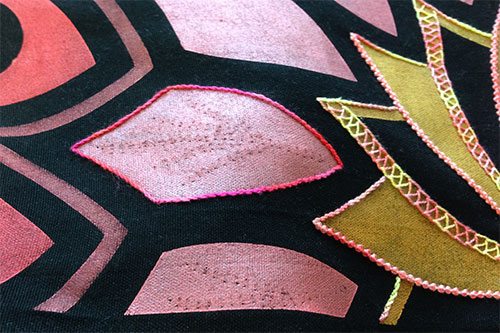 After stitching just 2 sections on one of my medallions, I realized that I had made a bad choice for my stitching motif. As in a VERY BAD CHOICE. (The motif, by itself, was lovely – but it stopped the "spinning" movement of the larger medallion. Oops!) There was nothing to do but pull the stitches and try again.
Unfortunately, this stitching was in the middle of a painted shape, and that left me with some very big hole to fill and/or cover up with more stitching. Hmmm.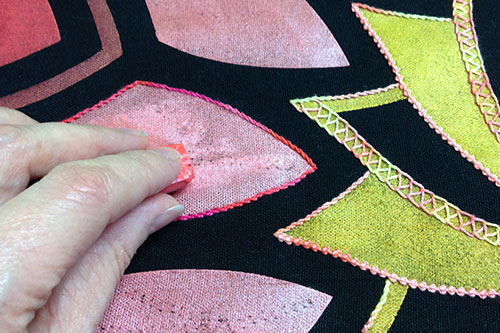 A pass with a warm iron removed the markings, but something had to be done with those holes. I took a deep breath, pulled out my Paintstiks, and added more paint.
This was NOT in the plans. Never in my wildest dreams did I think I would be adding more paint to one of these panels. I have a gazilion hours of hand stitching in this project. I want to see it hanging in Houston next year. I did not want to mess it up.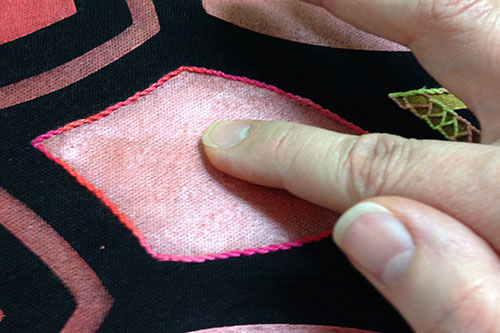 I've been working with Paintstiks for 15 years. I know how far I can push them. But I have to admit I wondered whether my "repair" would really work. This was way beyond anything I've done in the past. I added a fresh layer of paint, pushed it into the stitching holes, and smoothed everything out with my fingers.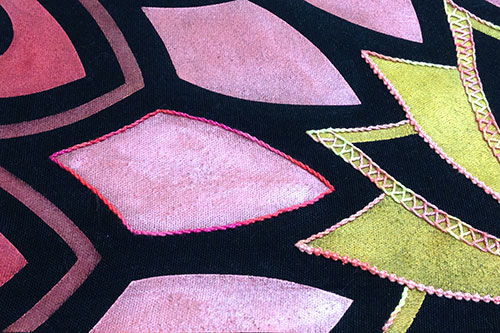 When I checked the paint two days later, it was almost dry. I'll give it another couple of days before I heat set the paint and resume my work. Thankfully, the new stitching motif will cover most of the holes. And, thanks to the very opaque nature of my Extreme Stenciling, the added paint is barely noticeable.
As you can imagine, I'll be a lot more careful about testing my stitching motifs before I start stitching in the middle of a painted shape. It was a good reminder that something that works in isolation may be a real dud in the overall picture. As always, this too shall pass. But you can be sure this is one lesson that I don't plan to learn twice!