by Shelly Stokes, Founder and Creative Mentor

I was planning to travel back to Minnesota on Monday, but Mother Nature had other plans. Like snow. Lots and lots of snow. I should have known it was coming. It seems that every big trip I have made in the past two years has ended by flying into the Twin Cities during a snow storm. I should just notify the National Weather Service of my travel plans. That way they will know when to prepare for storms.
An extra day in Atlanta was certainly better than sitting in the airports or a shuttle crawling along on lousy roads. Monday was a beautiful day, sunny and 70 degrees. I was too tired to run off on a big adventure, so I settled in to work, stitch and play.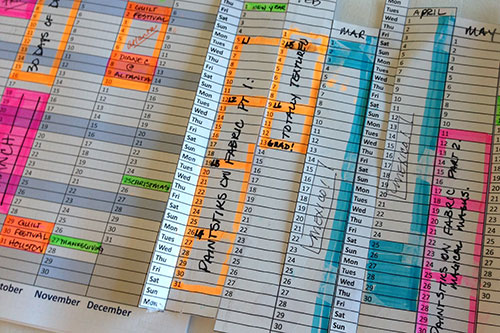 I spent Friday – Sunday at Diane Conklin's Implementation Coaching Event here in Atlanta. Diane is a hugely successful entrepreneur who specializes in various aspects of marketing.
This was totally different than any business event I have ever been to. While we would normally sit and listen to speakers most of the time, Diane put us to work creating our high-level calendar for the next year — and putting together a detailed plan for the next 100 days.
It was really exciting to come home from an event with a plan in place, and not just a bunch of ideas that evaporated as soon as I walked into my office.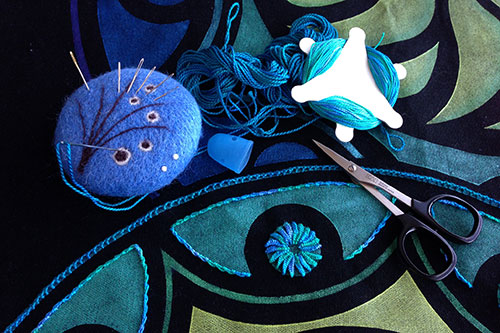 I had a few days off between Quilt Festival in Houston and the beginning of Diane's event. I made some good progress on another medallion. I should have it figured out by now, but I'm constantly amazed at how much thread is going into this project. It's a good think I stocked up in Houston!
Diane's event was held in Midtown Atlanta — and that meant easy access to Piedmont Park. The weather has been nothing short of gorgeous. The mornings were a little bit cool for the locals, but this Minnesota girl was perfectly comfortable!
I made sure that I got out for a good long walk on Monday afternoon. It's colder than the dickens here in Minnesota, and going to stay that way for the next week. Time to stock up the pantry, settle into the studio, and make some serious progress on my project!
Your Turn: What keeps you busy during the cold snap?
The Weather Channel tells me the big "Polar Vortex" is visiting a huge chunk of the US — including my friends in Atlanta. What are you doing to keep busy? Leave a comment below or click over to our Facebook page for a chat. And stay warm!