Happy New Year! I hope you had a wonderful time during the year-end holidays and that you are ready to start the new year with a bang. I know I am! One of the big things I learned in the past year is that my mindset is far more important than I ever imagined. When I set a goal with firm intentions and ask for help, amazing things happen. I'll share two examples from the past year.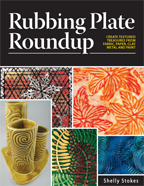 If you've been with me for a while, you know that I just completed and published my new Rubbing Plate Roundup book. When I started work on the book, I knew that I did not have all the best ideas out there. So I asked you, as a Cedar Canyon Community Member to help me out by submitting your ideas for using rubbing plates in your art. I asked, and you came through in a big way! Out of the 12 techniques in my book, 5 came from you — and your contributions made all the difference in the world. Thank you so much for collaborating with me to create a better book!
Another great example of having the correct mindset showed up just a few weeks ago. One of my big (huge) goals for my business is to move every possible activity and every bit of data that runs through my company into a single system. As you know, changing the way you do anything is difficult, let along changing a bunch of important things. Then a golden opportunity dropped into my lap, and I knew I just had to say yes! My key software company (Infusionsoft) offered a 2-day implementation blitz to a small number of customers. They gave me a personal project manager and gave each team complete access to their entire development staff to get things done in two short days. It was unbelievable!
I've also learned that positive thinking, by itself, is totally useless. If I set a goal, but don't take action, well… nothing happens! You have to take action to make the goals happen. In my case, I had to say YES to the opportunity that came my way with my software company. That meant making a big investment on very short notice, canceling my week off, spending two days in airports and shuttles and working two 13-hour days during the event. It was exhausting and exhilarating — and totally worth the time (and money) I invested. I got more done in two days than I could accomplish on my own in a year. My big, huge goal is now within reach instead of feeling like a pipe dream.
As you start the new year, consider your mindset. Are you really serious about accomplishing a goal? Write it down, declare your intentions — to yourself and to the universe — and then take action. Whether your goal is finishing a quilt, painting a piece of fabric, writing a book or starting a business, it's a lot easier if you ask for help — and say YES when the help arrives. It's not always convenient, but it's out there if you're open to seeing it.
Do you have a big goal? Have you asked for help? Leave a comment — I'd love to hear about it!